Games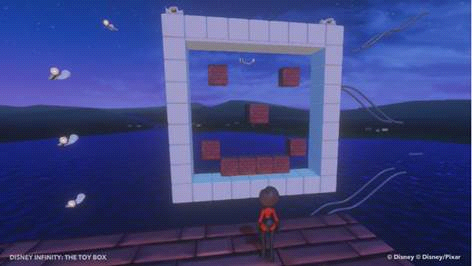 Published on November 15th, 2013 | by Admin
TOY BOX DOWNLOAD UPDATE: Disney Infinity Announces Five Winning User-Generated "Toy Box Contraption Challenge" Submissions and teams up with Scrooge for some DuckTales action!
This week, Disney Interactive is releasing the winners of the Disney Infinity "Toy Box Contraption Challenge" for best use of Logic and Creativi-Toys. Players were tasked to create crazy, unique and exciting contraptions that perform simple tasks. The top global Toy Box of the week is " Buttons!" – a world filled with booby traps and adventures. Players will be challenged with buttons at every turn and must be strategic with every step. Timing is everything!
This week we are also releasing a bonus Toy Box world created by Andrew Reiner from Game Informer Magazine. Make sure to explore his Toy Box creation as well.
Check out the latest episode of the new web series, "The Disney Infinity Top 5 Toy Box Countdown," for a look at the winning submissions: http://youtu.be/nsche_h6KD4 
Included in the video are details of the next Toy Box challenge: DuckTales. And as a special extra, the team at Avalanche have re-created Duckberg!
Winning submissions include:
Buttons! – Step on the buttons to show a path, but watch out for trap buttons that will send you back!
Disney Pinball – A classic game of pinball but with a fantastic Disney twist. Trigger the Bird's Eye Camera, release the ball and control the flippers to keep the ball alive.
Enemy Destroyer – Press the action button to add more balls. How many hundreds of enemies can you eliminate? Bonus points for chain reactions.
3-in-1 Widget – Discover 3 different ball ramps in this unique widget!
Clockwork – It's time to start working around the clock.  Hint: Press the button to start the time.
BONUS TOY BOX: Reinerland: Created by Andrew Reiner, Executive Editor at Game Informer Magazine, Reinerland is a crazy world with a crazy jump. See for yourself!