Games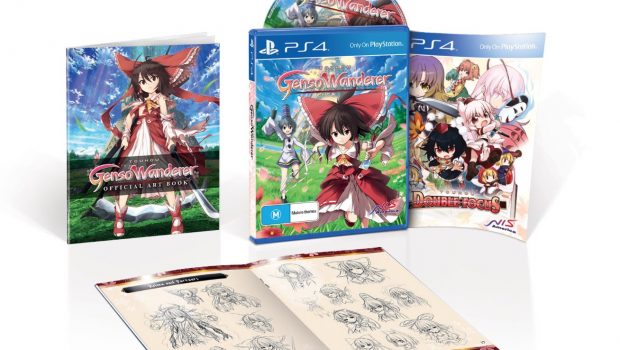 Published on October 11th, 2016 | by Admin
TOUHOU GENSO WANDERER COMING TO AUSTRALIA AND NEW ZEALAND IN FEB 2017
NIS America is excited to announce our partnership with AQUA STYLE to bring Touhou Genso Wanderer and Touhou Double Focus to Europe on 10 February, 2017! Touhou Genso Wanderer will be available on PS4 (physical and digital) and PS Vita (digital-only). As an added bonus, all physical PS4 copies of Touhou Genso Wanderer at launch will include a free digital copy of the 2D platformer Touhou Double Focus (while supplies last)!
PS4 Physical Standard Edition Includes:
– Touhou Genso Wanderer for PS4
– Touhou Double Focus for PS4 (via digital voucher code)
– Reversible cover
– Mini art-book
About the Game:
In this roguelike RPG, you will take control of Reimu, the Hakurei Shrine Maiden, to investigate the latest incident to take place in the world of Gensokyo. Along the way, you'll encounter a variety of characters from the Touhou Project universe, discover mountains of loot—each piece of which is valuable thanks to the game's item fusion system—and test your mettle with your favorite Touhou girl in tow as your adventuring partner in this approachable take on the roguelike genre.
About the Story:
One day, Reimu Hakurei is visiting Rinnosuke Morichika at his shop, Kourindo. He shows her one of his prized possessions, the golden sphere. However, when she touches it, it unleashes a mysterious beam of light. Rinnosuke starts acting strange, and a giant tower now stands where Kourindo used to be. The population of Gensokyo has also been replicated by clones who attack people on sight. As the Hakurei Shrine Maiden, it is Reimu's duty to resolve this latest incident and bring peace back to Gensokyo.
Along the way, she is joined by Futo Mononobe, who has recently set out on a quest to become a first class sage. With her partner in tow, can Reimu make her way through the dungeons of the tower and put an end to this incident?
About Touhou Double Focus:
After getting sucked into a magical book, Aya and Momiji must find their way back home. Explore every nook and cranny to unravel the mystery of the Book World! Along the way, the two run into many other residents of Gensokyo. Some come asking for help while others blame Aya for causing the incident. Help or defeat everyone you meet to give Aya her biggest story yet!
Learn more at: http://nisamerica.com/games/touhou-double-focus/
Click here to watch the latest trailer on YouTube: https://youtu.be/gQtiIbRwin8
Click here to watch the Touhou Double Focus Trailer: https://youtu.be/y3m8cWtHWMA