Games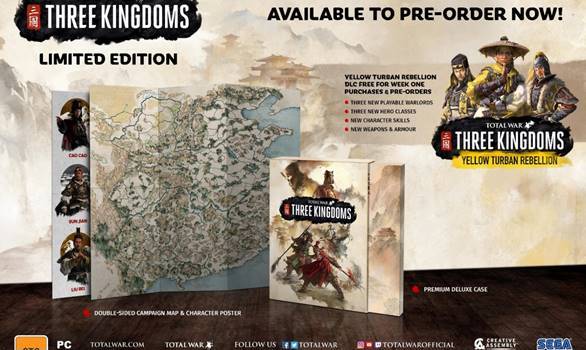 Published on September 28th, 2018 | by Admin
Total War: Three Kingdoms Release Date, Early Adopter Bonus & Limited Edition Revealed
Sydney, Australia – 28th September 2018 – SEGA® Europe Ltd. and Creative Assembly™ today revealed the Early Adopter Bonus and Limited Edition for Total War™: THREE KINGDOMS.
The next historical title in the award-winning Total War strategy series, and the first to explore ancient China as a theatre of conflict, now has an official release date: 7th March 2019.
Early Adopter Bonus – Yellow Turban Rebellion Warlord Pack:
Gamers who pre-order Total War: THREE KINGDOMS will receive a free Early Adopter bonus: The Yellow Turban Rebellion™.  
Learn more about the Yellow Turban Rebellion in the newest trailer here!
The Yellow Turban Rebellion is a Warlord Pack DLC, introducing three new playable Warlords for the Grand Campaign, enabling players to lead armies of bandits, zealots and commoners in a crusade to topple the corrupt Han Dynasty and forge a new future for the people of China.
Featuring a thrilling new unit roster of religious and spiritual warriors drawn from the downtrodden masses, this Warlord Pack also introduces three new hero classes – Scholars, Healers, and Veterans – plus new character virtues and skills built around the three tenets of Taoism: Frugality, Compassion, and Humility.
Total War: THREE KINGDOMS is now available for pre-order from Australian retailers. The game will release for Windows PC on 7th March 2019.
Limited Edition:
Gamers will also be able to get their hands on the Limited Edition of Total War: Three Kingdoms which features:
A premium, high-quality Limited-Edition Case made of authentic calligraphy paper adorned with box-art that masterfully melds painterly Chinese watercolour and ink effects.
Double-sided poster featuring campaign map & Warlord poster giving players a closer look at the cast of playable Warlords and the lands you will conquer with them. One side outlines the vast geography of China as it sits before you, the other introduces you to the varied characters and playstyles at your disposal.
The Limited Edition also includes the Yellow Turban Rebellion Warlord Pack DLC.
Pre-orders are now available at Australian retailers.