Events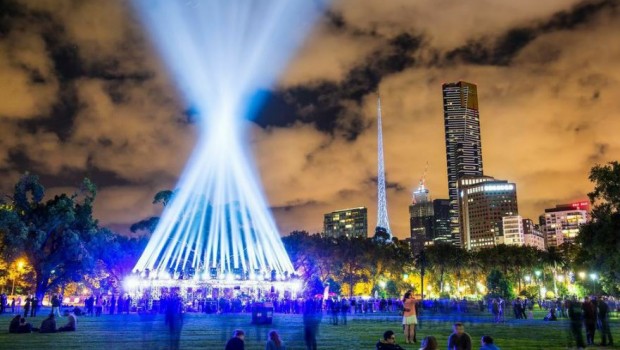 Published on February 15th, 2016 | by Admin
TOP TEN TIPS FOR A GREAT WHITE NIGHT 2016
This Saturday from 7pm to 7am White Night Melbourne will transform Melbourne's city streets, major cultural institutions, public spaces, gardens, landmark buildings and laneways.
Embark on a journey of discovery through the heart of Melbourne with music, food, film, art, and light. Bring your family and friends and enjoy an urban adventure at Australia's only all night celebration of culture and creativity. With so much on offer, including exhibitions, street performances, illuminations, installations, film screenings, music, dance and interactive events, there really is something for everyone.
With five days to go, Minister for Tourism and Major Events John Eren commented, "White Night Melbourne is a major event of epic proportions – with more than 120 events and activities taking over the entire city centre, some local knowledge and expert advice from the Artistic Director will ensure people get the most out of the night."   "Our creative industries and artists will be on show and the event will deliver an important economic injection into our city businesses, hotels and retailers."
Artistic Director Andrew Walsh AM is encouraging visitors to explore the program and plan ahead to ensure visitors have the best White Night possible.
"We've put together a brilliant program of exceptional artists and musicians to entertain and inspire Melburnians, and hope you all have a fantastic evening with your family and friends", said Walsh.
"In order to get the most of your night I strongly recommend you make time to build a plan of attack for your White Night and then let the evening take over."
Here are some tips from the White Night Melbourne team to make the most out of your night of discovery.
White Night Melbourne is a popular event, so visit the website, explore the program, plan ahead and expect the unexpected!
To help you navigate the many opportunities on offer, you can download a selection of curated White Night trails designed around locations and themes at whitenightmelbourne.com.au/trails
Peak Attendance is expected to be between 9.30pm and 11.30pm.  Consider arriving later or booking in dinner first. The entire program runs all night, so if a particular work is busy, come back at a later time. If you find yourself in a crowd, be patient and follow any directions from the White Night Melbourne event staff.
If you haven't already got a copy of the Official Event Guide & map, download it from www.whitenightmelbourne.com.au
White Night Melbourne precinct stretches from the National Gallery of Victoria in the south, through the city to Melbourne Museum in the north – comfortable shoes are a must
Take advantage of Public Transport running all night (trams, trains and buses). Other options include bike parking and special deals from participating car parks
Make sure your camera and phones are fully charged to capture your experience
Join White Night Melbourne on Twitter, Instagram or Facebook for regular updates on the night and share your White Night experiences using #whitenightmelb
White Night Melbourne is a hugely busy event, so be prepared for large crowds, be patient and look out for each other
 Finally, have a great and safe White Night 2016!
The full program, map and public transport information can be found at whitenightmelbourne.com.au