Films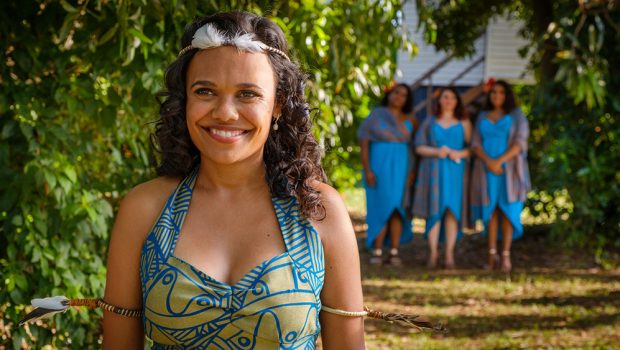 Published on May 3rd, 2019 | by Damien Straker
Top End Wedding – Film Review
Reviewed by Damien Straker on the 3rd of May 2019
Universal presents a film by Wayne Blair
Produced by Rosemary Blight, Kate Croser and Kylie Du Fresne
Written by Miranda Tapsell and Joshua Tyler
Starring Miranda Tapsell, Gwilym Lee, Huw Higginson, Kerry Fox, Shari Sebbens, Elaine Crombie, Dalara Williams, Ursual Yovic and Tracy Mann
Music by David McCormack and Antony Partos
Cinematography Eric Murray Lui
Edited by Chris Plummer
Rating: M
Running Time: 102 minutes
Release Date: the 2nd of May 2019
Top End Wedding is a light, breezy and dispensable romantic comedy. While also a predictably clumsy Australian film with strong visuals and a wobbly script, it is sometimes more poignant than expected. Towards the end, there are scenes involving a multi-generational Indigenous family that strike strong emotional chords. It begs to ask why there were not more included throughout the piece given their resonance. Similarly, there are several good individual elements, including a cheery lead performance, but collectively, it does not amount to a thoroughly memorable work.
The film is directed by Indigenous filmmaker Wayne Blair (The Sapphires, 2012) and stars actress Miranda Tapsell as Lauren. She is a hardworking employee in a law firm where she is under the thumb of her boss, Hampton (Kerry Fox). After impressing her clients, Lauren is made a partner in the company. In contrast, her boyfriend, Ned (Bohemian Rhapsody's Gwilym Lee), suffers a tough day in court. He quits his job but chooses not to tell Lauren. Instead, he successfully proposes. Lauren declares that they only have ten days to marry because she has limited time off work.
Consequently, they briskly travel to Darwin to meet her father, Trevor (Huw Higginson). He is a burly man but also hurting. His wife, Daffy (Ursual Yovich), has left him and provided a note. It is a clue that she has returned to her upbringing in the Tiwi Islands to see her own family. Lauren opts to find her mother but the journey begins to strain her relationship with Ned. Meanwhile, she also reacquaints herself  with her Indigenous girlfriends (Shari Sebbens, Elaine Crombie and Dalara Williams) who start preparing the wedding with some unexpected help.
The character building in Tapsell and Joshua Tyler's script needed refinement. Wedding starts as a 'comedy of errors' where Lauren leaves icing sugar on her work clothes and snaps the heel of her shoe before an important business meeting. The idea of her immediately being made a firm partner after a meeting when she is accident-prone seems incredulous, and her clumsiness is not permeated throughout the rest of the story. Similarly, Ned is a harmless fellow but such a continuously bumbling goof that one asks how he became a lawyer and survived in his relationship for so long.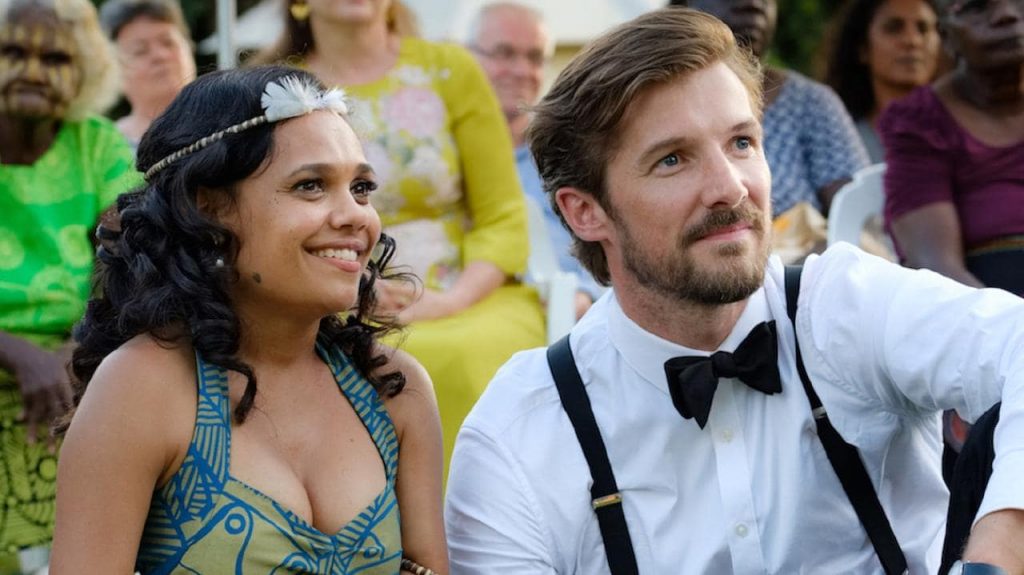 The transitions between the film's early scenes lack conviction. For example, Lauren leaves the office, celebrates with Ned, but is then asked to return to the firm in the middle of the night. It is as though the filmmakers felt they needed to wedge in an extra office scene. Similarly, the way Lauren announces that she has already arranged for Ned's family (Tracy Mann plays his mother) to pick them up is implausible. The scenes are rushed to set the story in motion as fast as possible with no regard for realism. Furthermore, Hampton is shoehorned back into the plot in a highly contrived way. She seems to only feature in the later scenes so that Trevor can share his backstory with someone.
Exposition is problematic throughout the journey when it overrides the comedy and drama. The road trip is comprised of scenes involving Lauren and Ned asking for information about Daffy. Each episode is merely a chain-link of exposition. Fortunately, the way that Wayne Blair photographs the scenery is spectacular. The rich, naturalistic shots of the Northern Territory's Kakadu National Park are beautifully framed. The expansiveness aptly conveys the great distance between not just Lauren and her mother but her cultural roots. There is also a handsome set piece where Lauren is ferried away on a boat, which is dwarfed by the formations on both sides of the water. Additionally, the film is salvaged by the Indigenous scenes that encompass important backstory and social conflict. There is a moment involving Lauren's grandmother that achieves such poignancy it could belong to a different film.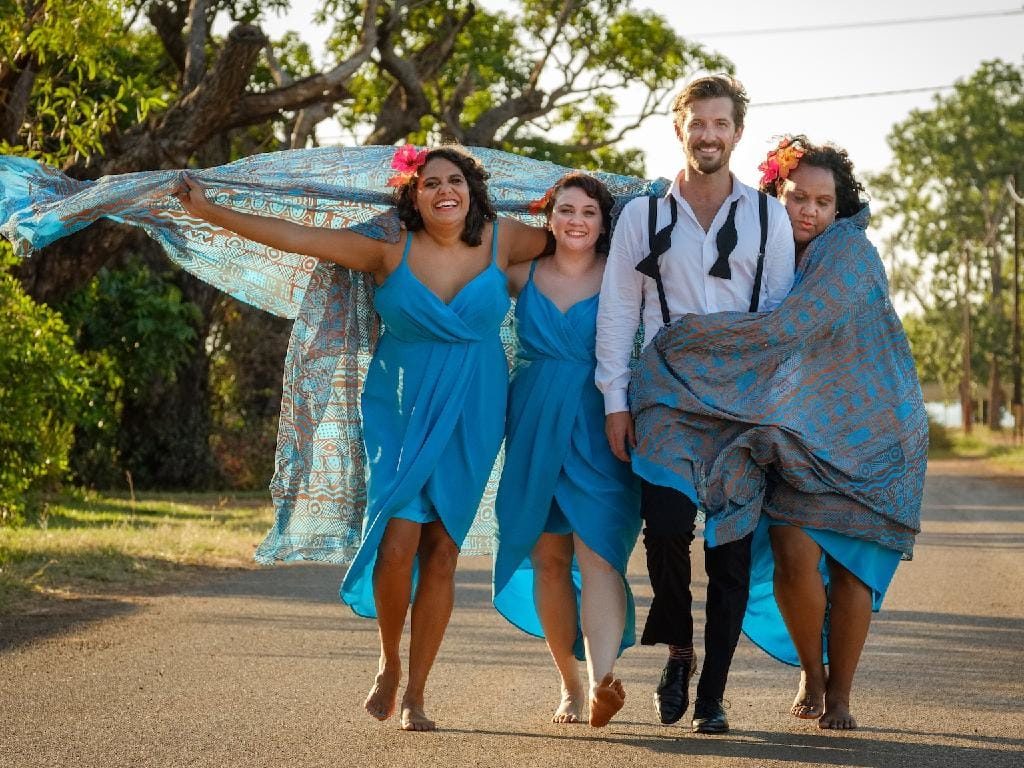 The performances are relaxed and generally likeable. Miranda Tapsell has drawn from her experiences of growing up in Darwin with a white father and an Indigenous mother from the Larrakia people. She has a fun, charismatic presence and there is a moment of reflection where she listens to an Indigenous song that shows great promise for her as a nuanced actor. The backstory of Lauren's family and the tension surrounding her character adds feeling and dimension to her role. Gwilym Lee is sometimes humorous with his disarming part as Ned but his character's backstory is thin compared to Lauren aside from one note of grief. One personality that works both dramatically and comically is Trevor. The script allows British actor Huw Higginson to oscillate between intimidating and emotional. Watching him sob during a reunion scene in Die Hard (1988) or while listening to Chicago's 'If You Leave Me Now' are two of the film's best gags.
Top End Wedding has some laughs, cheery performances and is often visually appealing. However, it is a notch below The Sapphires because the comedy is inconsistent, and the scripting is uneven. Nonetheless, the Indigenous scenes resonate strongly because they are drawn from a personal place that Tapsell understands emotionally as a writer and an actress. If she were to make an entire film about an Indigenous community it would be welcome because of how affecting these scenes are. The glimpses of that unique world salvage a passable but wonky romantic comedy.
Summary: While a predictably clumsy Australian film with strong visuals and a wobbly script, it is sometimes more poignant than expected.