News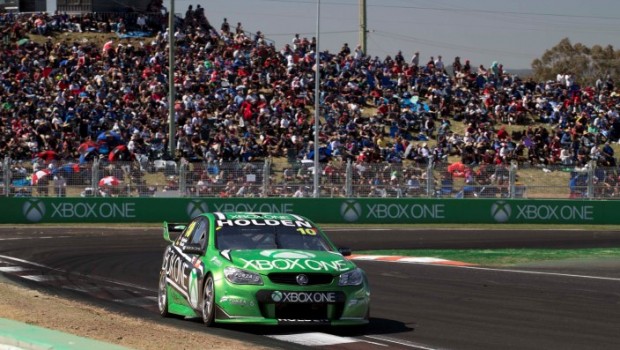 Published on October 14th, 2013 | by admin
Top 10 Result For Xbox One Racing In Bathurst 1000 Debut
The Xbox One Racing Team has raced to a stunning top ten finish on debut in today's Supercheap Auto Bathurst 1000 endurance race.
Starting from 18th grid position, international champion drivers Andy Priaulx and Mattias Ekström posted consistently strong lap times in the #10 Xbox One Racing Holden VF Commodore over the course of the six-hour race.
A late-race pass from Priaulx on young superstar Shane van Gisbergen sealed 10th place for the team, in its first attempt at the iconic Mount Panorama endurance race.
"I was thrilled to pass van Gisbergen to get to tenth. He's won V8 Supercar races, so to legitimately pass him for position made me pretty happy!" said Priaulx.
"To come in and run in the top ten and have solid pace like we did … well I'm delighted.
"We had the potential to run right at the sharp end and we proved that today. Both our stints were competitive with the front runners and I think we extracted as much as possible from the car."
In a race punctured by just two safety car periods, the Xbox One Racing team completed its seven compulsory pit stops without drama.
With teams running to a variety of fuel strategies, both drivers led the race at different stages for a combined total of 22 laps.
"To lead the Bathurst 1000 was a special moment for me," said Priaulx.
"I'll wake up tomorrow and won't believe that happened. It's just a shame it didn't happen at the end of the race!"
In his first ever Bathurst 1000, rookie Ekström certainly made his mark on the event by pulling off some brave passing moves on more experienced campaigners.
"Where I come from in Europe we race a different way, and I also quickly get bored when I'm driving behind someone who is slower," explained the two-time DTM champion.
"I gave them about two or three laps before making my way past. Those guys will know now that I'm not going to wait for many laps if I am quicker!"
With just a combined five Bathurst starts between them, the team's Technical Director Ludo Lacroix credited both drivers on a brilliant result. "
We have two champion drivers and they did a champion job." said Lacroix.
"What is exceptional is that we've only had a couple of flat spotted tyres over the course of the last two weeks, and after 161 laps there isn't one scratch on the car.
"To come out of a race like the Bathurst 1000 in that condition says a lot about how remarkable these two drivers are."
While Ekström now rates the Bathurst 1000 as 'one of the top five races' of his career, Priaulx said he was also grateful to the team for the chance to race at Australia's most prestigious motor sport event.
"This Xbox One Racing Team has only been put together for this one race but you'd swear they'd been doing it all year, so I can't give them enough credit," said Priaulx.
"I'm really delighted for Xbox One and Triple Eight for putting their faith in Mattias and me to come down here and play with this amazing toy!"
Gaming fans won't have to wait much longer until they too can race around Mount Panorama, with the highly-anticipated racing game Forza Motorsport 5 set to launch exclusively with the new Xbox One console on November 22.