Games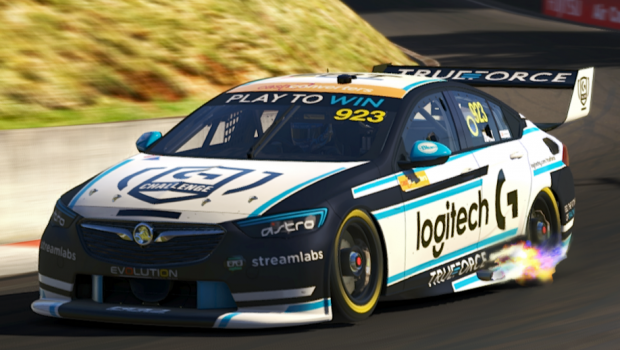 Published on August 25th, 2021 | by Andrew Bistak
TONY D'ALBERTO JOINS LOGITECH G RACING TEAM AT CASH CONVERTERS SUPERCARS ESERIES WITH SIM RACER!
Sim racer and Hyundai Excel driver Ethan Grigg-Gault will return to the Pro Series with Professional circuit driver Tony D'Alberto to contest the six-round season of Cash Converters Supercars Eseries, a Bathurst 1000 favourite!
D'Alberto who will co-drive with Shell V-Power Racing Team in this year's Repco Bathurst 1000, will represent Logitech G in their racing team entry for the All Star Eseries. Logitech G, a leading innovator in gaming tech, producing the revolutionary TRUEFORCE Next-Gen Simulation for at-home eRacing, has backed Australian eSports in racing for many years, watching its transformation
"What we are so excited about is that the technological advancements are now allowing the sport to expand from online to on track and in reverse, "said Daniel Hall, Logitech G ANZ's Snr Category Manager. "It is also proving that both the Virtual Pro Racers and Supercar Driver skill sets are very much transferable."
D'Alberto is a shining example of how transferable his Supercar Driver skill sets are when put to the test in the world of Virtual Pro Racers. Despite spending six successive seasons as a co-driver in the Repco Supercars championship, D'Alberto is anticipating tough competition as Virtual Pro Racers return to online racing.
"I did a bit of sim racing last year, but when the opportunity to join the Logitech G Racing Team in this year's Eseries came up, I jumped at it," D'Alberto said.
"Going to Bathurst is going to be as tricky though, we saw last year when we had guest sim racers, they were competitive, but the top guys like SVG can still stack up against them. "I think Bathurst might be a leveler of those who have real track and sim racing experience."odium circuit finisher and Virtual Pro Racer Grigg-Gault is one of the returning and successful competitors from the Eseries. Grigg-Gault had his first offline win in March competing in the Victorian State Race Series held at Winton Motor Raceway as a driver for the Logitech G-backed Evolution Racing Team.
"Sim racing has taught me everything I know, and I build on it when in my real-life race car. "I've been involved with Logitech G for years now and it was great to be able to go to the track and be coached by Tony at Winton as well. "Now we get to team up in the Eseries, I can help him with the sim racing, and he can help me with the real thing.D'Alberto and Grigg-Gault join a list of current Repco Supercars Championship drivers already confirmed for the Cash Converters six-round Eseries which will start on August 25. The Eseries will be broadcast live on Fox Sports 506, Kayo, 7Plus, as well as streamed on Supercars' Twitch, Facebook and YouTube channels.