Games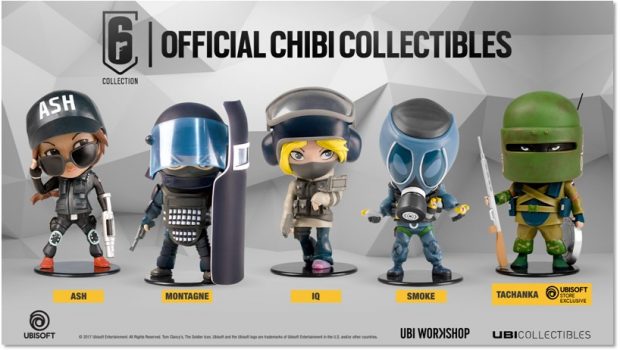 Published on August 4th, 2017 | by Admin
Tom Clancy's Rainbow Six – The Ubicollectibles Six Collection Figurines
SYDNEY, AUSTRALIA – August 4, 2017 – Ubisoft has announced that the SIX Collection Chibi, a set of 5 exclusive figurines inspired by iconic characters of the Rainbow Six franchise, are now available for preorder on the Ubisoft Store in Australia and New Zealand.
In order to remain faithful to the iconic heroes of the franchise, Ubicollectibles & Ubiworkshop have teamed up directly with Ubisoft Montreal studio to create these figurines of 10cm each. The collection includes the following items:
Eliza "Ash" Cohen, is an attacking operator, specialized in demolition. Using her Remote Breach, she can destroy anything and surprise her opponents.
Monika "IQ" Weiss is also an attacking operator, specialized in electronics detection, meaning she can easily avoid all enemy traps!
Gilles "Montagne" Touré always goes ahead to cover his team. With his extendable shield, he can stop OpFor bullets during any siege assault.
James "Smoke" Porter is a defending operator with a lot of courage and determination on the battlefield. He is specialised in poison gaz production and manipulation.
Alexsandr "Tachanka" Senaviev[1] is also a defending operator, specialised in heavy weapon manipulation. He uses his favourite weapon, a RP-46 Degtyaryov machine gun, to annihilate the enemies.
By purchasing one figurine of the SIX collection, players will receive a unique code to unlock exclusive in-game content in reference to the charms hanged on the operator's weapons.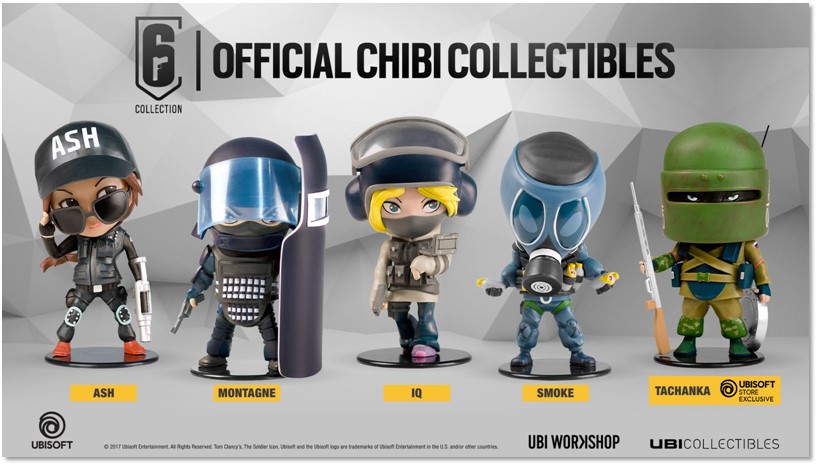 These unique collector's items will be released on October 3rd and are already available for preorder on the Ubisoft Store. They will also be available for purchase as a worldwide exclusive at Gamescom, from August 22th to 26th on the Ubisoft boutique (Hall 5.)
[1] This figurine will be an Ubisoft store exclusivity