Games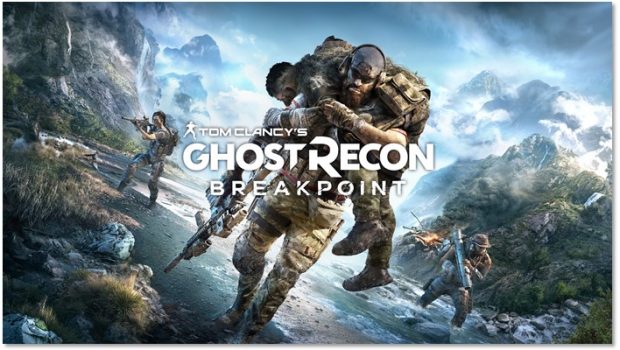 Published on May 10th, 2019 | by Admin
Tom Clancy's Ghost Recon BREAKPOINT
BECOME AN ELITE SPECIAL OPERATIONS SOLDIER BEHIND ENEMY LINES IN Tom Clancy's Ghost Recon® BREAKPOINT
The Ghosts Face Walker, Ex-Brother in Arms, Portrayed by Critically Acclaimed Actor Jon Bernthal, and his Lethal Wolves Unit
Sydney, Australia — May 10, 2019 — Today Ubisoft® announced Tom Clancy's Ghost Recon© Breakpoint, the latest instalment in the Tom Clancy's Ghost Recon® franchise, will be available October 4 on the Xbox One family of devices including the Xbox One X, PlayStation®4 computer entertainment system and Windows PC. After successfully rebooting the Ghost Recon formula with Tom Clancy's Ghost Recon® Wildlands, Ubisoft Paris* has created an entirely new adventure, putting players back in the boots of the Ghosts, an Elite US Special Operations Unit. But this time they are stranded behind enemy lines, facing their toughest enemy to date.
Tom Clancy's Ghost Recon Breakpoint is a military shooter set in a diverse and hostile open world entirely playable solo or in up to four-player co-op. Players will discover Auroa, a mysterious island where the most technically advanced facilities meet wild and untamed nature. Home to drone creators, tech giant Skell Technology, Auroa has fallen into the wrong hands and all contact has been lost.
The Wolves, a lethal ex–US Military unit of former Ghosts gone rogue, have taken over the island. Led by Nomad's ex-brother-in-arms, Lt. Colonel Cole D. Walker, portrayed by Jon Bernthal, they have reprogrammed Skell's drones into killing machines and are ready to use them, no matter the casualties. Nomad and the Ghosts are sent in on a recon mission, but their helicopters are shot down. Injured, without support, and hunted down, players will live an intense military experience as they fight to survive, take down the Wolves and regain control of Auroa.
Steep slopes, accumulating injuries, and fatigue are new challenges for players to tackle as they test their survival skills in the varied terrains of Auroa. To overcome adversity, players will enjoy total freedom to accomplish their missions and have plenty of tactical options and tools at their disposal, including a set of new military features. They will be able to carry enemies and teammates' bodies, blend into their environment with prone camo and set up camp with teammates in the bivouac to manage equipment, change classes, and fine-tune their strategies.
They will also be able to choose among thousands of customization combinations to create their perfect Ghost, and keep their character and progression through the game in both the main campaign and Player-versus-player (PvP), available at launch.
Tom Clancy's Ghost Recon Breakpoint will include a robust post-launch content support plan, with regular updates after launch. New story arcs, classes and features will be continuously added, and for the first time in a Tom Clancy's Ghost Recon game, a new type of endgame content: Raids.
Additionally, Ubisoft announced the Gold, Ultimate and Wolves Collector's Editions** of Tom Clancy's Ghost Recon Breakpoint as well as the standalone Ubicollectibles® figurine of Nomad:
The Gold Edition will include the base game and the Year 1 Pass.
The Ultimate Edition will include the base game, the Year 1 Pass and the Ultimate Pack.
The Wolves Collector Edition will include the base game, the Year 1 Pass, the Ultimate Pack, a Ubicollectibles® high-end figurine of Lt. Colonel Cole D. Walker, a Steelbook®, exclusive lithographs, Walker's dog tag, a waterproof map of Auroa as well as the soundtrack.
The standalone Ubicollectibles figurine of Nomad is available for preorder on the Ubisoft store.
Fans who purchase the Gold, Ultimate, or Collector's edition will have access to the game up to three days early. Fans who pre-order Tom Clancy's Ghost Recon Breakpoint will receive access to the Ghost Recon Breakpoint Beta closer to launch, as well as the Sentinel Corp. pack which includes exclusive gear.
For more information about Tom Clancy's Ghost Recon Breakpoint, please visit ghostrecon.com, follow us on twitter.com/ghostrecon, instagram.com/ghostrecon_us or facebook.com/ghostrecon and join the conversation by using #ghostrecon.