Games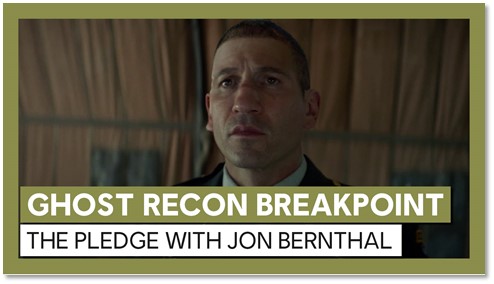 Published on September 4th, 2019 | by Admin
TOM CLANCY'S GHOST RECON® BREAKPOINT DETAILS CLOSED BETA CONTENT AND UNVEILS YEAR 1 POST-LAUNCH PLAN
Pre-Load the Closed Beta, Take Part in the Man Down Charity Event and Catch Up on the Journey of Cole D. Walker, Portrayed by Critically-Acclaimed Actor Jon Bernthal, from Ghost to Leader of the Wolves in a New Trailer
Players can now pre-load Tom Clancy's Ghost Recon® Breakpoint Beta to play from September 5-8 on all available platforms. Access to the Closed Beta is available to players who pre-order* the game, UPLAY+ subscribers**, players who participated in the game's Online Technical Tests as well as randomly selected players who registered on the Beta sign-up page, ghostrecon.com/beta. Closed Beta players will also have the opportunity to take part in Man Down, a special in-game charity event to raise money for the global NGO Child's Play.
During the Closed Beta players will have access to several provinces, missions to explore in up to four player co-op or solo. Missions available include two Operation Greenstone missions, taken from the main storyline; Auroa Missions, which include side missions to discover more about the island and its inhabitants and Faction Missions which include eight new missions per day. Drone Areas are also available to test player's strength in battle, where they can face-off against Murmurs, small flying drones that can swarm players; Aamons, mid-size land drones and Behemoths, huge, heavily armored drones with intense firepower.
Find more information about the Closed Beta here.
During the Closed Beta, players can participate in Man Down, an in game charity event, donating to Child's Play by teaming up in co-op and helping their teammates by reviving them when they are down. The more players participate, the more Ubisoft will donate, so team-up and protect your squad mates!
In addition to Closed Beta details, the Post-Launch plan for Year 1 is now available. Year 1 Post-Launch starts at launch with Operation Greenstone, followed by Episode 2 and 3, coming every 4 months. Each Episode will receive hours of new content and support including a New Adventure, New End-game Content (Raid and Updates), Faction Missions as well as PvP Updates and regular new content, detailed below:
New Adventures: New story-driven content that expands the main story of the game will be available with each episode.
New End-Game Content: Every Episode will bring new End-Game content. Episode 1 brings the Project Titan Raid. Players will explore an active volcano on a new island in the Auroa archipelago where they need to use all the skills learned on Auroa in intense four-play co-op challenges. The Raid is replayable and adaptable for all play styles.
New Faction Missions: Factions in the game will evolve over time and every month, new narrative Story Faction Missions will be released, bringing context as well as character development. New Faction Missions will be available daily and will provide objectives to support the factions and their narrative arcs.
New Classes: Three new classes will be introduced in Year 1, starting with the Engineer which brings an expertise in hacking.
Live Events: These events will feature VIPs that will help Nomad tackle new, terrible threats.  A new Event will be available with each Year 1 Episode and lasts one month.
PvP Updates: In addition to the three new classes coming Year 1, which will be fully playable in PvP, new maps and updates will keep Ghost War players on their toes.
Regular New Content: New content such as new missions, activities and unlockables will be available with each new episode.
Also released today is a new trailer featuring critically-acclaimed actor Jon Bernthal who portrays Cole D. Walker, leader of the Wolves. The trailer follows Walker's journey from becoming a Ghost and fighting alongside Nomad, to becoming leader of the Wolves, the organization that took over Auroa from tech-giant and drone producer Skell Technology, shutting it off from the world and weaponizing their drones.
Tom Clancy's Ghost Recon Breakpoint will be available October 4 on PlayStation®4 computer entertainment system, the Xbox One family of devices including the Xbox One X and Windows PC. Tom Clancy's Ghost Recon Breakpoint will also launch on the new generation gaming platform, Stadia. Fans who purchase the Gold, Ultimate or Collector's Editions will have access to the game up to three days early. More information about the game's editions can be found here: store.ubi.com.
For the latest news about Tom Clancy's Ghost Recon Breakpoint, please visit ghost-recon.ubisoft.com.
For the latest news about other Ubisoft games, please visit news.ubisoft.com.
*Pre-order any edition of Tom Clancy's Ghost Recon Breakpoint at participating retailers and platforms, strictly pursuant to the terms of the private beta phase to get access to it. Terms and conditions strictly apply and will be communicated on a later date determined by Ubisoft. Subject to availability and while supplies last. Content and system requirements pending; check all requirements/details/restrictions prior to purchase/redemption. Promotional offer. Void where prohibited or restricted.
**$19.95 AUD per month. Cancel anytime. More information at uplayplus.com.