Comics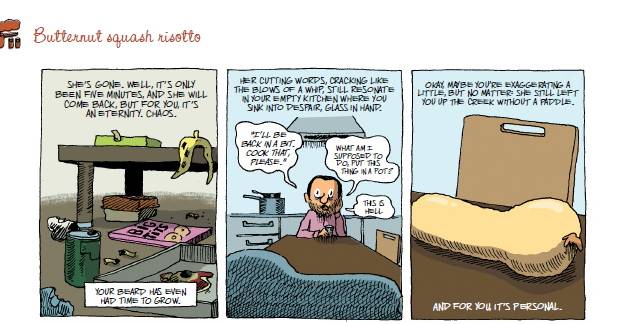 Published on October 25th, 2020 | by Tim Chuma
To Drink and to Eat Vol. 2: More Meals and Mischief from a French Kitchen (2021) Review
Summary: Not your average cook book and more for people who like the story about the dish.
The second collection of Guillaume Long, a culinary cartoonist who works for the publication Le Monde. While this is billed as a cook book, there are only about 23 recipes listed in the book and is different to any cook book I have seen.
For a start the listings for the ingredients are shown visually there are no dot points or strict instructions to follow. The story behind how the meal was dreamed up is also part of what is shown. It is more the French philosophy towards cooking being a part of life rather than a strict series of steps to follow.
There are large parts of the book without any recipes at all. At the end of each section there is journal section which various adventures from the author.
It is an interesting book to look through even with just the artwork. If you are looking for something different in a cook book I would have a look at this one.
Not sure if I would attempt to cook anything listed in the book it does seem a bit advanced for me and I am not sure all the ingredients would be available. If you have more experience in cooking I would have a look.
I would recommend this one if you are interested in cooking or French culture or want to want to see a different type of graphic novel from a well respected cartoonist.
Book details:
Author: Guillaume Long
Translator: Sylvia Grove
Published: 5 January 2021
Publisher: Oni Press
Pages: 128
Genre: Cooking/Comics