Interviews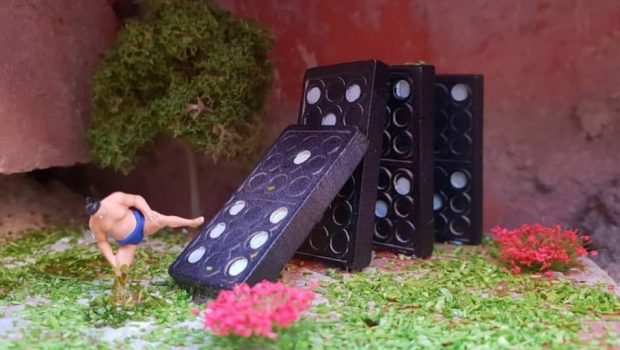 Published on June 4th, 2019 | by Admin
Tinky Interview (Low Light Queenscliff) … the land of miniatures
Before Low Light commences in Queenscliff, we catch-up with Melbourne Street Artist Tinky about his awesome miniature art that will be showcased through this coastal town during the festival.
What drew you to make miniatures?
It's a strange story, really. I woke up one Sunday morning about four years ago with a strong desire to buy vintage toy soldiers. To this day, I've no idea why I woke up feeling that I had to do that! I dragged my husband, Karl, along to a trash and treasure market on the Mornington Peninsula with the aim to find toy soldiers. I'd never even really thought about toy soldiers before, so it was out of the ordinary for me to be thinking about them all of a sudden. As we walked into the market, the second stall I went to had two very large jars of toy soldiers. I bought them and continued to walk around the market looking for something that I could use with the soldiers. I didn't know what I was looking for, but I stumbled on a plastic Big Bird, about 8cm tall – he had his arms outstretched and I thought it would be funny if I glued a scene in a laneway of Big Bird being surrounded and held up by toy soldiers. As Collingwood was a great spot for street art, I wanted to head there. We spent an hour driving to Collingwood. We found a laneway in Easey Street where I glued the scene to a windowsill. That's how it all started. Weird! I often now say that Big Bird changed my life.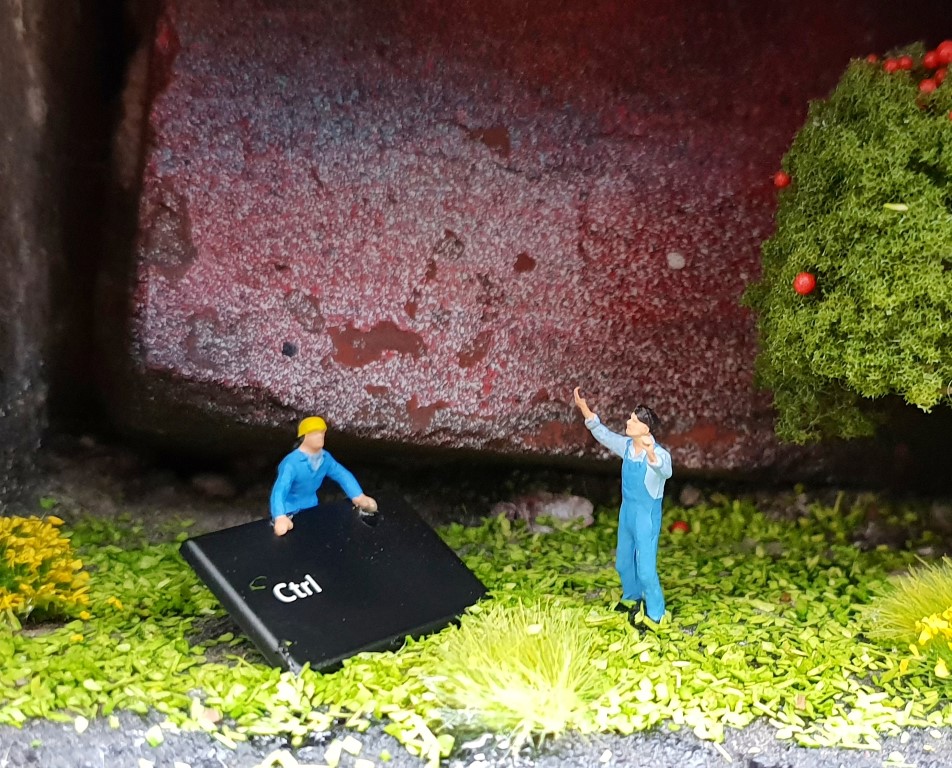 So far, what has been the most challenging model and why?
The most challenging installation I've ever done was for the Myer windows in Melbourne for MECCA Cosmetics. It was the most exciting installation I've ever done. It put me out of my comfort zone – which was a good thing – as the space was so much larger than I was used to. I had a whole Myer window, as opposed to a small space like a crack in a wall! I made three pieces for the window, but I put a lot of pressure on myself to be funny, as I really wanted passers-by to engage with it. And thankfully they did!
The most challenging installation so far for Low Light Queenscliff has been one that uses a real fossil – a polished Orthoceras from Morocco (an ancestor to the modern-day squid). It was important to find the right spot by the seaside for that one, where it would blend into the surrounds, but also possible for people to find. The surface was difficult for the glue to adhere to. It's a fishing scene and I'm hoping the sea hasn't washed the figurines away!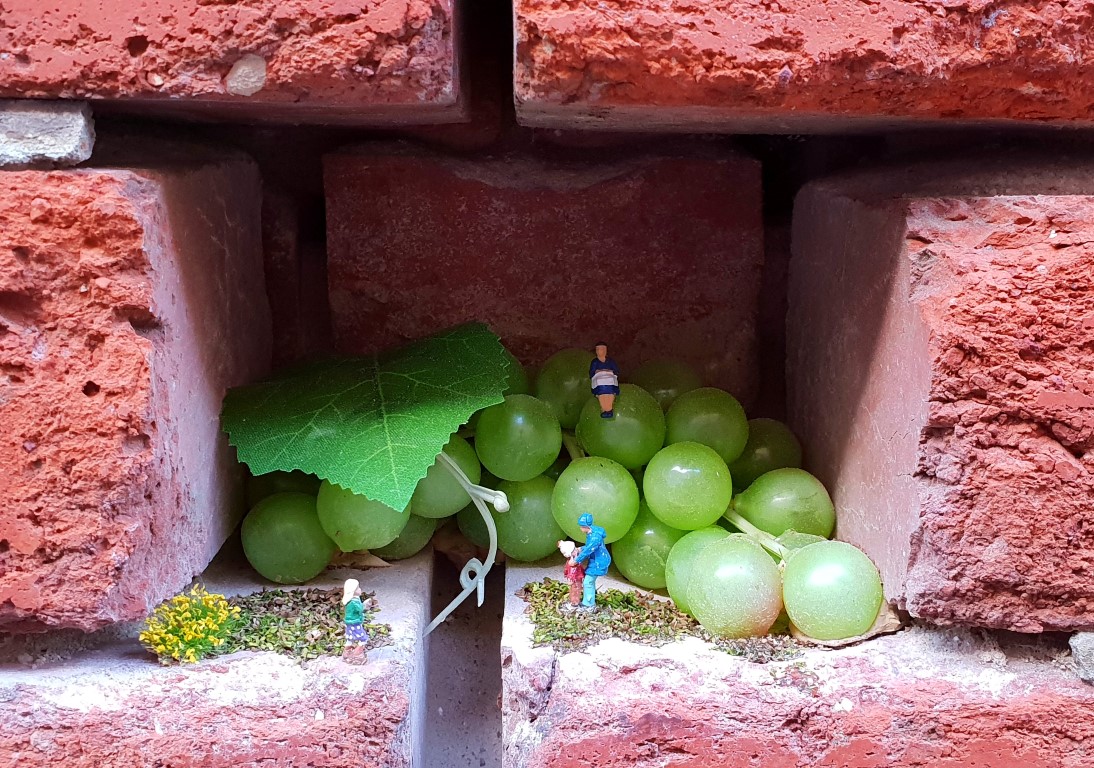 Growing up, what was your favourite toy?
As a kid, I was truly obsessed with Snoopy. He was my favourite toy. I had many different outfits for him – sailor, pilot, night-shirt, baseball player, and others I can no longer remember. My cousin – who was my best friend – also had a Snoopy, so we encouraged each other's obsession. We had Snoopy diaries, Snoopy stickers, Snoopy books, etc. But the plush Snoopy toy was my most treasured possession.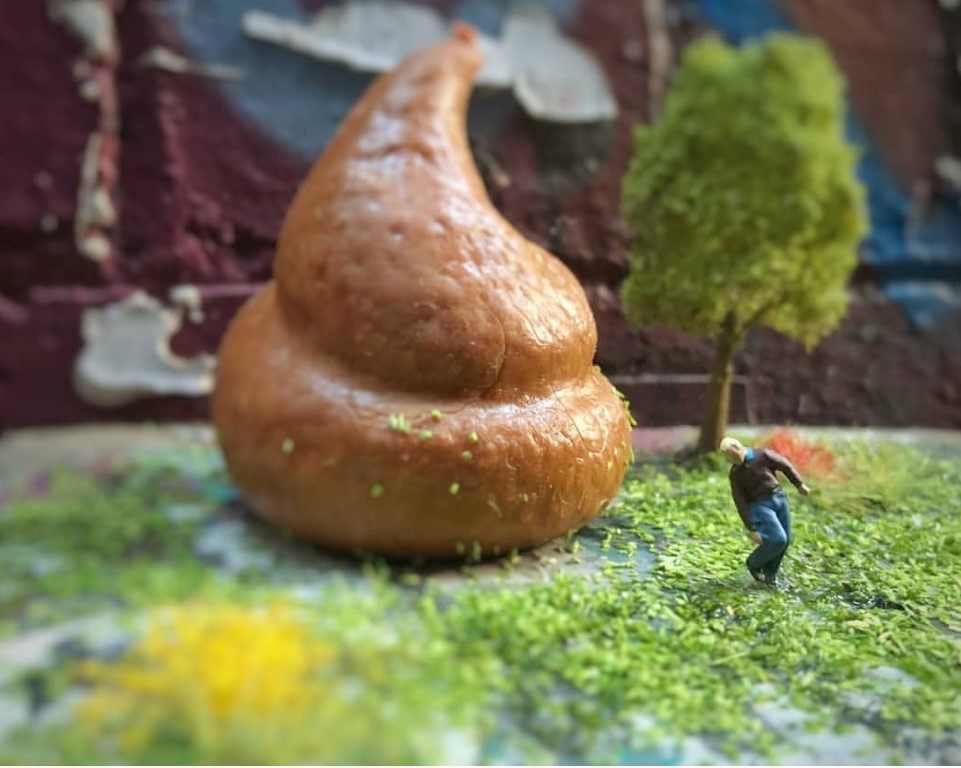 Can you tell us about some of the exhibitions that will be littered throughout Queenscliff for the Low Light Festival?
There will be a mix of 20 miniature installations in total placed around Queenscliff and Point Lonsdale. A few will be placed in cafes, but mostly they will be in and around Hesse Street or in a laneway off the main street. One of the pieces is based on a real fossil – a polished Orthoceras from Morocco which has a fishing theme and is placed near the water in Point Lonsdale. There will be some cheeky ones, of course – some small-scale nudity and one with a flasher. There's an end-of-financial-year party scene, a "giant" mandarin (which is normal size, but giant to the miniature), and a workman trying to crack a walnut. There's also a giant squash (vegetable) that has, errr, squashed someone. There was a scene involving a fake dog poo but unfortunately that was removed by someone the same day I installed it. Perhaps they didn't like it.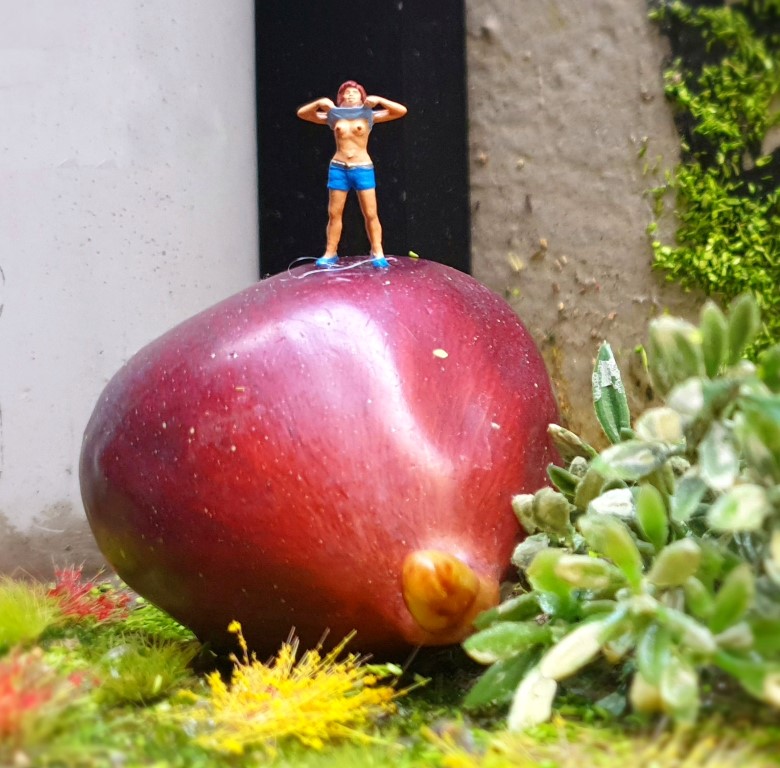 Do you have a favourite and if so why?
My all-time favourite artwork was for a gallery exhibition two years ago. It involved a taxidermy duckling and a miniatures gardener that had snipped a tiny bit of the duckling's feathery down which was lying on the grass. The caption was "Gerard thought this was his best topiary attempt yet." It was a lovely little duckling and I liked giving him another life as a piece of art.
My favourite piece for Low-Light so far is a scene I've done where a brick is missing in a brick wall between two houses in a street off Hesse St. It's a bit naughty, but it's also the space that I love. Any wall where a brick is missing is the perfect home for a miniature scene!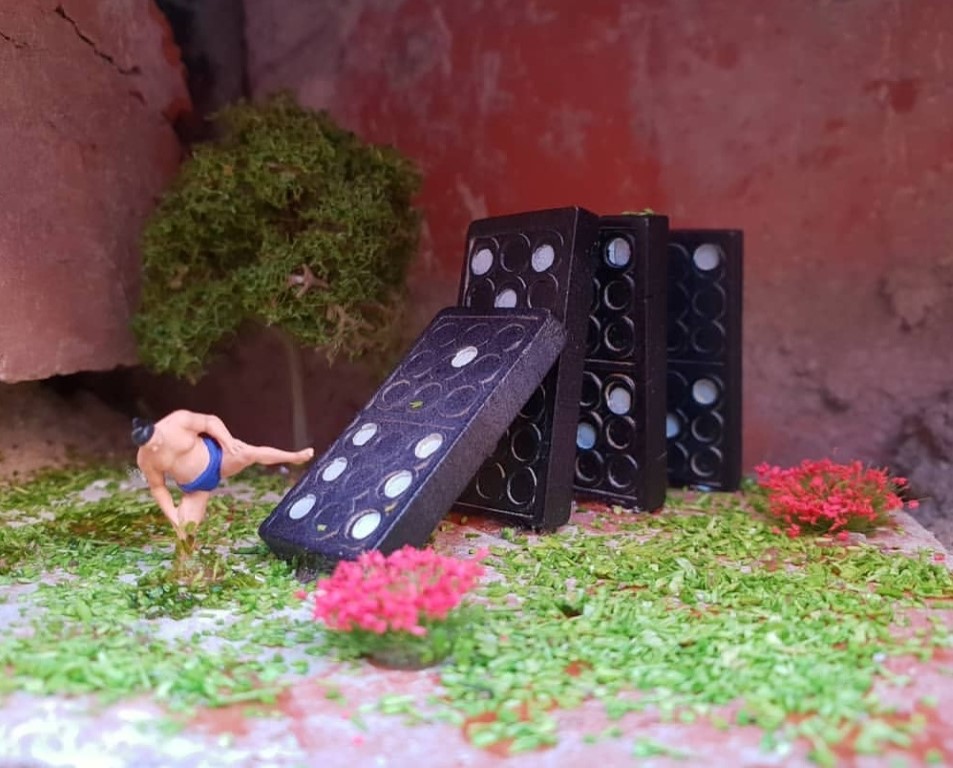 With your miniatures, can you tell us about some of the "Easter Eggs" you've included?
LOL, people love the eggshells! I have included one eggshell piece and it is on show at Belsize & Co (67 Hesse Street). It shows some workmen demolishing a real eggshell. The workmen thought the job wasn't all it was cracked up to be and so they had to hatch a new plan.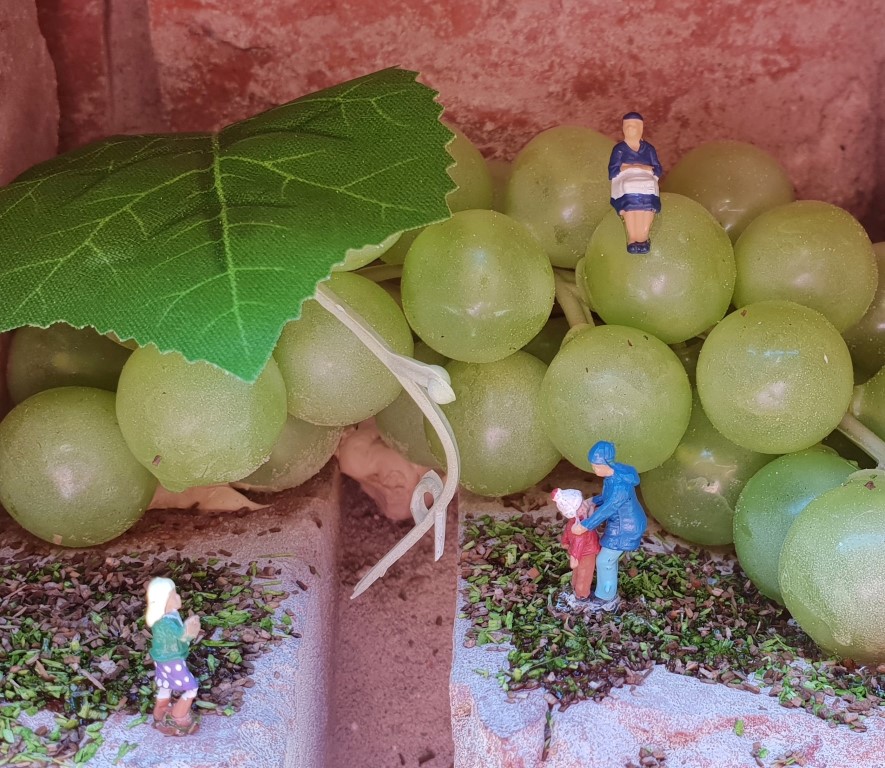 Lastly, what should attendees at the Low Light Festival be on the lookout for in terms of your miniatures?
I would recommend people look low and look at eye level. It requires paying attention to your immediate surroundings. Go slow. Look in gas metres, in gaps in a wall, on top of ledges. The installations are very small, but if you're aware and looking, you should be able to find them. Importantly, there is a punny caption that goes with each installation which is really one half of the artwork in that it gives the scene context. The captions will be on my Instagram page, alongside a photograph of each work. My Instagram page is @tinkysonntag.
For more information on Low Light, check out http://lowlightqueenscliff.com.au/
About Tinky
Melbourne installation street artist Tinky works with miniature figurines and models on a tiny scale. Tinky makes use of gritty street landscapes, where laneway drains morph into desert-scapes for a caravan of miniature camels; or a missing brick in a wall becomes home to an intimate scene of a miniature couple gardening. Tinky often uses discarded or oversized objects within her miniature dioramas, so that each scene has a comedic undertone, exaggerates a message, or emphasises playful folly. i.e. miniature construction workers might gather to fix a broken egg shell, or a discarded fish-shaped soy sauce container can become "the big catch" for a miniature fishing scene. It has been said that Tinky's miniature dioramas add a sense of surprise and wonder to the streets, with unlikely installations on a pipe or window sill, in a gutter, or a hole-in-the-wall. While Tinky's work is diminutive and often undertaken in the street, her miniature scenes are transferable to any space, including on or in vintage objects such as small tins, wooden vessels, a bird cage, yo-yo, or shoe-shine brush.