Hardware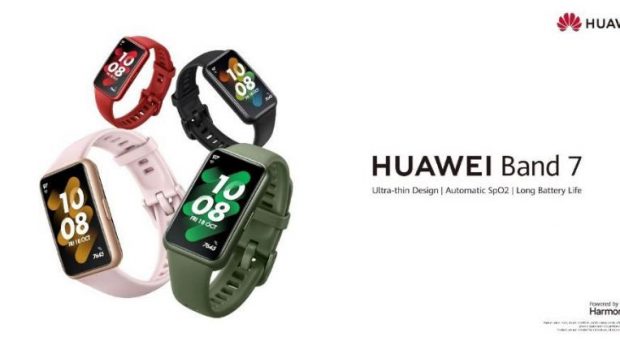 Published on June 18th, 2022 | by Andrew Bistak
TIME TO WATCH YOUR HEALTH WITH HUAWEI
Recently, Australians' behaviours towards their health have shifted1 with 4 in 10 people saying they are prioritising their health now more than they did before COVID-191.
In response to this improved health trend, Huawei Consumer Business Group (BG) is excited to announce its newest wearables to its globally renowned portfolio offering a seamless combination of sleek designs and health-tracking benefits, which will be available on June 18 Australia-wide.
Recent statistics show nearly three quarters (72.8%) of people over 15 years old do not meet the Australian Government's physical activity guidelines, and nearly half of employed people aged 18 to 64 years described their workday as mostly sedentary2.
With winter and the end of financial year season upon us, now is the perfect time to kickstart the health journey with Huawei's newest wearables that are made with the best in cutting edge technology boasting a range of features; from blood pressure monitoring to a built-in animated fitness coach, there's a watch waiting to meet any wrist.
Whether it is for an always-on-the-go, corporate powerhouse or a stylish student; keeping on top of health goals is important, and these smart watches can help consumers to do that.
NAB Australian Consumer Health Survey, 2021

Australian Bureau of Statistics (ABS), Physical Activity, 2020-21 Financial Year
HUAWEI WATCH D: Downright dad-worthy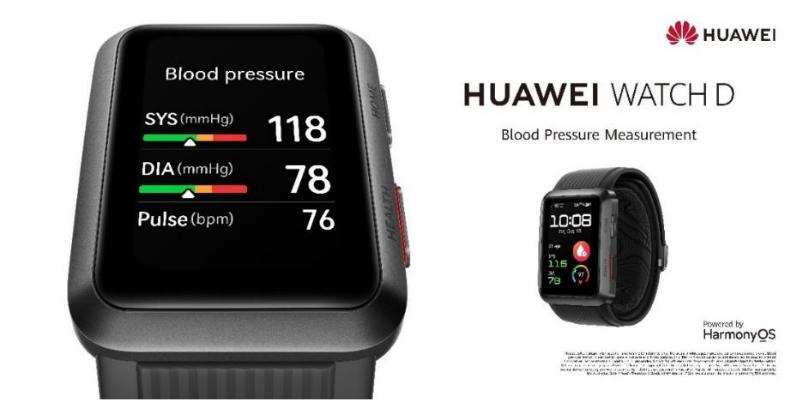 If you want the convenience of monitoring your health from your wrist, you are a health nerd obsessed with your vitals, or all of the above – this watch is for you.
HUAWEI WATCH D is an innovative wrist-type blood pressure monitoring device3, making it a significant breakthrough in technology.
Out with the old and in with the new, HUAWEI WATCH D provides accurate blood pressure measurements at a sixth of the size and weight of a traditional blood-pressure measuring device.
The accuracy of the blood pressure measurement is often being affected by the tightness and wear position on the wrist for traditional smartwatches. Thanks to the high-resolution pressure sensor, feedback pressure control circuit and low-flow airway of HUAWEI WATCH D, the precise pressure measurement system can maintain a pressure measurement error within ±3mmHg4, allowing users to measuring blood pressure anytime and anywhere.
In addition to its accurate blood pressure monitoring, it supports heart rate measurement, scientific sleep monitoring, stress monitoring and much more. You can be rest assured knowing that your health is being prioritised.
This watch is the perfect gift for dad, with 70 workout modes and 7 days of long battery life5.
The HUAWEI WATCH D has an RRP of $799.
Blood pressure feature is intended for general wellness and fitness purpose only. This isn't a medical device and should not be used for medical diagnosis or used as treatment, monitoring, or prevention. Data is for reference only. Please seek for medical professional for further advice.ECG capabilities are ready upon release but they require approval from the TGA before they can be activated for use in Australia. In Australia, medical device marketing approval is obtained by including the device on the Australian Register of Therapeutic Goods (ARTG), maintained by the Australian Government's Therapeutic Goods Administration (TGA). We are under the process of preparing TGA approval.The blood pressure measurement results may present a large margin of error if your posture is unstable (due to diseases such as Parkinson or cerebrovascular disease sequelae), or you suffer from arrhythmia such as atrial fibrillation, severe anemia, peripheral vascular disease, or arteritis.This device supports a wrist circumference of 13.0 cm to 20.0 cm, and comes packaged with L and M sized straps and airbags. Please measure your wrist circumference before purchasing the device. Do not purchase it if your wrist circumference is outside the supported range. The error value only indicates the pressure measurement precision of the device. *Please read the Quick Start Guide thoroughly, or make sure to purchase and use the product under professional medical supervision. For details about contraindications and precautions, see the Quick Start Guide. Data comes from Huawei labs and may vary depending on individual models, user habits, and environmental factors. Actual usage should prevail. This product complies with the IP68-rated resistance level under the IEC 60529:2013 standard, and 5 ATM-rated 50-meter water resistance under the ISO 22810:2010 standard, and can be worn during shallow water activities, such as swimming in pools and shallow waters along the coast.
HUAWEI WATCH GT 3 Pro: Look good, feel better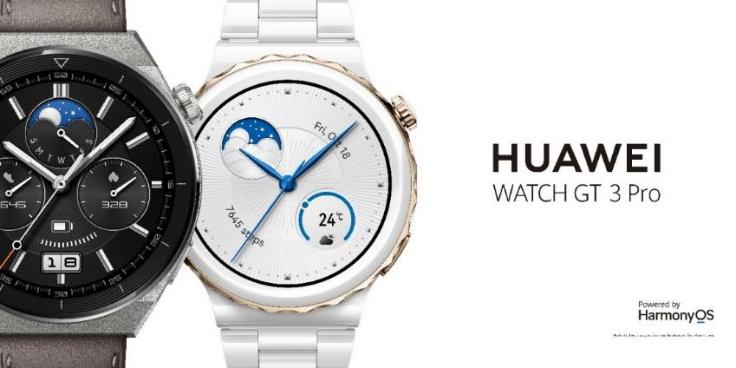 This sophisticated watch is available in stylish titanium (46mm) or ceramic body with sapphire watch dial (43mm) redefines what premium and professional smartwatches can be.
With up to 14-days of battery life4; electrode technology for accurate health measurements; and access to over 100 completely personalised
workouts from golf to cross-country skiing to free training– this watch is perfect for the corporate junkie or fashion lover looking for a new addition to their daily wardrobe. HUAWEI WATCH GT 3 Pro blends cutting edge technology including its IP68 and 5 ATM ratings for impressive water resistance that allows the consumers to wear it in the blue ocean as deep as 30 metres with the Free Diving Mode6 .
With an abundance of helpful health tools and features such as all-day heart rate and SpO2 monitoring, as well as customisation options to match your style, this watch is truly the best of both worlds: health and fashion. Whether you're rushing to your next meeting, trying to get your daily exercise in or conquering Mount Everest HUAWEI WATCH GT 3 Pro is a comfortable companion.
The HUAWEI WATCH GT3 PRO Titanium has an RRP of $899.
The HUAWEI WATCH GT3 PRO Ceramic has an RRP of $999.
HUAWEI WATCH FIT 2: Made to fit your (life)style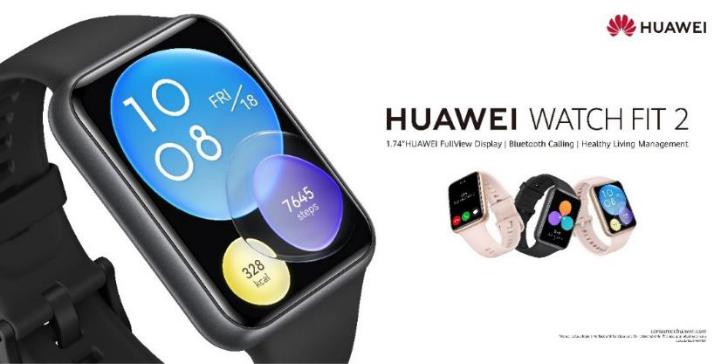 Bringing together style and functionality, HUAWEI WATCH FIT 2 redefines the smartwatch for the new generation.
With its lightweight feel and clean design, it's the definition of ease. Transfer files by tapping your smart devices together, push calls from your phone to your wrist, or play music directly to your watch – you can do it all and more.
The new design makes for an even more interactive, intuitive experience than its previous model and includes your very own 'gym wrist'.
HUAWEI WATCH FIT 2 comes with 97 workout modes. If you want a personal trainer, but you are too shy or do not want someone to yell at you, try out the built-in animated fitness coach which supports 7 different workout modes, with easy-to-follow audio instructions and demonstrations.
More on being healthy, its Healthy Living Management creates a unique wellness plan for you including step tracking, water intake, and workouts.
With more Aussies wanting to remain healthy and motivated to do so, daily reminders positive feedback do just the trick to remain motivated with goals.
And if you are a runner, you'll love Huawei's Running Ability Index (RAI), which analyses your height, age, weight, fitness and running experience to create a professional-level training plan.
Its elegant appearance and 10-day battery life5 (7 days of intensive use) means you can use it everyday, without worrying about whether it will stick it out with you on random days you feel like moving.
HUAWEI WATCH FIT 2 is made for Gen Z to enjoy, indulge and flex on their friends and family.
The HUAWEI WATCH FIT 2 Active has an RRP of $299, available in colours Midnight Black, Sakura Pink and Isle Blue.
The HUAWEI WATCH FIT 2 Classic has an RRP of $349, available in colour Moon White.
HUAWEI BAND 7: Thin, light and stylish alike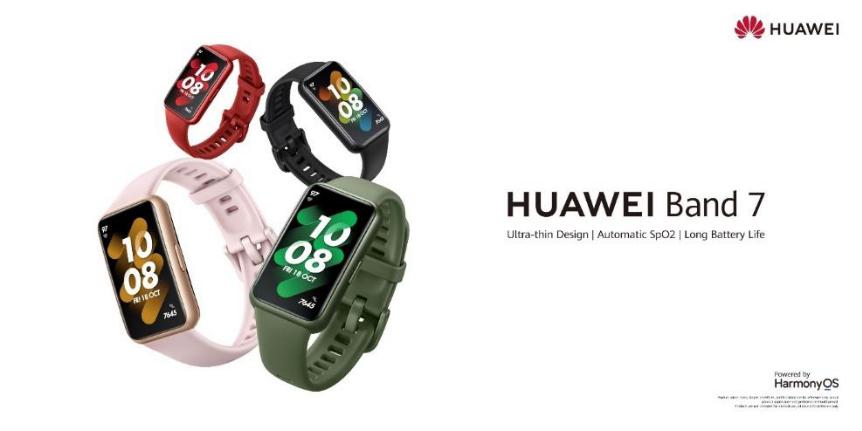 This new smart band is so light and thin, you'll forget you're even wearing it (but the people around you will not).
With 24/7 active health management, THE HUAWEI BAND 7 is the perfect companion for sleep, work and exercising.
Supporting you on your health journey, its comprehensive health monitoring for sleep, stress, your menstrual cycle and heart health gives you a holistic overview of your daily habits.
From this information, HUAWEI BAND 7's Healthy Living Shamrock provides personalised health management by setting various daily goals and when completed the petals will bloom to encourage habits to form – it is like your personal cheerleader!
With 14-day battery life5, 96 workout modes including running and roller skating, music controls, stopwatch, alarm clock, find my phone and more; it's home to all the features you would need.
The HUAWEI BAND 7 has an RRP of $159 available in black, green, pink and red
Pricing and availability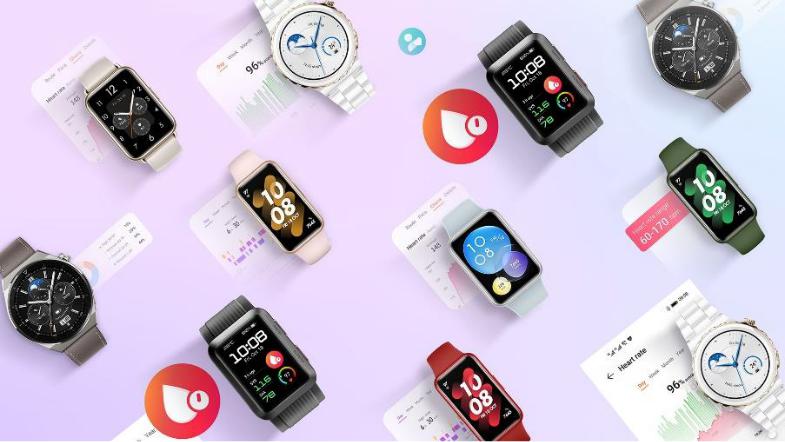 HUAWEI WATCH D RRP: $799
*Launch offer: 18 June 2022 – 17 July 2022: $150 retail gift card when purchased from Bing Lee, JB HI-FI, Mobileciti and Huawei Authorised Experience Stores. Customer can choose from $150 retail gift card or gift with purchase of HUAWEI Scale 3 exclusively at Amazon*.
WATCH D is available from JB HI-FI in July 2022, Amazon launch offer ends on 10 July 2022
HUAWEI WATCH GT 3 Pro RRP: $899 (46mm Titanium) and RRP: $999 (43mm Ceramic)
*Launch offer: 18 June 2022 – 17 July 2022: $150 retail gift card when purchased from Bing Lee, JB HI-FI, Mobileciti and Huawei Authorised Experience Stores. Customer can choose from $150 retail gift card or gift with purchase of HUAWEI FreeBuds Pro exclusively at Amazon.
WATCH GT 3 Pro is available from JB HI-FI in July 2022, Amazon launch offer ends on 10 July 2022
HUAWEI WATCH FIT 2 RRP: $299 (Active Edition) and RRP: $349 (Classic Edition)
*Launch offer: 18 June 2022 – 17 July 2022: $50 retail gift card when purchased from Bing Lee, JB HI-FI, Mobileciti and Huawei Authorised Experience Stores. Customer can choose from $50 retail gift card or gift with purchase of HUAWEI FreeBuds 4i exclusively at Amazon.
WATCH FIT 2 ACTIVE is available from JB HI-FI in July 2022, WATCH FIT 2 CLASSIC is available from July 2022, Amazon launch offer ends on 10 July 2022
HUAWEI BAND 7 RRP: $159
BAND 7 is available from July 2022
Retailer Product Page Quick Links
JB Hi-Fi, Bing Lee, Amazon, Mobileciti, HUAWEI Authorised Experience Stores Auptimal, HUAWEI Authorised Experience Stores Digimart