Games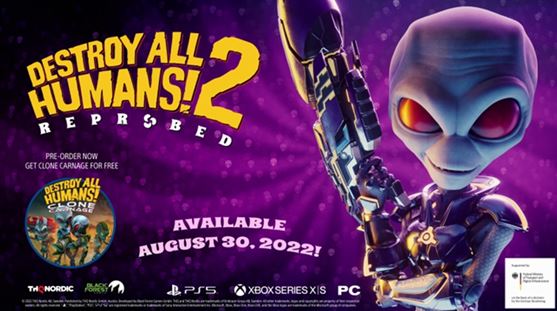 Published on June 1st, 2022 | by Adrian Gunning
Time to Invest in Crypto: Destroy All Humans! 2 Pre-Order Starts Today, Release in August
Citizens of Planet Earth, celebrate! Your final destruction is happening on August 30th, 2022. On that day, your new more-or-less benevolent overlords of the mighty Furon Empire will return in Destroy All Humans 2! – Reprobed to finish what they started: Crypto is coming for you again! Well, technically, it's the next Crypto: Cryptosporidium 138…but enough of that – check out the brand-new trailer!
In Destroy All Humans! 2 – Reprobed, a faithful remake of the most acclaimed entry in the fan-favourite Destroy All Humans! franchise, our charming but evil alien invader Crypto (138!) will unleash his large arsenal of weapons onto five huge open-world areas: Bay City, Albion, Takoshima, Tunguska, and the Moon! Players will experience the swinging '60s in all its glory and deal with Hippies, the KGB, and many other threats. To roam quickly around the large areas, Crypto can use his jetpack; his hoverboard; and of course, his flying saucer, equipped with a neat little arsenal of destruction of its own. The saucer received an interesting update: abducting humans in certain numbers (you'll have to follow the recipe!) will unlock new skills. And last but not least, Destroy All Humans 2! – Reprobed features a 2-player, split-screen coop-mode so you and a friend (or whatever floats your boat) can destroy all humans together!
Destroy All Humans 2! – Reprobed releases on August 30th, 2022 for PC, PlayStation®5, and Xbox Series S/X. The SRP for the standard edition is $59.95 AUD ($39,99 USD). The Dressed to Skill edition is available at an SRP of $77.95 AUD ($54,99 USD).