Games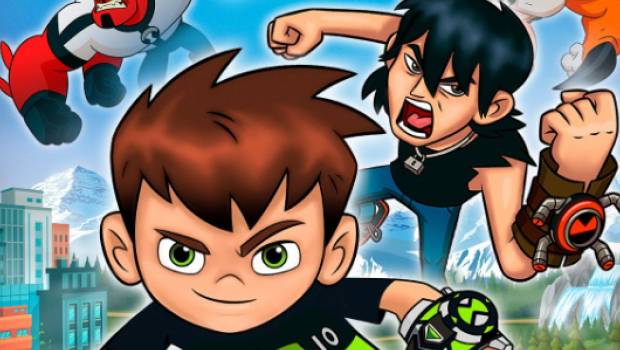 Published on October 10th, 2020 | by Andrew Bistak
TIME TO HERO UP IN BEN 10: POWER TRIP AVAILABLE NOW ON PLAYSTATION 4, NINTENDO SWITCH™, XBOX ONE, PC DIGITAL
BANDAI NAMCO Entertainment Europe, Cartoon Network, the number one global animated series network, and worldwide family entertainment publisher Outright Games, working with developer studio PHL Collective today have powered up to release Ben 10: Power Trip a brand new co-op, open world,  video game adventure set in the universe of the popular Cartoon Network series, Ben 10. Join Ben 10 and long-time rival Kevin 11 as they team up, transform into incredible aliens and save the world from the evil magician Hex. The game is out now on PlayStation® 4, Nintendo Switch™, Xbox One, PC Steam.
Ben 10: Power Trip takes Ben and his family on an epic quest across Europe as he battles the evil magician Hex and uncovers the truth behind four mysterious crystals that threaten to take over his world. Players will be able to transform into powerful aliens and work together to battle fearsome foes in this co-op open world, adventure.  Solve fun puzzles, use your skills to help out the townspeople you meet, and collect power-ups to upgrade your aliens. And explore the cities, forests and mountains of Europe on your way to the final showdown against villainous Hex.
Key Features
EXPLORE a 3D world packed with exciting missions, power-ups and collectibles
TRANSFORM into powerful aliens including Diamondhead, Four Arms and Heatblast
REVEAL the truth behind the mysterious crystals and the void rifts they open
BATTLE fearsome foes in exciting combat
TEAM UP with Kevin Levin in local drop-in, drop-out cooperative play
Fans can take part in double the Ben 10 fun tomorrow Oct.10th with the global TV movie premiere of Ben 10 vs. The Universe: The Movie, only on Cartoon Network. When a blast from Ben's past returns to cause trouble for Team Tennyson and planet Earth itself, Ben will need to go interstellar to save the day. Meanwhile, Gwen and Grandpa Max team up to help protect the world in Ben's absence. But when our boy hero is confused for the villain in space, Ben must figure out a way to get back to Earth to help save it!
"Ben 10 has had such a longstanding presence in kids' entertainment, and we couldn't be more thrilled to release a brand-new interactive experience at such an exciting time for the franchise" said Terry Malham, CEO of Outright Games. "This is our second Ben 10 game we've released working with Cartoon Network and we've gone bigger and better than ever before, delivering the definitive Ben 10 video game for fans and newcomers of all ages to enjoy."
"Ben 10: Power Trip" is available now on PlayStation® 4, Nintendo Switch™, Xbox One and PC Steam and available to purchase now.