Films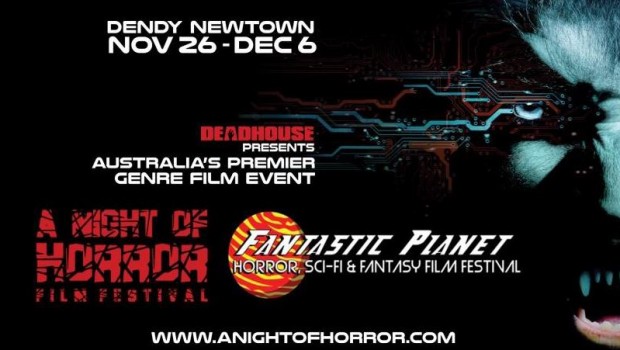 Published on November 4th, 2015 | by admin
TICKETS NOW ON SALE FOR AUSTRALIA'S NUMBER ONE HORROR FILM FESTIVAL 'A NIGHT OF HORROR'
Thursday November 26 – Sunday December 6 
'A Night of Horror Volume 1' Anthology to Premiere on Opening Night
Tickets for Australia's number one horror film festival A Night of Horror International Film Festival (Thursday November 26 – Sunday December 6) are on sale today and can be purchased at www.dendy.com.au/Promotion/A-night-Of-Horror-Fantastic-Planet-Film-Festivals-2015
Now in its 9th year, A Night of Horror International Film Festival runs at Dendy Cinema Newtown in conjunction with Fantastic Planet, Sydney Sci-Fi and Fantasy Film Festival.  Together the two festivals provide Australia's leading showcase of genre specific cinema screening over 100 of the latest and greatest horror, sci-fi, fantasy, thriller and cult films most of which are world or domestic premieres.
This year's joint program is overflowing with an incredible range of the best and latest films of the fantastic genres.  From the nerve-shattering intensity of 'Landmine Goes Click', through to the sexy and gory lesbian road movie 'Mania', to the critically acclaimed vigilante genre-bender 'The Demolisher' and the supernatural chills of 'The Shelter'; those whose taste runs to the dark and bloody side of cinema will find their appetites gloriously satiated with these films and many more cinematic gems.  And sci-fi fans will revel in the time-travelling twists of 'Counter Clockwise', be enthralled by the darkly erotic dystopia of 'Cord', and find themselves immersed in the post-apocalyptic drama of 'Astraea'.
In addition, the festivals' Launch Pad component introduces four amazing world premiere films:
'Gitaskog' travels with five friends to a lake haunted by an ancient monster; 'Pig Pen' takes the audience along a harrowing path of desperation and violence; 'Normal' follows the dark kinks of a beautiful young woman to an apocalyptic and unforgettable finale; while the high-octane Australian revenge thriller 'Blood Hunt' will have audiences' pulses racing.  And zombie lovers will be salivating for the festival's closing night film: the Sydney premiere of western/zombie mash-up 'Bullets for the Dead'.
Sponsored by Deadhouse Films, this year's event will see the premiere of the first annual anthology 'A Night of Horror Volume 1' on opening night.  Produced by A Night of Horror International Film Festival's Director Dr Dean Bertram and Deadhouse Films' Enzo Tedeschi, 'A Night of Horror Volume 1' features Wyrmwood's Bianca Bradey and consists of nine short films submitted to and invited into the anthology for the first time this year.
"The 2015 program is spectacular!  With around 100 films from over a dozen different countries, it showcases the incredible range of talented filmmakers working in the fantastic genres today," says festival director, Dr Dean Bertram.  "But our most exciting announcement this season is the world premiere of the first feature film co-produced by the festival 'A Night of Horror Volume 1'.  Produced with Deadhouse Films – who we are also delighted to announce as the festival's major sponsor this year – this film represents an incredible new era for the fest."
The full program for A Night of Horror International Film Festival is now available at www.anightofhorror.com
Dates: Thursday November 26 – Sunday December 6
Location: Dendy Cinema Newtown, 261-263 King St, Newtown
Price*: Regular sessions $16/$13, Australian shorts gala $20/$16, Opening and Closing nights $25/$20
Tickets*:  www.dendy.com.au/Promotion/A-night-Of-Horror-Fantastic-Planet-Film-Festivals-2015 
* A 5 session pass (excludes opening/closing and Australian shorts galas) $55 is also available only via Dendy Cinema Newtown's Box Office
For more details visit: www.anightofhorror.com