Events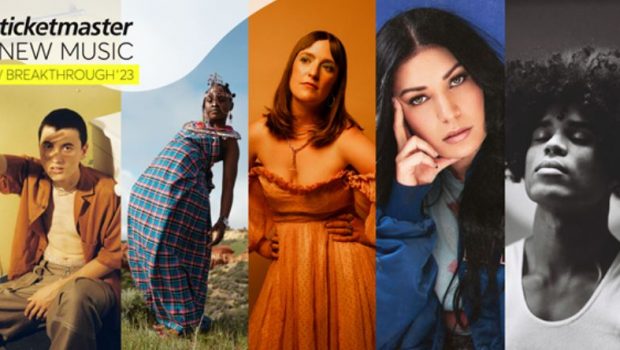 Published on March 23rd, 2023 | by Andrew Bistak
Ticketmaster announces Breakthrough Australia 2023 List
23 March 2023, Melbourne – Ticketmaster Australia has handpicked ten Australian artists projected to take the live scene by storm in 2023.
The annual 'Breakthrough 2023' list celebrates Australia's exceptional local talent and embodies Ticketmaster's commitment to supporting home-grown artists. The list connects local emerging talent to new music fans, boosting them into the industry.
"Ticketmaster Music teams across the world have to keep their fingers on the pulse of the music industry, and this includes keeping our eye on those who are the up-and-comers, especially locally." Gavin Taylor, Ticketmaster Australia Managing Director, says.
"From artists who have had mind-blowing introductions to their careers, to others who give an important voice to their communities, and those already slowly amassing fans across the globe – the artists on our list are ready to take their careers to the next level."
The list tops off with Nairobi-born, Adelaide-based singer, rapper, and producer Elsy Wameyo who released her debut EP Nilotic last year and placed her firmly in the frame for her hero moment.
Meanwhile, Ninajirachi, a producer from NSW's Central Coast, has also landed herself at the forefront of Australia's burgeoning hyper-pop electronic movement through her unparalleled work ethic and love of experimentation.
The sunny melodies and jangly guitars of Sydney Indie duo, Royel Otis, with a handful of EPs already under their belt, really caught our attention this year. And on a similar wavelength, the outstanding acoustic guitar and heartwarming vocals of indie artist, Ruby Gill, quickly stole our hearts.
Melbourne-based band, Surprise Chef, have already made their mark in the jazz, funk, and experimental scenes, releasing a steady number of stellar records, while Nick Ward is delivering enigmatic, exquisite, and highly underrated tunes to the electronica, R&B, glitch-pop and alternative landscape.
Americana-influenced pop singer, WILSN is undeniably in for an incredible year with her debut album Those Days Are Over. And despite his years in the industry Jerome Farah now finds himself behind the microphone now rather than in the booth as the author of your favourite songs and makes it onto the list as an artist in his own right.
Sydney-based noise-funk two-piece, Party Dozen, takes up one of the last spots on the list, with an international cult following and a co-sign from Nick Cave.
Finally, Baby Velvet, the newest side project from All Our Exes Live In Texas, rounds out Ticketmaster's Breakthrough 2023 list.
Breakthrough list is part of Ticketmaster New Music, a year-round campaign celebrating and sharing the hottest emerging artists to thousands of fans on Ticketmaster Australia channels with exclusive profiles, interviews and showcase performances.
For more information on each artist, head to https://discover.ticketmaster.com.au/new-music.