Hardware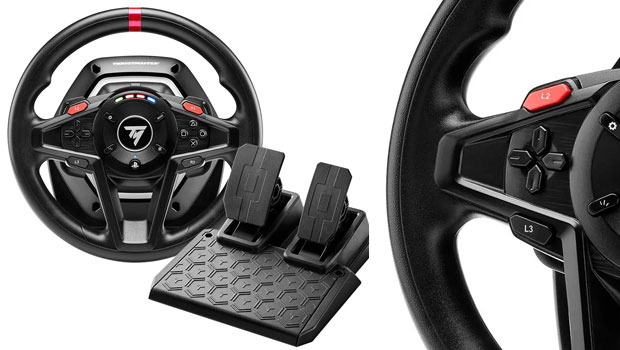 Published on December 13th, 2022 | by James Wright
Thrustmaster T128 Force Feedback Racing Wheel Review (PS5, PS4 & PC)
Summary: Limited next-gen racing titles but well worth it for owners of dual PC / PlayStation systems
If you're looking at taking your gaming racing to the next level on either the PlayStation 4 or 5 (including PC) that doesn't break the bank, then no look further as Thrustmaster have an affordably priced racing peripheral for you. Welcome to the Thrustmaster T128 Force Feedback Racing Wheel that with its hybrid drive force feedback technology, it makes your driving experience a much more immersive one on your virtual raceways.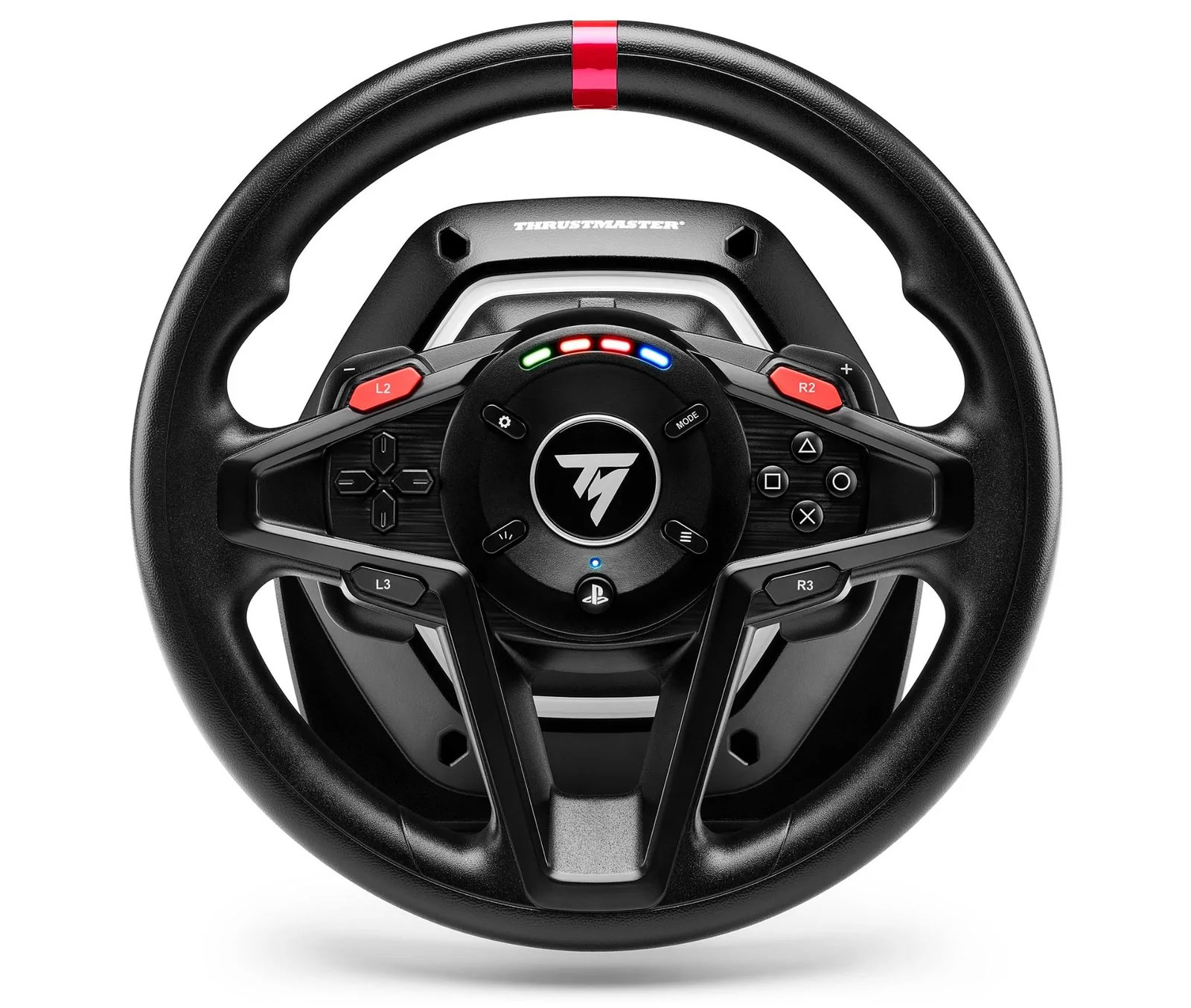 So whether you're playing Grand Turismo 7 or F1 22, the Thrustmaster T128 Force Feedback Racing Wheel makes it feel like you are actually behind the wheel of one of these high performance super-cars. Further adding to the realism are the T2PM pedals that allows you to brake and accelerate with ease. While not all games support this wheel, Thrustmaster have a comprehensive list of titles on their website at http://support.thrustmaster.com/en/ that include titles such as DiRT 5, WRC Generations or on the PC, Forza Horizon 5 and American Truck Simulator as some of the titles.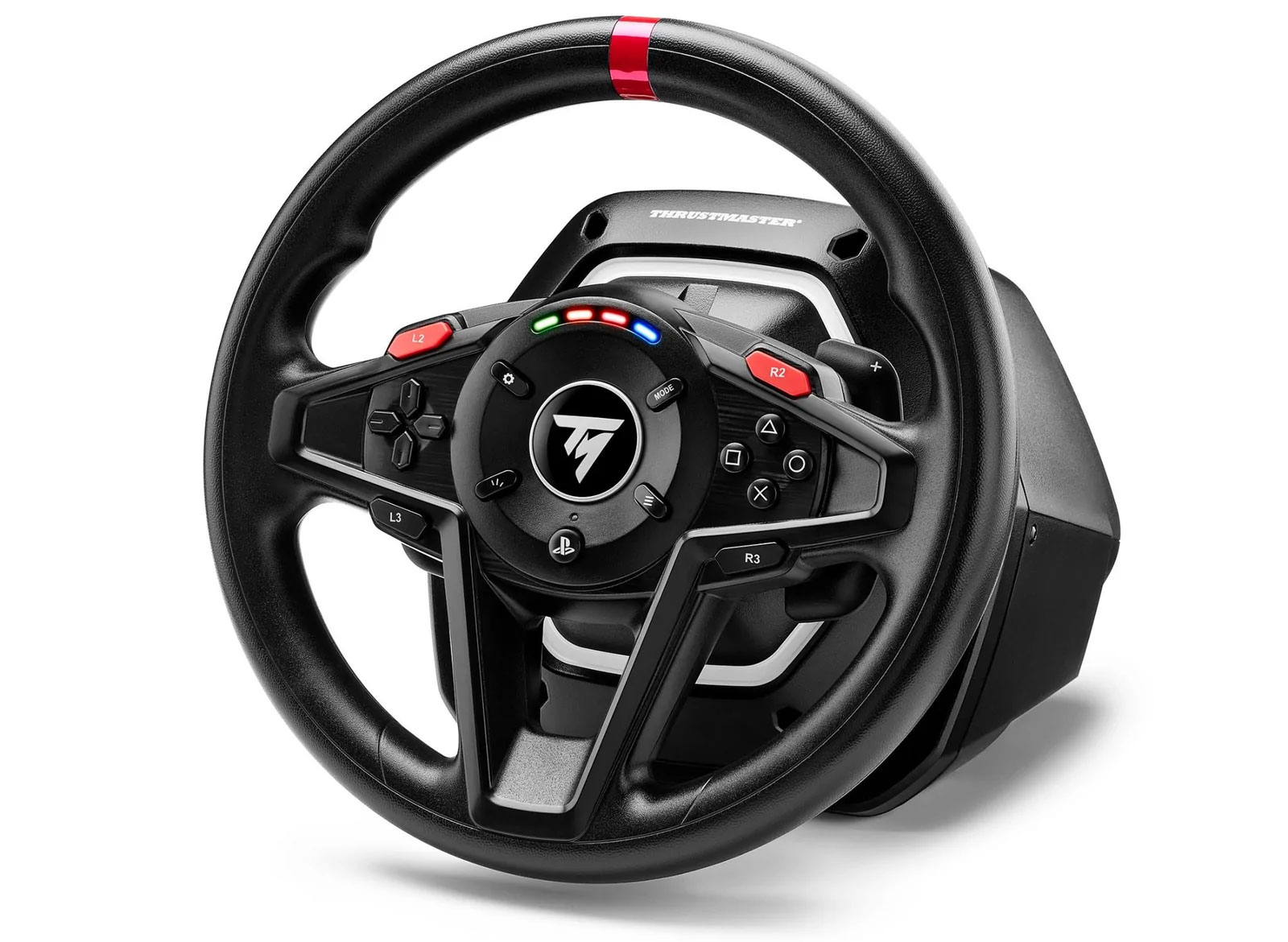 So what exactly is Thrustmaster's Hybrid Drive System?
According to Thrustmaster, the Hybrid Drive system is a combination of a belt and gears mechanism that provides more power than their other wheels and with the force feedback technology, it feels more akin to a real wheel experience. Given that, it is a very realistic simulation and the wheel does mimic one in the real world. Additionally the angle of rotation for the wheel is between 270° to 900° that provides an excellent range of motion for those tough courses. Also supporting the gamer is the 13 well placed buttons on the wheel, including two very accessible handbrake buttons. It even boasts the PlayStation D-Pad and Square, Triangle, X and Circle that are synonymous to this world-famous console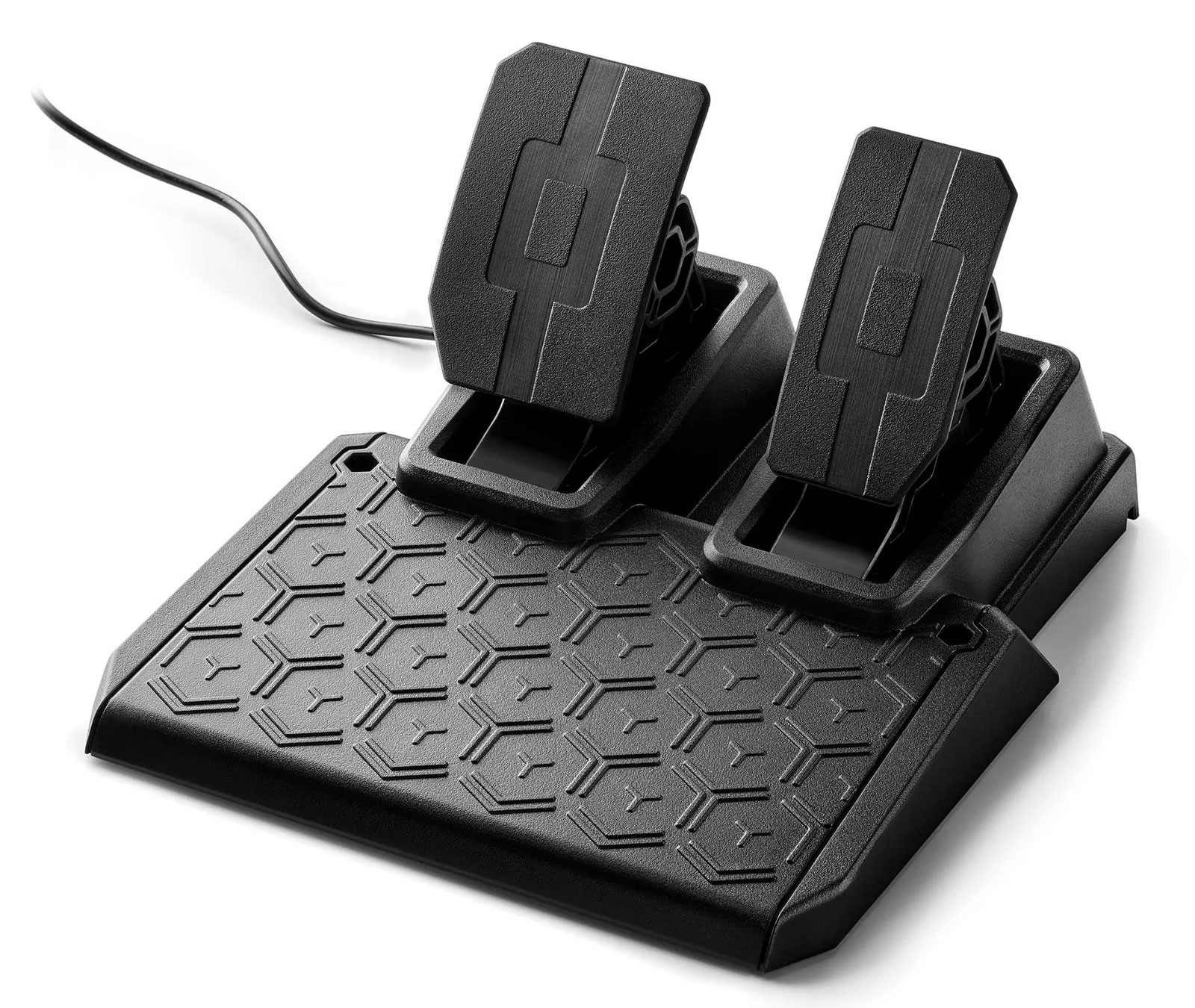 While the wheel and pedals feels like a real world combination, it's actually quite lightweight that makes it portable, however you can still clamp the wheel onto a desk (up to 5.5cm) which gives you more control over your racing experience. On the wheel, there is also a 4-color LED strip that is a great prompt for monitoring your engine and more importantly, when to change gears. In terms of changing gears via the magnetic paddle shifters, the speed according to Thrustmaster has a 30 millisecond response time that makes speeding up in the game a blast!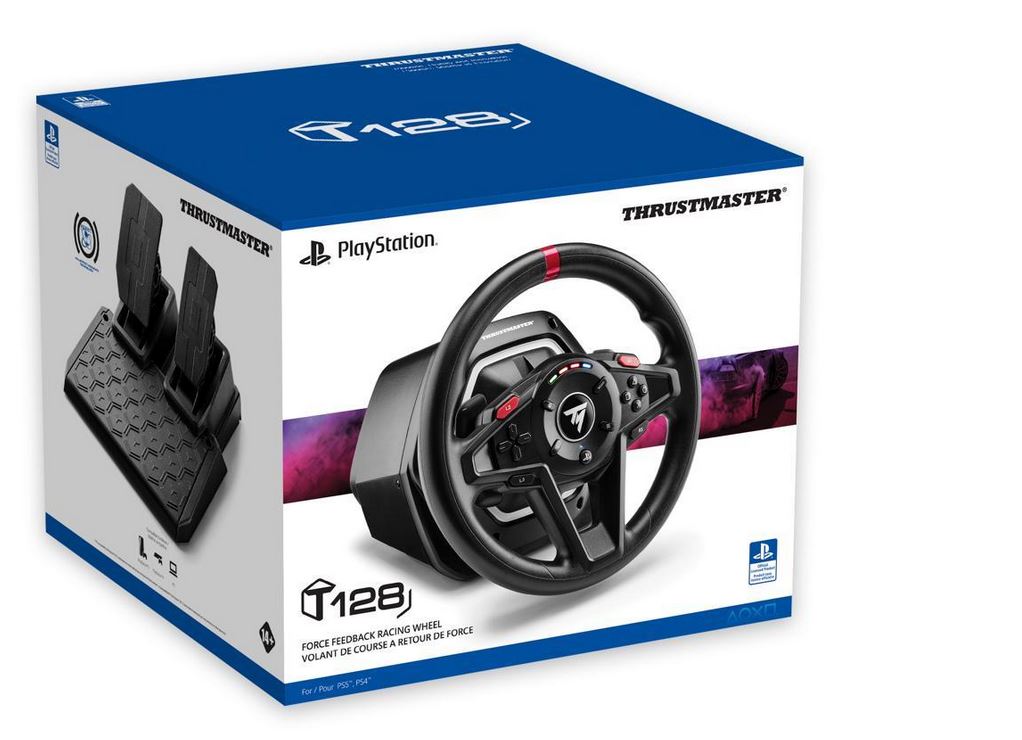 Box Contents
T128 racing wheel
T2PM pedal set
48-watt power supply + power cable
Clamping system and screw
USB cable
Quick install guide and warranty information
Connecting it to your PlayStation or PC is via the included USB cable and there is also an external power supply which powers the wheel and pedals. For materials, the wheel is built predominantly from plastic, however it actually feels quite sturdy and once you start racing, you soon forget that this is a PlayStation accessory made from plastic. Thrustmaster also have a comprehensive manual that can also be found here https://ts.thrustmaster.com/download/accessories/manuals/T128/T128PS_User_manual.pdf.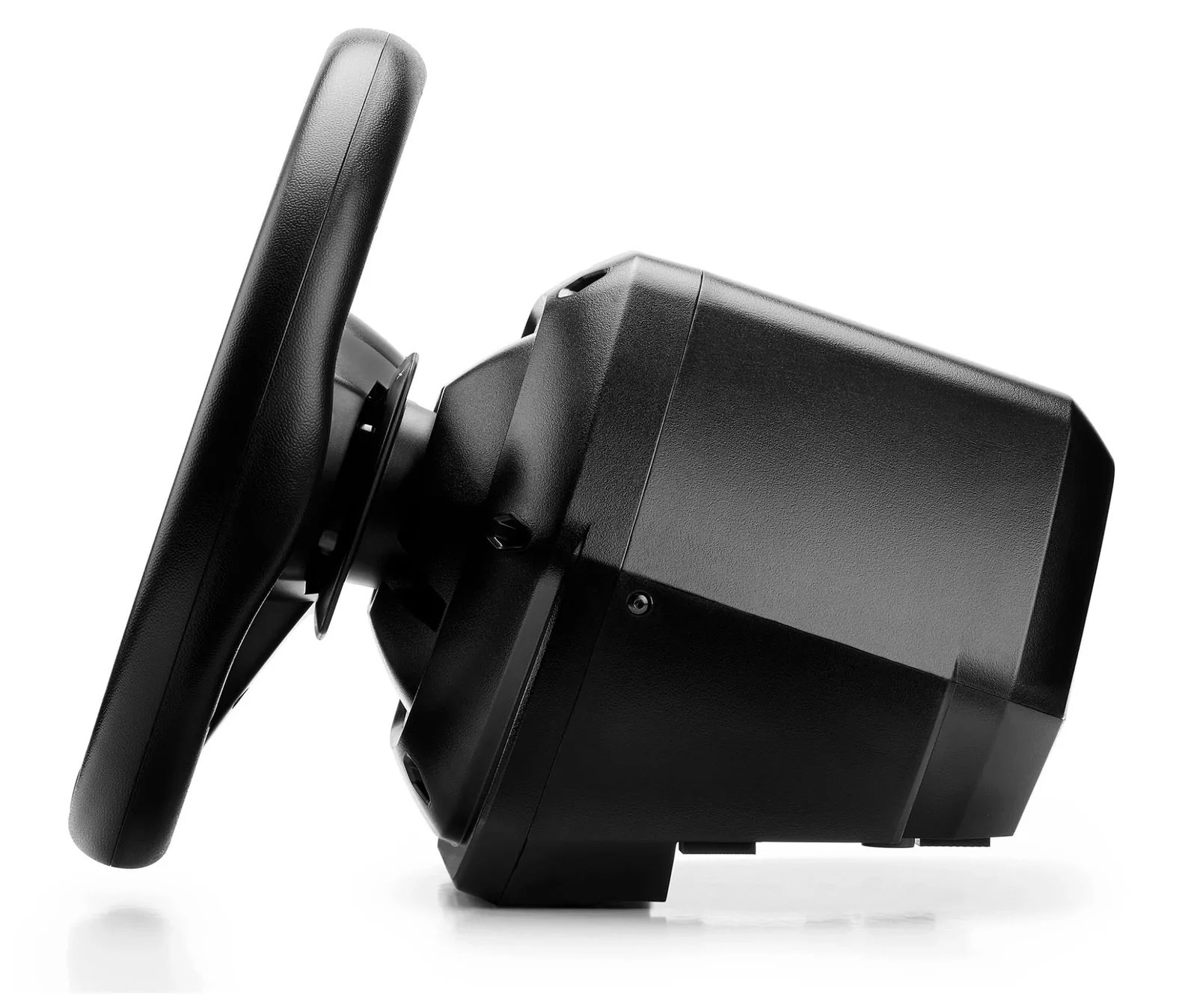 For testing, I trialed Gran  Turismo 5, DiRT 5 and the newly released Need For Speed Unbound on the PlayStation 5. All games performed exceptionally well, particularly Gran Turismo and Forza Horizon 5 (PC) as I raced around these virtual tracks. While the gameplay works great with the PS5 controller, the Thrustmaster T128 Force Feedback Racing Wheel takes the engagement factor to a whole new level. Additionally haptics adds another layer of realism as does the wheel resistance that again mimics a real-world wheel.
Final Thoughts?
If you're looking of upgrading your gaming racing to something considerably more realistic, then the Thrustmaster T128 Force Feedback Racing Wheel ticks all the right boxes. Even though it is different to driving a real car, it actually comes close, especially when your brain gets into that racing zone. The only caveat is that I would highly recommend using it on a desk or one of those racing exoskeletons.
Brilliant!
.
Thrustmaster T128 Force Feedback Racing Wheel Highlights
Immersive force feedback to really feel the sensation of racing: speed, surfaces, bumps and impacts, loss of tire grip
Engine speed LEDs to optimize gear changes
Modern design and rotation angle up to 900° suited to all styles of vehicles and games
Magnetic paddle shifters (patented H.E.A.R.T technology) for instant responsiveness, and a clear gear shifting feel
Handbrake buttons accessible from the racing wheel, for better skid control
Quick mount system suitable for desks and tables up to 5.5 cm thick
Magnetic 2-pedal pedal set (patented H.E.A.R.T technology) featuring 12-bit precision that won't decrease over time
Next-generation HYBRID DRIVE technology delivering 20% more power than the other Thrustmaster hybrid racing wheels (TMX series)
Access to hundreds of games with a free month's subscription to the Xbox Game Pass Ultimate service
Officially licenced for Xbox and compatible with Xbox Series X|S, Xbox One and PC (Windows 10/11)