Hardware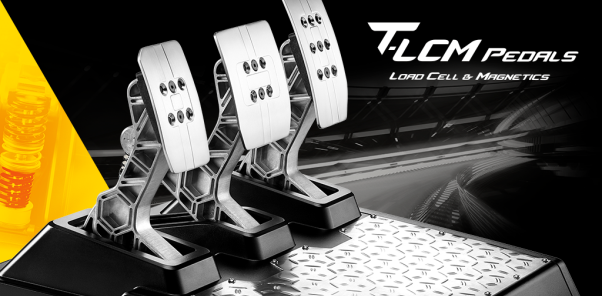 Published on February 14th, 2020 | by Adrian Gunning
THRUSTMASTER® T-LCM PEDALS
With more than 20 years of expertise creating high-quality hardware for racing games and simulations, Thrustmaster is now adding to its racing ecosystem with the arrival of a new pedal set: T-LCM Pedals, the manufacturer's best and most advanced model to date.
Featuring Thrustmaster's renowned, U.S.-patented H.E.A.R.T (HallEffect AccuRate Technology™) magnetic sensor system, the T-LCM Pedals provide an unlimited lifespan of cutting-edge precision from both the accelerator and clutch pedals — an exciting first for a Thrustmaster racing pedal set.
Load Cell force sensor technology, built into the back of the brake pedal, allows for a wide range of adjustment options, making the T-LCM Pedals a perfect fit for any type of racing setup, designed to suit any preferences each driver might have.
Control, precision and flexibility best sum up the T-LCM Pedals. Many beta testers have been pleased to report that the pedal set's outstanding performance has allowed them to shave precious tenths of seconds off their lap times.
16-bit precision and an unlimited lifespan
 Incorporating H.E.A.R.T magnetic sensor technology (a revolutionary contactless system, without any potentiometers), the T-LCM Pedals provide an unlimited lifespan of intense use and optimal precision while racing.
Virtual drivers will be able to enjoy up to a truly astonishing 16 bits* of resolution, representing as much as 65,536 values per pedal.
Load Cell force sensor technology: up to 220 lb / 100 kg of pressure, with a set of 6 springs allowing users to customize their braking performance incredibly quickly and easily
 The brake on the T-LCM Pedals provides a huge advantage while racing, all thanks to its force sensor. The intensity of the gameplay, driving style, rhythm of the driver and braking power are all measured according to the force of the pressure applied, providing the racer with perfect control.
The ability to apply up to 220 lb / 100 kg of pressure on the brake is specific to this pedal set, highlighting both its industrial build quality and its high-performance design.
Thrustmaster is even providing T-LCM Pedals owners with a set of 6 springs allowing for a multitude of quick, tool-free adjustments.
This allows for full customization of the brake pedal's feel and response.
These springs let all users easily modify the brake pedal's mechanical resistance according to their gaming setup with an extremely high degree of precision (for use with a table or desk, Wheel Stand Pro wheel stand, GT-style cockpit, F1-style cockpit, etc.).
Weak, medium and strong resistance options are available — with or without preloading.
Weighs more than 11 lb / 5 kg: a stable design, built with first-class materials
The T-LCM Pedals feature premium, 100% metal non-slip pedals (pedal arms and heads).
Mounted on a stable, sturdy structure fully tested by the most seasoned racers, these pedals provide optimal grip for users, enhancing the feeling of control while racing.
The large, textured foot rest stops feet from sliding, and inadvertently slipping. Weighing in at more than 11 lb / 5 kg, this heavy-duty pedal set provides stability that you can always depend on. 
Total adjustability
In addition to boosting performance and making new levels of precision possible, the T-LCM Pedals ensure personalized comfort for every racer.
The positioning of each of the three pedals can be independently adjusted in a variety of different ways:
Vertical and horizontal inclination
Height
Spacing
Last but not least, for those used to their current gear, racers will be able to use the pedal heads from their T3PA or T3PA-PRO sets with the arms of the T-LCM Pedals.
This is yet another great advantage in the long list of options made possible by this pedal set.
Complementary calibration software to fine-tune your personal settings
The dedicated calibration software for the T-LCM Pedals allows for electronic adjustment of the braking power, as well as customization of the dead zones on each of the 3 pedals: accelerator, brake and clutch.
This software is a high-precision tool that allows gamers to make adjustments to best suit their own personal preferences without mechanically increasing or decreasing the resistance of the vaunted Load Cell.
An expanded T-LCM ecosystem able to adapt to all racing setups
Thrustmaster is also proud to announce the first accompanying products in the T-LCM ecosystem, that will be available for the new pedal set's launch:
This product has been specially designed for existing owners of Thrustmaster's T3PA and T3PA-PRO pedal sets (sold separately) who are keen to purchase the new Thrustmaster T-LCM Pedals. This is the perfect solution to avoid changing your cockpit or drilling new holes: users will be able to easily adapt the positioning of the T-LCM Pedals mounting holes to match those of the Thrustmaster T3PA or T3PA-PRO pedal set.
Please check out the related Thrustmaster FAQ to see whether the T-LCM Cockpit Adaptor is a good fit for your racing setup.
These 100% texturized rubber covers are the perfect complement to the Thrustmaster T-LCM Pedals. The T-LCM Rubber Grip has been designed to enhance the racing experience for users by ensuring excellent grip on the pedals and allowing for distinct, independent foot movements.
A high-quality, alternative solution designed for gamers in search of the best gaming setup without having to purchase a full cockpit, allowing users to easily optimize the positioning and stability of their pedal set.
The ability to adjust its height, depth and inclination lets all gamers position their pedal set according to their own personal preferences, for optimal comfort and performance while racing.
The T-Pedals Stand is compatible with Thrustmaster 3-pedal sets (T3PA / T3PA-PRO / T-LCM Pedals).
T-LCM Pedals key features:
H.E.A.R.T magnetic sensor technology: a contactless system, without any potentiometers
Load Cell force sensor (fully customizable)
Completely versatile, with full adjustability for each pedal
Enhanced stability: weighted base with stainless steel foot rest
Full-featured, intuitive calibration software
Ergonomic construction: streamlined, effective design
Compatible with PC (via USB cable) in Windows® 10/8 with all racing wheels on the market
Compatible with PC, PS4™ and Xbox One® (via RJ12 cable) with the Thrustmaster T-GT, T300, T150, TS-XW, TX and TMX racing wheels
Compatible with cockpits: attachment system, support and drilling template included
Commercial details:
Suggested retail prices:
T-LCM Pedals: $199.99 / £179.99 / €199.99
T-LCM Cockpit Adaptor: $19.99 / £14.99 / €14.99
T-LCM Rubber Grip: $19.99 / £14.99 / €14.99
T-Pedals Stand: $59.99 / £49.99 / €49.99
Preorder dates:
T-LCM Pedals: February 13, 2020
T-LCM Cockpit Adaptor: February 13, 2020
T-LCM Rubber Grip: February 13, 2020
T-Pedals Stand: February 13, 2020
Commercial availability dates:
T-LCM Pedals: March 26, 2020
T-LCM Cockpit Adaptor: March 26, 2020
T-LCM Rubber Grip: March 26, 2020
T-Pedals Stand: March 26, 2020
Check out the official Thrustmaster website for more information: