Hardware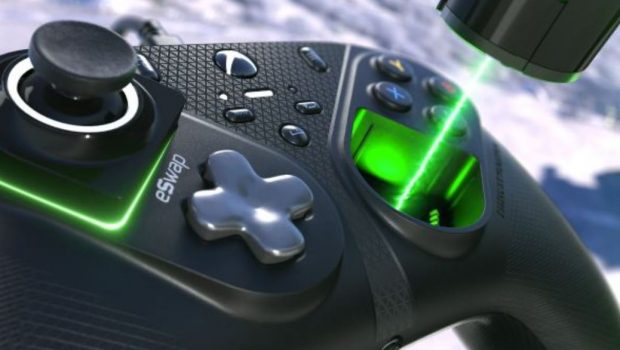 Published on June 7th, 2022 | by Adrian Gunning
Thrustmaster ESWAP S Pro Controller Gamepad Review
Summary: Thrustmaster ESWAP S Pro Controller Gamepad allows for precision gaming!
If you're looking for a customisable controller for Microsoft gaming systems (Xbox Series X|S, Xbox One) plus Windows 10/11 PC) and affordably priced with all the right features, then you're in luck. Welcome to Thrustmaster's latest addition to their ESWAP family of gamepads, the ESWAP S Pro Controller Gamepad.
Not only does it look the part but it also plays the part!
Further complementing its gamer design and aesthetics is that the controls support an extended lifespan of 2 million activations. The D-Pad offers 4 tactical switches that adds an activation distance of 0.45 mm on this controller which in turn creates even greater responsiveness.
According to Thrustmaster, the buttons (also 4 tact switches) are 64% faster than standard controller membrane-based buttons. What does this means? Again it means faster response times when you push those buttons and as we all know, a millisecond can sometimes mean the difference between victory or defeat.
Box Contents
1 x ESWAP S PRO CONTROLLER gamepad
2 x swappable mini stick modules
1 x power cable
Quick start guide and warranty information
As its core, the Thrustmaster ESWAP S Pro Controller Gamepad has not only been designed for high-speed precision gaming, however it is fully customisable in order to give the player an edge in their virtual gaming universe.
So when you connect the controller to either your PC or Xbox console via the included USB cable, you can remap all the controls, including sensitivity levels, dead zone adjustments and even the levels of force feedback.
How does the customisation work?
This is all done through the ThrustmapperX software for Windows or via the Xbox menu on your gaming console. While there is a process to remap the controls of this gamepad, it is a relatively straight forwarded process, including the ability of importing and exporting gaming profiles. Compared to Windows vs Xbox tweaking, it was easier from the PC, however I am more a PC gamer but nonetheless, I cannot fault the method on my Xbox Series X.
With its design, the Thrustmaster ESWAP S Pro Controller Gamepad is well-built and doesn't feel cheap like some other third party controllers. Further, its tournament grade design really feels good in your hands, especially for those longer than long gaming sessions.
While it has parallels to the Xbox Series X controller, it is slightly different and shouldn't take you too long to become familiar with it. The analog sticks (which are swappable) are also slightly smaller which does give you more control over your movements and all the controls feel closer to the gamepad that in theory should increase your success rate due to the less force required to activate a button.
In terms of gaming, I tested the Thrustmaster ESWAP S Pro Controller Gamepad on a wide variety of games that include Halo Infinite, Call of Duty Vanguard, Arise, Fortnite, Forza Horizon 5, LEGO Star Wars Skywalker Saga and Kao the Kangaroo! Needless to say, the controller didn't miss a gaming beat and for me felt more accurate than the stock Xbox Series X controller. Equally as good was the PC experience that again, could not be faulted. Additionally those looking for full control over their controls will definitely appreciate the options provided by Thrustmaster, particularly with gaming profiles, including two additional buttons that can be configured directly from the gamepad.
Final Thoughts?
The Thrustmaster ESWAP S Pro Controller Gamepad is a great option for a second controller for your Xbox Series X and will more than likely become your go-to controller. While there is a USB cord, you really don't notice this while you're playing and more importantly, the Thrustmaster ESWAP S Pro Controller Gamepad not only feels excellent to use but very responsive, including a plethora of customisation options. Precision has a new name!
Highly Recommended!