Hardware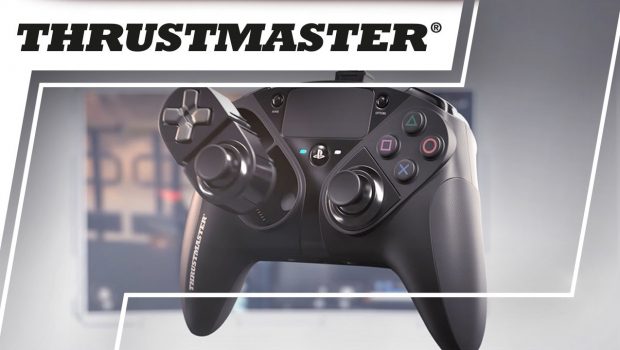 Published on November 10th, 2019 | by James Wright
Thrustmaster eSwap PC & PS4 Controller Review
Summary: Thrustmaster eSwap PC & PS4 Controller is a great option for both PC and PS4 gamers and is totally customisable!
4.7
3rd Party Perfection!
Thrustmaster has been a staple in the gaming industry since the 90's and as a result have been building third-party controllers for a very long time. So when I first found out that Thrustmaster had a new PC & PlayStation 4 controller available, I was excited but when I learned it would be an eSports customisable controller, I was in gamer heaven. Could this be the mythical third-party controller to rule them all? Read on!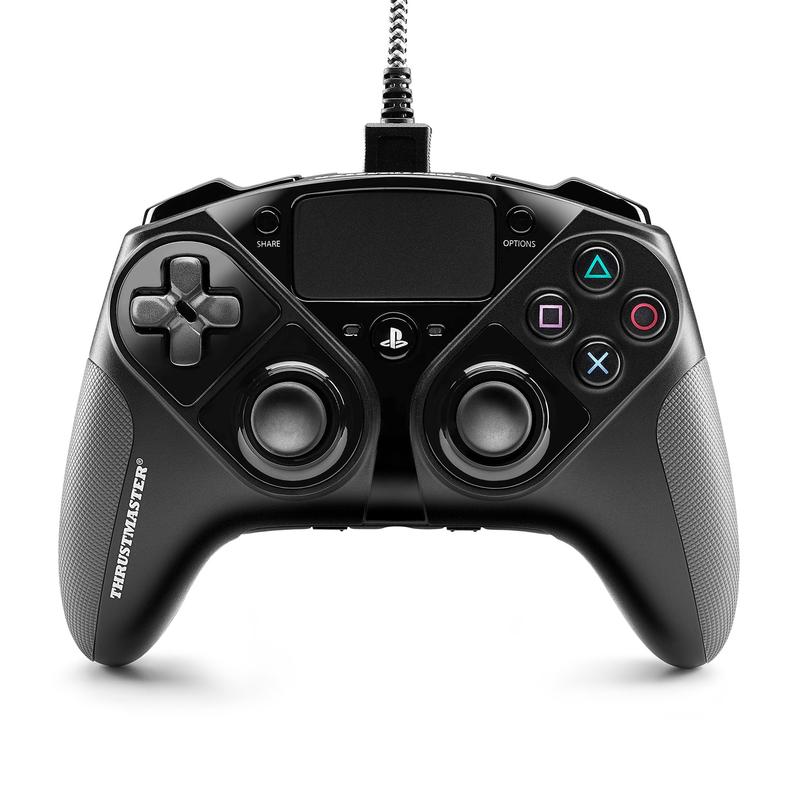 Box Contents
1 x eSwap Pro Controller
2 x interchangeable short mini-stick modules
2 x interchangeable grip modules
2 x interchangeable triggers
1 x interchangeable 4-direction D-pad module
1 x power cable
1 x screwdriver for removing the modules
1 x small storage bag for screwdriver and cable
Quick start guide and warranty information
The first thing that I noticed about the Thrustmaster eSwap PC & PS4 Controller was its professional and sturdy build. This controller really feels like it has been made for gaming and the positioning of the control mechanics felt perfect, including its movement of the sticks and D-Pad. Buttons were very responsive, including a good "click" sound and all in all, makes for a good replacement for your either your PC or PS4 DualShock Controller. The controller is also certified by PlayStation as well!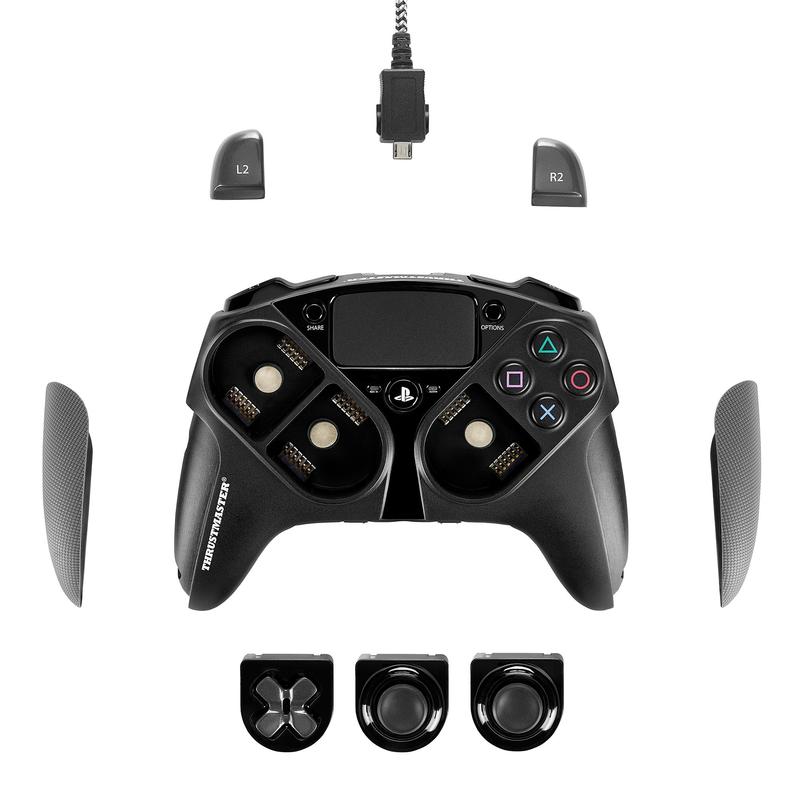 However for those gamers or eSport player who need that extra edge, the eSwap PC PlayStation 4 Controller features some unparalleled customisation options courtesy of T-MOD technology that easily allows you to tweak to the positioning of your preferred layout thanks to magnets. Want to swap the placement of the thumbsticks with the D-pads or create the ultimate controller layout for Injustice 2, it's all possible with the eSwap, even using three analog sticks. So in essence, it's a modular controller.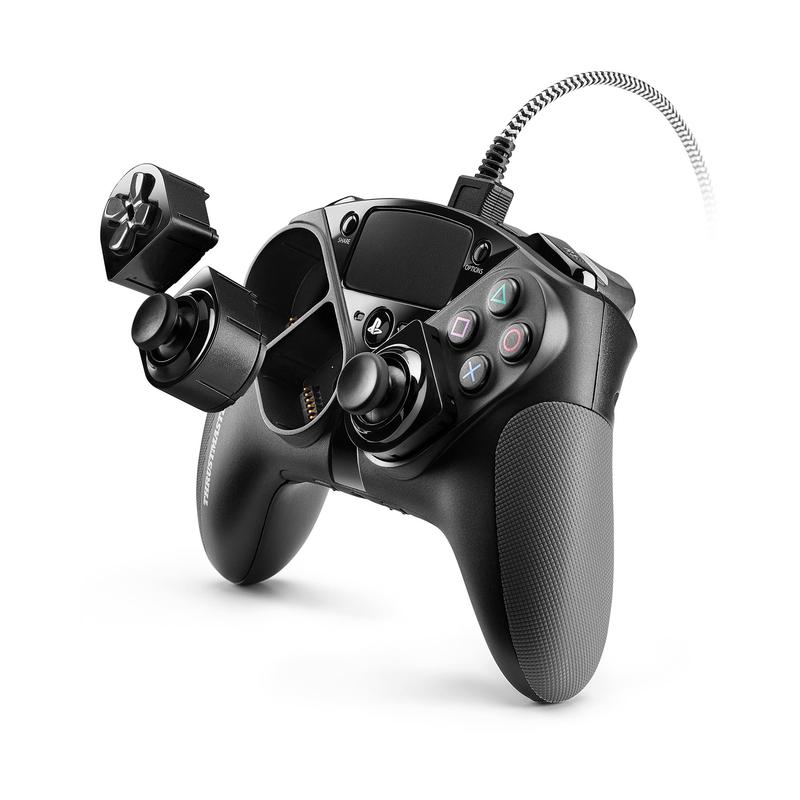 Best of all, when you do swap the interchangeable controller components of the eSwap, they not only feel responsive but it feels like a store bought "fixed" controller (e.g. you would never know that layout has been changed). In terms of "dual shock", the vibration feature of the eSwap is a little more subtle than the standard PS4 or Xbox One controller for PC.
While the controller is plug 'n' play, the PC software does allow you to further adjust the sensitivity and mechanics of the eSwap through the Thrustmapper software such as vibration and button mapping. As a result, this controller can be tailored to suit all gaming genres from first person shooters to online RPG's, including the latest sport and racing sims plus fighters. Needless to say, you can change the modular design of the eSwap on the fly, including the symmetrical or conclave analog sticks to give you that edge.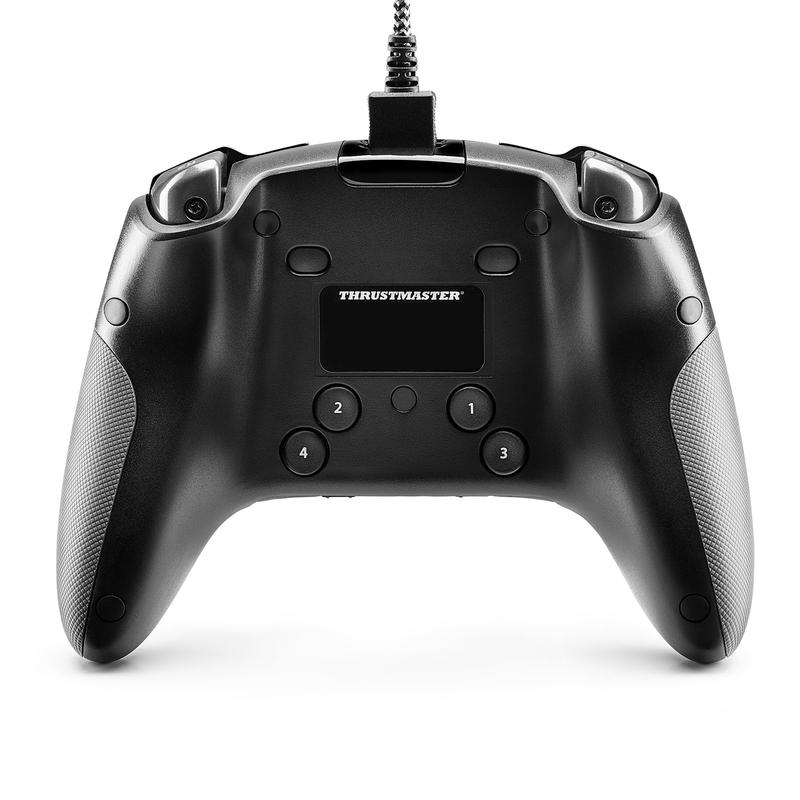 Although there is no light bar on the eSwap, we didn't miss this feature at all and we rarely use this on the standard DualShock controller anyway, so for us this was a moot point. As mentioned, the layout of the eSwap is great and the fixed buttons are also well-placed. Underneath the controller are additional buttons to change between profile layouts or new button mapping. Games such as Call of Duty Modern Warefare, Red Dead Redemption and Fortnite all played exceptionally well on the controller and the customisation did feel like it gave us the edge.
As the eSwap is a corded controller (e.g. it plugs into the USB port on the PS4 or PC), it is super responsive that is definitely needed for your gaming. Sure, cordless would be preferred, however you may not get this functionality or customisaion options on a wireless controller. Nonetheless after using this controller religiously for almost a month, it has become my go-to controller and I really cannot fault it.
Final Thoughts?
The Thrustmaster eSwap PC & PS4 Controller is indeed an impressive controller, particularly for a third-party controller. Aesthetically it is a good looking product and its modular design is perfect for gamers who want to fine-tune the way they game and the eSwap successfully does. The only tweaks that we would make to this controller would its vibrational capabilities as it feels a little "muted" and perhaps wireless capabilities in the future, however this might increase lag but all in all, it's a decent and very comfortable gamer and eSport controller and gives the official controllers a true run for their money.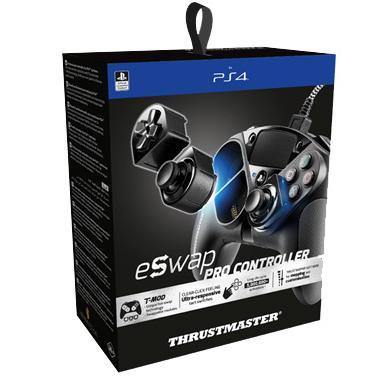 Thrustmaster eSwap Pro Controller Key Features
T-MOD technology and Hot Swap feature lets you swap a module with any other — at any point in a game.
Extremely precise modules and action buttons for minimal response times, thanks to super-responsive, durable tact switches, ensuring an extended lifespan.
4 extra, ergonomically-configured and re-mappable rear buttons. Adjust the sensitivity of the triggers' activation. Switch between 2 different presets in real time, for instant adaptability.
Unlimited ecosystem of modules (sold separately) for maximum versatility and constantly-improving gaming comfort.
Dedicated PC software lets you adjust all of the controller's important settings (gaming presets, remapping, sensitivity, vibrations, etc.).
Product Highlights
Thrustmaster is thrilled to offer a brand-new piece of gaming gear for PS4 and PC: its first professional controller, designed for gamers looking to take their gaming to the next level, reach new heights of performance and achieve the best possible rankings.
Featuring exclusive T-MOD technology, the eSwap Pro Controller has been developed to adapt to all gaming styles thanks to its completely modular ergonomics, industrial-grade components, dedicated configuration software for the controller, and an ecosystem of additional modules allowing for unlimited upgrading possibilities (sold separately).
This product is an officially-licensed PlayStation 4 device, and is also compatible with PCs running Windows 10 (PC compatibility not tested or approved by Sony Interactive Entertainment).
ULTIMATE VERSATILITY
The eSwap Pro Controller is the ultimate gamers weapon in search of an optimized experience for each type of game. The adjustable positioning of the modules on the controller — either right in the middle of a game, or when you're not playing — lets adapt the right configuration for the best possible fit with players needs, or those of the team. The controller's shape and ergonomics  have been designed for a perfect fit with all gaming styles: combat, sports, FPS/TPS, battle royale and even RPG.
SURGICAL PRECISION
Flawless responsiveness — thanks to the tact switches incorporated into each module and button — is a must when it comes to boosting your chances of victory. Responsive clear clicks feeling mechanically increase the sensation of control, so gamers will never have to worry about response times while playing. Enjoy more than 5,000,000 activations on all buttons and more than 2,000,000 activations for the pre-calibrated ministicks.
UNLIMITED MODULAR ECOSYSTEM
The eSwap Pro Controller features an unlimited modular ecosystem, at the crossroads of design and performance. A variety of packs incorporating new features — along with different color customization packs — are available, ensuring optimal comfort and eye-catching looks that fit in with every players' favorite games. Try out new module textures, shapes and heights: you'll love the different and complementary options available.
DESIGNED FOR THE RANKED
T-MOD modular technology and Hot-Swap feature, for effective in-game performance gives players the edge they need to react instantly in any situation, and improve their rankings. The controller's sturdy braided cable allows for a stable, rock-solid wired connection and avoids any calibration problems, latency issues or inadvertent disconnection.  Controller configuration via the included PC software to adjust the different settings and sensitivity levels for the perfect fit.