Comics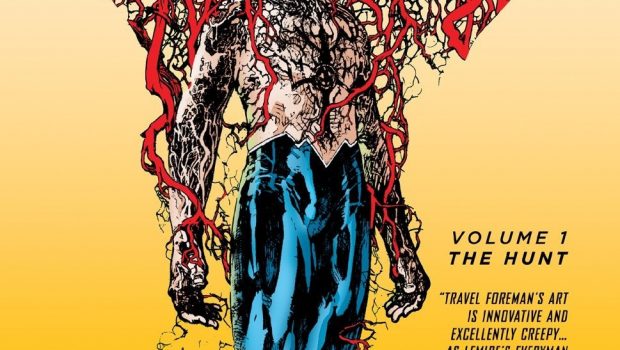 Published on November 2nd, 2023 | by Matt Fischer
Throwback Thursday Review: Animal Man #1 (2011)
Summary: This book literally changed my comic book reading habits forever. If it wasn't for Batman, this would have been THE best book of the New 52.
After being in and out of comics for several years, The New 52 is what led me back into comics, full time forever. My goal is to review each one of the first issues they released as part of The New 52 imprint. That's A LOT of comics to read and go through. Wish me luck!
Background – Animal Man is back in action! He's got a family and must save the world by dinner time!
Writing – I remember when this came out. I had known who Animal Man was thanks to the 52 tie-in book Countdown To Adventure. I knew he had a family, I knew he animal mimicry powers, and that two aliens that kind of looked like yellow coneheads gave him his powers. His books were fun and fluffy high adventure stuff.
Not anymore. From this very first issue, Jeff Lemire wrote a superhero horror family drama. The dialogue is damn near perfect. The slang the kids use sounds like it's really coming from kids. Ellen (the wife) is written so that she does not come off as a nagging wife who wants her husband home more. She is written as a mom whose husband got superpowers and while she doesn't necessarily like it, she's adjusted to it.
The plot is fairly basic for this first issue, with Buddy finding out that a gunman has taken over a children's cancer ward in search of his daughter who had just recently died and deciding after an extended time away to get back in the game. Buddy's inner dialogue as he chooses which animals, he is going to combine the abilities of is a delight. He has a special fondness for dog barking (according to him, that always freaks people out.)
It's not until after the man has been subdued that we get the first inclination of the larger story Jeff Lemire plans on telling. Buddy's eyes bleed and that night he has a nightmare. The nightmare is creepy, with Buddy's son Cliff trying to lead them out of a dead forest until he is spontaneously disemboweled by an invisible… something. Then Buddy's daughter Maxine and a giant dog show up to lead the way, but because Buddy isn't fast enough, the monsters catch up to them. These three things, who call themselves the Hunter's Three, are a terrifying trio who end the dream by proclaiming that Maxine is their child.
Buddy wakes up and the issue ends with Ellen screaming for Buddy to come to the yard quick. Maxine has summoned a bunch of friendly animals to play with… except they are all dead.
Writing: 5 out of 5
Artwork – This is not your dad's Animal Man. Gone is the bright orange costume we all know and in its place is a dark blue Jumpsuit with white trimming and a white A. Travel Foreman is great at drawing expressive faces, whether they be happy, terrified, or sad. The page where we see Buddy actively use his powers to search and combine animal abilities is equal parts terrifying and fascinating. Most books have the standard "waves of energy emanating from his head that nobody but us can see", but not this time. This time we see numerous images of animals, whether it be fish, a snake, or a rhino. It's dynamic, but more than that, it's fun.
Art: 5 out of 5
Pandora sighting: Our mysterious purple lady is in the crowd after Buddy's eyes bleed.
Final Thoughts – I remember very distinctly picking this book up the second week of the New 52 and being blown away. It was like nothing I thought it'd be and was my first actual foray into superhero horror. This book set me on a course to grab Swamp Thing, delve into the original Hellblazer, check out Spawn and start looking at Ghost Rider as more than just some random fiery skeleton who's on a bike. It literally changed my comic book reading habits forever.
Final score: 5
Publisher:  DC
Writer:  Jeff Lemire
Penciler: Travel Foreman
Inker: Travel Foreman and Dan Green
Colorist:  Lovern Kindzierski
Letterer: Jared K. Fletcher
Genre:  Superhero
Format: Monthly
Release Date: 09/07/11