Comics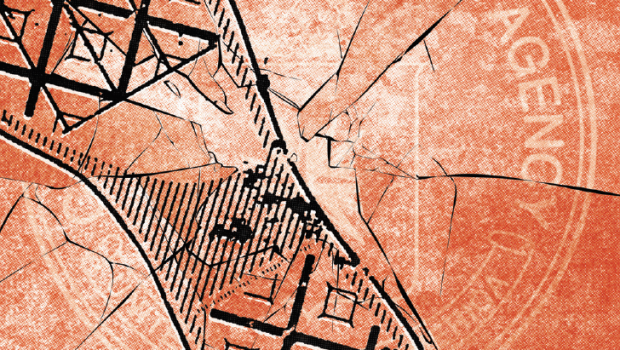 Published on January 7th, 2017 | by Lyla Saudi
Throwaways Vol.1 TP Comic Book Review
Summary: THROWAWAYS (n.) 1. A disposable asset, used in a single mission; 2. A disavowed assassin meant to die alongside their target.
Abby Palmer, a war vet with severe PTSD, and Dean Logan, a loser burnout trying to escape the shadow of his infamous father, are two broken people with one thing in common – they were victims of a brutal government sanctioned human experiment … and they were the only ones to escape alive in Throwaways, a thrilling new science-fiction spy thriller written by Caitlin Kittredge and illustrated by Steven Sanders.
Abby Palmer is an ex-army ranger with severe memory loss following a brutal attack on her unit while on tour in Afghanistan. Dean Logan, well, he is a near homeless punk who has been shunned by society ever since his crazed father killed two FBI agents. So why are these two damaged individuals trapped together in a junkyard, under heavy fire from the most dangerous government militia? It has to do something with 'Camp Cheshire' – the only name that Abby can remember, and also the only name she doesn't understand. Yet.
Quickly becoming one other's only chance at survival, Abby and Dean soon discover that Camp Cheshire was home to a government mind control experiment which gifted them with abilities that go beyond a normal human's imagination. And this program wants them back. At all costs. Now on the run, as Abby and Dean slowly realise the horrors that were done to them, and become determined to use their abilities to destroy the program and take down the evil architect behind it all, Dr. Elizabeth Ostrander… who has a little secret of her own.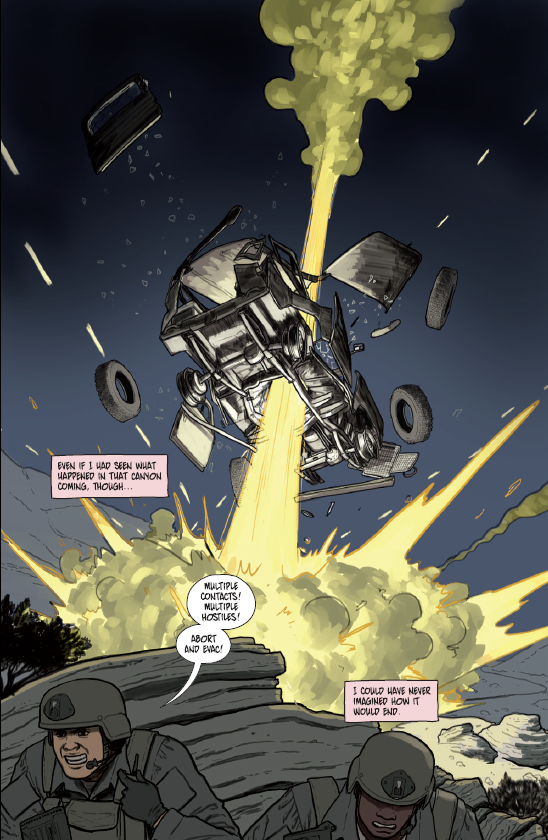 Writing
Caitlin Kittredge has taken a big leap from her usual dark and disturbing fantasy stories to deliver a nail-biting real-world thriller. The great storytelling covers everything from government espionage to illegal human experimentation, whilst neatly addressing pertinent issues of Islamophobia and racism within the American military.
Throughout the story, flashbacks are elegantly used to fill in the intriguing background information, character development and interweaving relationships which flourish throughout. It is a nice element that is done well, adding to the overall story.
The two main characters (Dean and Abby) form an unlikely but forced friendship that is believable and grows on you but I felt the relationships with other characters needed a bit more work/flushing out at times. I also question the amount of trust characters had for one another so quickly, with little questioning of each others motives.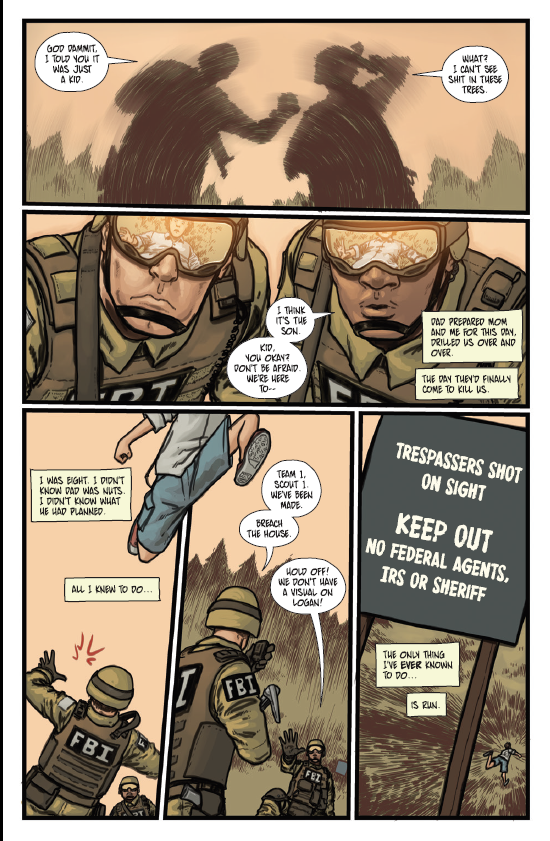 Artwork
Steven Sanders brings Throwaways to life with his artwork. Although the cover art for all four issues may be simple. The story comes alive through creative page layouts, vibrant colours and varying panel compositions to tell the story. My favourite is the way Sanders presents the sound effects to emphasise the nature and context of each scene.
The characters are drawn with a lot of detail with each having their own body language, expressions and individuality. But I did have a slight issue with the colour palette given to one of the companions (Alice) who looked more ghost than human without any explanation as to why. In addition the age of the characters was hard to gauge as it felt inconsistent across panels.
One of the highlights at the end of this volume is an 'Extras' section that provides a glimpse of behind the scenes including character designs and three pages of script to story. It was fascinating to see the story transformation and character transformation from this viewpoint.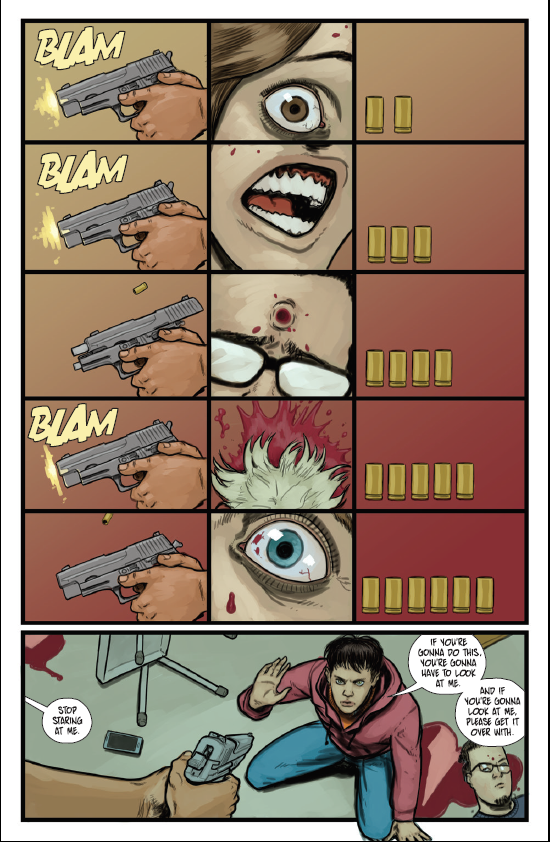 Final Thoughts?
Throwaways is a cool concept that has been written and put together really well. It is a gritty, real-world thriller that is full of twists you will not see coming and cliff-hangers that will leave you hanging in suspense. Available now in digital and in print, volume one is packed with four issues of a story that will have fans of this genre wanting more.
Comic Details
Title: Throwaways: Volume One (issues 1-4)
Writer: Caitlin Kittredge
Artist: Steven Sanders
Cover Art: Maiko Kuzunishi
Genre: Sci-Fi/Spy Fiction/Thriller
Publication Date: 21st December, 2016