Comics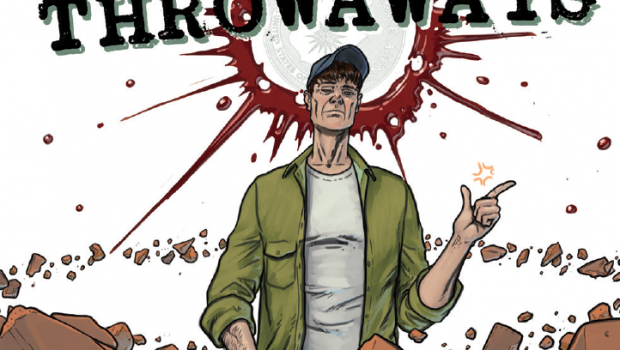 Published on February 21st, 2017 | by Lyla Saudi
Throwaways #5 Comic Book Review
Summary: Abby is one step closer to finding the person responsible for turning her into a human weapon.
Abby Palmer was a proud U.S. soldier. Then she was betrayed by the country she swore to give her life for. Forced to undergo illegal human experimentation that erased her memory, she didn't know who she was… until now. Written by Caitlin Kittredge and illustrated by Steven Sanders, Throwaways #5 is the latest issue in a spy thriller series that will see Abby uncover truths that no one ever wanted her to see.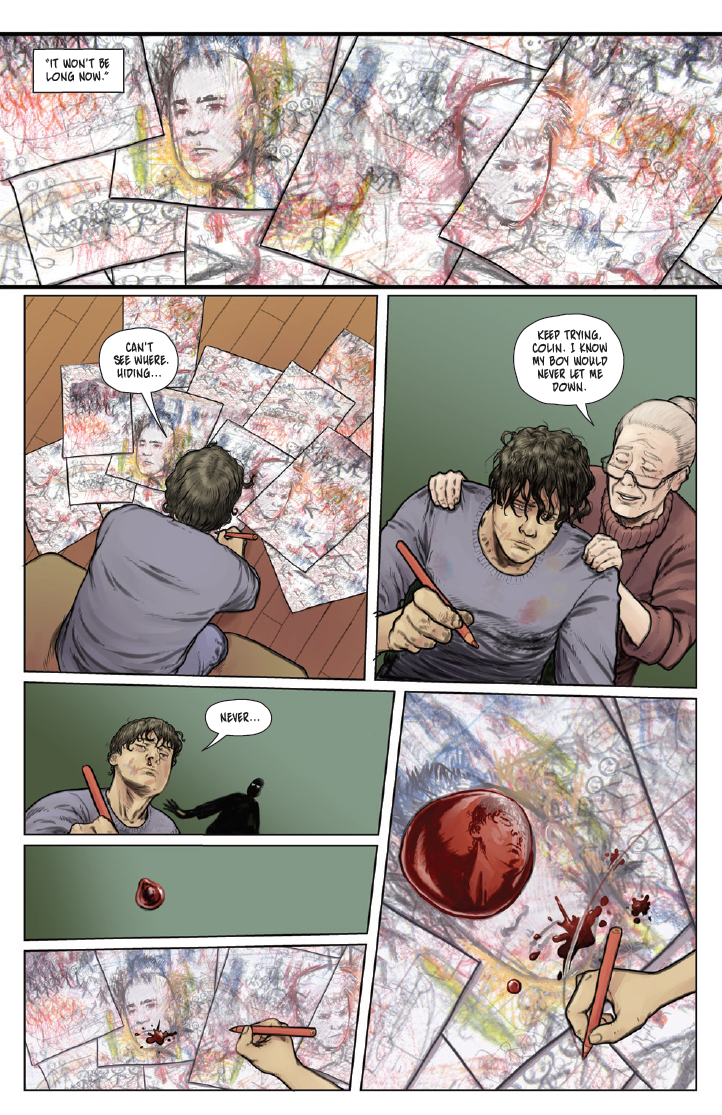 Abby remembers now. The ULTRA program is conducting illegal human experiments. Kidnapping people who exhibited 'special abilities' to twist their gifts into weapons. And behind it all is a special ops government department run by one person – Dr. Ostrander.
Abby has abilities now. And triggering her memories is starting to unlock them. Operating like a terminator, Abby can gauge the threat levels of anyone she lays eyes on, which isn't good news for anyone in her way, and anyone who is harbouring a secret. Especially a government secret.
And now Abby wants revenge, and wants to make the people responsible for what ULTRA did to her and her friends pay. But Dr. Ostrander is putting a plan into motion that's going to require a special kind of operative – one that even Abby might not be able to defeat.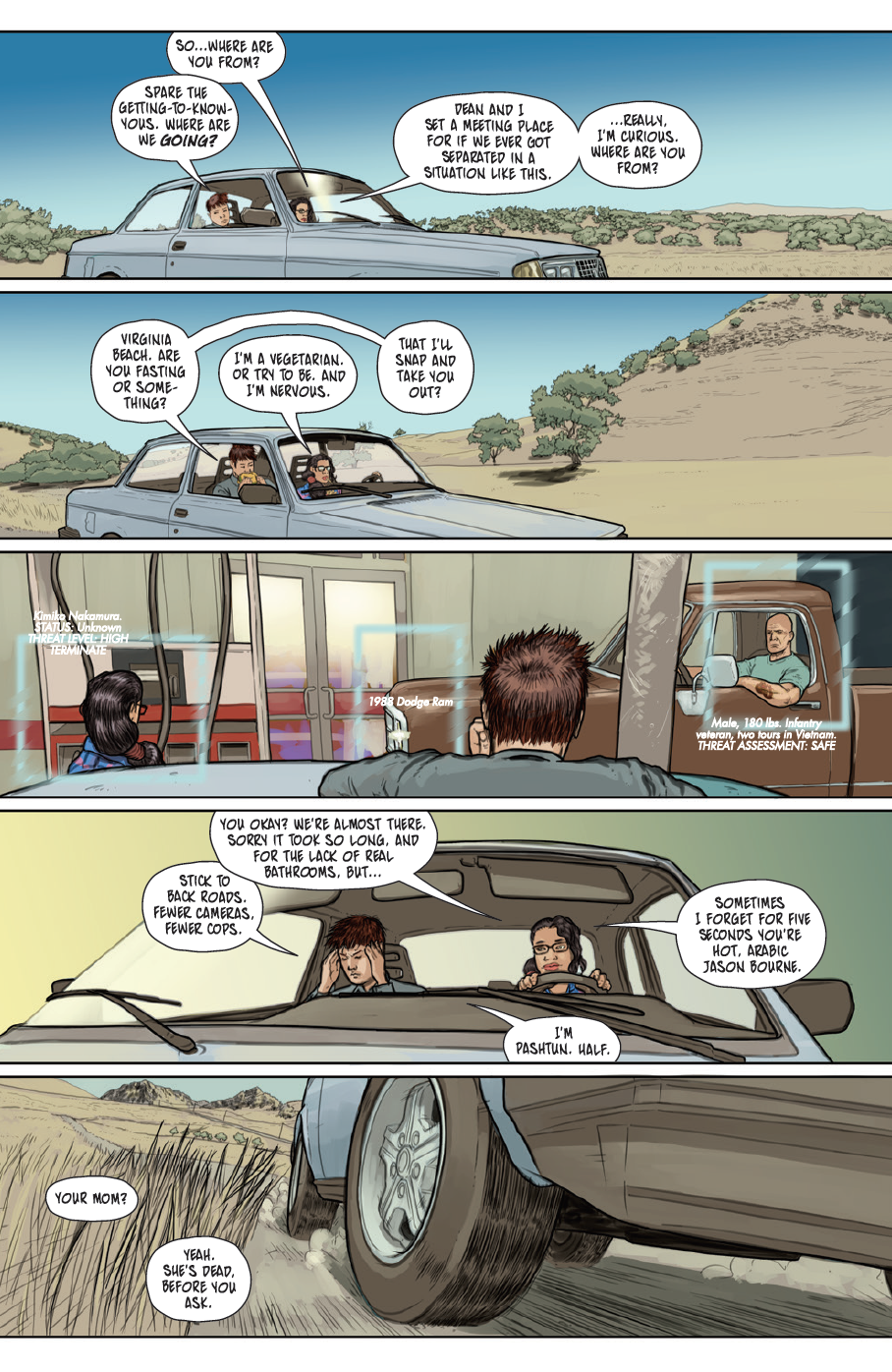 Writing
This issue focuses on Abby, her lethal determination, and her dry sarcastic humour. She is coming across as a big sister figure for Dean (our hero from the previous issue), wanting to protect him from the people sent out to hurt and lie to him. The dialogue flows smoothly and easily between the characters, but with limited character development I am still left with so many unanswered questions from the previous issue. The pacing of the story was also a bit on the slow side, but does finish in a way that leaves you wanting to know what happens next.
Artwork
The composition of the panels and the expressive close ups of the characters faces really adds life to the story. I enjoyed how Abby's abilities were drawn and portrayed, but did find the lettering a bit hard to read at times. The rest of the illustrations are simple and not overly detailed, but inconsistencies in facial features and body shape make it hard to gauge character age.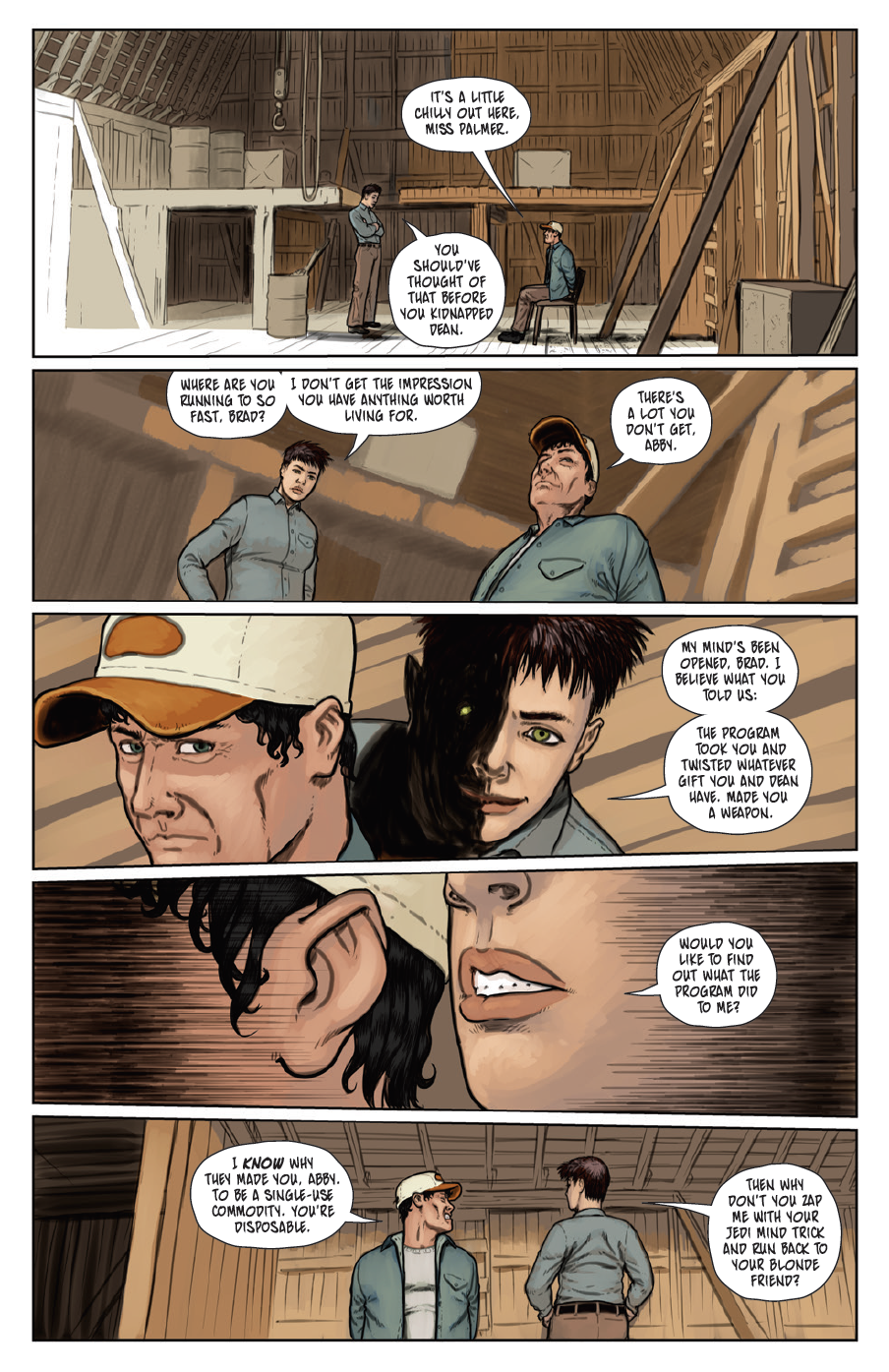 Final Thoughts?
This issue isn't on my list of favourites for the series but the overall storyline is interesting and I especially want to know more about the sinister plans that Dr. Ostrander has in mind for this group of throwaways.
Comic Details
Title: Throwaways
Issue: #5
Publisher: Image Comics
Writer: Caitlin Kittredge
Artist: Steven Sanders
Cover Artist: Steven Sanders
Genre: Sci-Fi/Spy Fiction/Thriller
Publication Date: February 8th, 2017