Games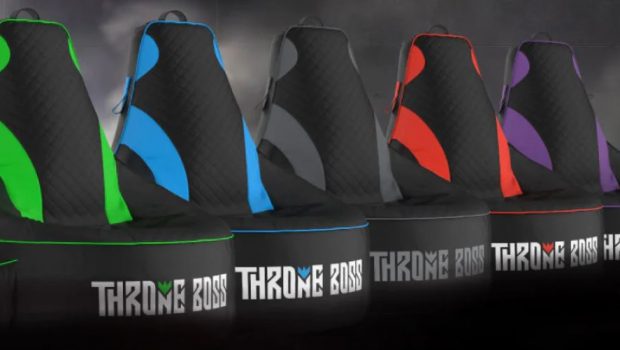 Published on March 23rd, 2023 | by Andrew Bistak
Throne Boss Gaming Bean Bag Chair Review (Throne of Games)
Summary: The Throne Boss Gaming Bean Bag Chair is not the Games of Thrones bur rather the Throne of Games!
While you may own the latest next-gen gaming console (e.g. PlayStation 5 or Xbox Series X) with a state of the art 4K TV to match, there is one accessory in your gaming arsenal that is sometimes over missed. The piece in question is a comfortable and supportive chair or lounge that is not only a must but it enhances the overall immersion factor into your virtual gaming world or for that matter, streaming services such as Disney+ or Netflix… And this is where the Throne Boss Gaming Bean Bag Chair literally comes into play…
Welcome to the next-generation of gaming bean bags thanks to Throne Boss Australia who provide both adult and children sized bean bag filled gaming chairs (aka "thrones"), including gaming footstools! At its core, the Throne Boss Gaming Bean Bag Chairs are designed for gamers and this includes high back support, large side pockets, a headphone hanger, a carry handle and an element of water resistance to cover those accidentally spills or splashes due to its durable fabric design. Comfort for firmness levels can also be tailored to suit your preference that is dependent on the amount of bean bag beans.
While all chairs from Throne Boss feature black, you can pick a handful of colours to complement this shade to suit your style. The colours available from Throne Boss include blue, red, green, purple, pink, grey and black …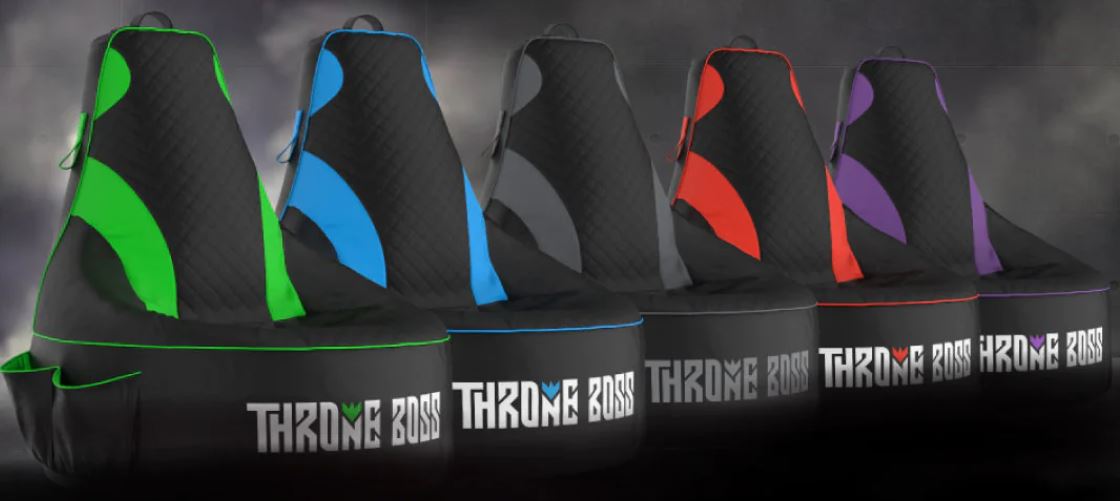 In terms of costs, the Boss Jnr (child size) is $124AUD, whereas the Boss Original (extra large adult size) is $155 and Throne Boss offer free shipping. Like other bean bags, you are only purchasing the bag itself and the fillings are available at Big W, K-Mart and Target for $11 per 100litre bag.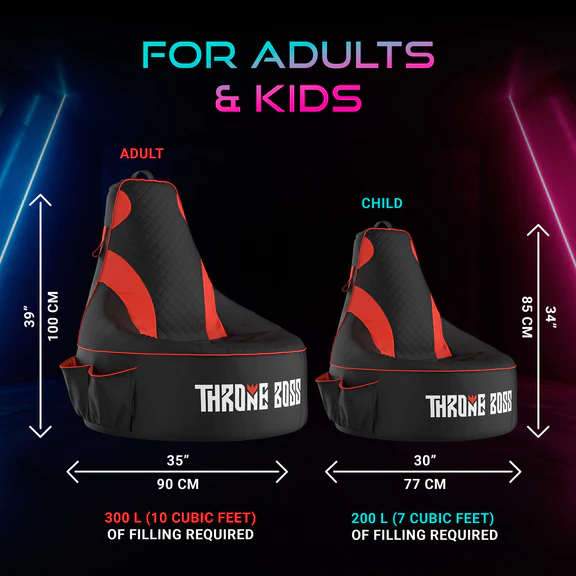 The Boss Original requires 350 litres of beans (4 bags) and the Boss Jnr needs 200 litres. Throne Boss also recommend that you do not use shredded memory foam as these have different properties opposed to traditional bean bag beans with that latter holding the shape better.
When your throne arrives, it feels premium courtesy of the packaging and when you unveil the product, again another premium experience. Prior to the install, Throne Boss offer an intuitive installation video that I recommend you watch prior to attempting the install and like other bean bags, two people are better than one. However if you are installing the beans solo, Throne Boss recommend that you use a folder or bulldog clip to attach it to a chair. To assist with the install and safety of the dreaded beans, there is an integrated filling chute that actually comes out of the bag and makes filling it a much easier process.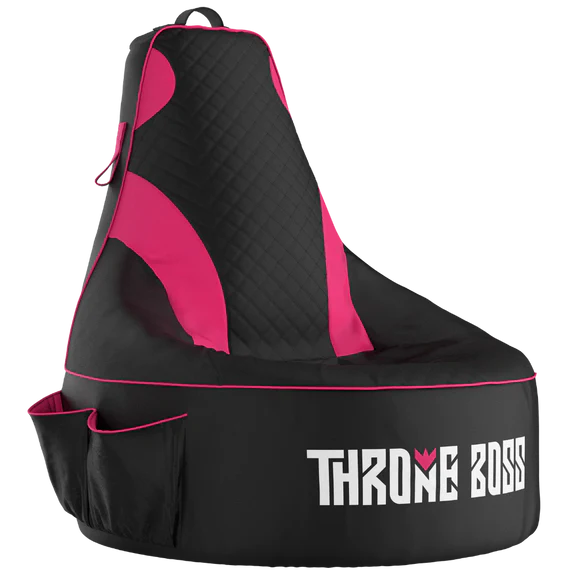 For setup time, it took us around 10 minutes to successfully pour the beans into bag and just to fine-tune the comfort, I used a container to pour some additional beans into it. Throne Boss also recommend you pour the beans in a bathtub or bathroom to help minimise the beans from going everywhere as sometimes they have a mind of their own.
As a safety mechanism, you need a safety pin (included) or hair pin to open the bag which prevents children from accidentally opening it. Given that Throne Boss recommend 350 litres, you can add slightly more or less to determine your perfect comfort level. More beans will make it firmer and less will make it feel more "cushiony" or "huggy".
So once our bags were filled with around 350 litres of beans, we were ready to trial out of the Throne Boss Gaming Bean Bag Chair. Also, as the Boss Original is quite a large chair due to the 350 litres of beans, it actually does weight much and makes it quite portable which is a real bonus of the product compared to a couch or lounge chair.
And our testing?
OMG "Oh My Gamer", the Throne Boss Gaming Bean Bag Chair is super comfortable, it's like your traditional lounge chair just received a power-up +10 in terms of comfort and you can literally sit in it for hours upon hours. Apart from the excellent cushioning, it has good back support that in turn reduces potential back and neck issues.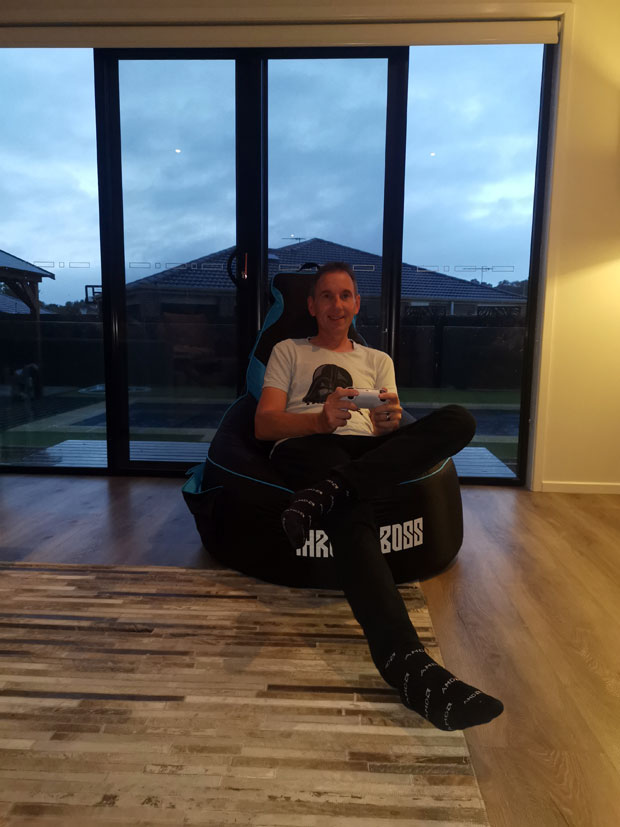 We tested the throne with a variety of games that included Hogwart's Legacy, DC Justice League: Cosmic Chaos, Horizon Forbidden West, Call of Duty: Modern Warfare II plus a whole lot more. However there is a glaring issue with the Throne Boss Gaming Bean Bag Chair and that my gamers is that once you sit down, you really don't want to leave this soft throne of gamer kings. Yes, it is that comfortable for gaming!
Another excellent option for this chair is watching TV series and films such with Star Trek Picard Season 3 and The Mandalorian Season 3 or Black Panther: Wakanda Forever was like being at the cinema in the world's most comfortable chair. Further, reading, listening to music or using your smart devices also lends itself well to this chair from Throne Boss! All in all, a very well designed gaming chair from Throne Boss that we can't fault and it also makes for a perfect outdoor chair as well.
Final Thoughts?
When a gaming chair throws around the words "throne" and "boss", then there are some big boots to fill, however I can safely say that the Throne Boss Gaming Bean Bag Chair delivers in this aspect and more importantly is probably one of the most comfortable and well supported bean bags that I've had the joy to use for both gaming, streaming and just chilling! Just be warned that it is a little on the larger size (100cm x 90cm) that may be an issue for smaller places but keep in mind that it is extremely portable and at the end of the day is a chair made for gaming kings.
Highly Recommended!
For more information, please visit https://www.throneboss.com.au/