Hardware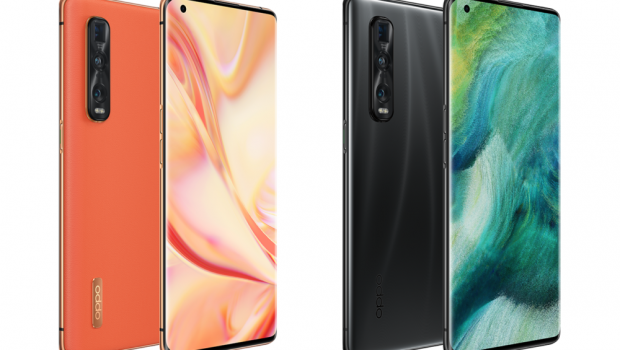 Published on June 9th, 2020 | by Admin
Three New 5G Smartphones Hit Aussie Stores Today As OPPO Launches its Find X2 Series
Leading smartphone brand, OPPO has today released its much anticipated Find X2 Series in all its glory, adding the Find X2 Neo ($999) and the pocket friendly Find X2 Lite ($749) to join the series alongside the Find X2 Pro ($1,599). The new additions complete the much anticipated arrival of the 5G Find series on Aussie shores.
The series marks a new era of flagships for the brand as OPPO continues to pioneer what's possible in a smartphone and the Find X2 Series is a testament to that. All three phones in the series combine the latest display, camera, processor, fast charging and 5G technologies into sleek and beautifully designed devices.
Joining the already announced Find X2 Pro, both the Neo and Lite devices are 5G capable and powered by the Qualcomm® Snapdragon™ 765G mobile platform, bringing Aussie consumers premium, future-proof 5G smartphones across a range of price points.
"With the announcement of the wider Find X2 Series, we are continuing to set a new standard for smartphones as Australia delves into the 5G era and consumers expect more from their smartphones for less," said OPPO Australia Managing Director, Michael Tran.
"The Find X2 Pro, Neo and Lite devices all offer a premium smartphone experience to suit various consumers' wants and needs. As we continue to pioneer leading technology advancements, in a time where the 5G network matures and its adoption increases, the smartphone will become even more important in our daily lives. With many features mirroring the industry-leading X2 Pro device, the X2 Lite offers a superb experience – and at its sub $800 price point, more Aussies have the chance to access 5G and the latest smartphone technology to enhance their daily lives."
More 5G Capabilities For Less
Find X2 Neo and Lite's integrated 5G SoC enables multi-gigabit download speeds up to 3.7 Gbps. For improved connectivity, the Find X2 Neo utilises a 360-degree surrounded antenna design, comprising more than ten antennas arranged along the outer frame. The innovative system automatically calls the unobstructed antenna group according to the holding posture to ensure optimum signal strength at all times of use.
Additionally, the OPPO Find X2 Neo supports 5G + WiFi dual channels, allowing 5G mobile network and 5G WiFi to work online at the same time, achieving network speed superposition.
Now Screening: Displays For Days
Smartphones are integrated into our lives for both work and play, and arguably, the quality of the screen sets the scene for the overall mobile experience. Like the Find X2 Pro which is heralded for its cinematic screen capabilities, both the Neo and Lite devices in the series hold their own.
The Find X2 Neo is equipped with a screen refresh rate of 90Hz and a touch sampling rate of 180Hz, so whether you're browsing the internet, watching videos or mobile gaming, you'll always experience silky smooth visuals. The Neo's brightness increases to 800nit by 14% and a maximum brightness of up to 110nit, making it easy to see the screen in all light conditions. All of this is packed into a 6.5-inch 3D curved punch-hole screen.
Meanwhile the Lite boasts a 6.4-inch OLED water drop screen with a touch sampling rate of up to 180Hz when in game mode, the Lite delivers a super smooth and light interaction, stepping up to meet the demands of gaming and video
To power these impressive screens, The Neo comes with a punchy 4025mAh battery, whilst the Lite comes with a 4000mAh battery. Both new Find X2 Series devices are supported by OPPO's VOOC Flash Charge 4.0, which powers from 0 – 50% in just 20 minutes, providing all day charge, users can farewell the days of low battery anxiety.
Enviable Photo & Video Quality 
In true OPPO fashion, the Neo and Lite devices have left no stone unturned in their respective camera and video capabilities under their respective price points. Both the Neo and Lite come with a 32MP front camera and impressive quad camera setups. The Neo features a 48MP main camera + 13MP + 8MP + 2MP. While the Lite features a 48MP main camera + 8MP + 2MP + 2MP.
Just like the Pro, the Neo is kitted with the Sony IMX689 sensor which brings to the party the largest image sensor size among all 48MP mobile cameras. The hearty sensor, combined with dual native ISO technology and f / 1.7 large aperture, turns up powerful low light shooting capabilities. The Find X2 Neo supports AI Ultra-Clear Night Mode, making night scene shooting easier than ever before.
The Find X2 series raises the bar yet again on video capabilities, giving users more freedom than ever before to shoot incredible video on their smartphones. Both the Neo and Lite devices feature Ultra Steady Video 2.0. Combining multi-sensor information with intelligent scenario detection for consistent steady shooting, whether it's for regular daily use or capturing fast-actioned sports, top-quality video is guaranteed every time.
Good Things Come In Slim Packages
Made with glass back to front and an aluminum frame, the devices are sleek and lightweight, elegantly housing the Neo's 12GB RAM and 256GB ROM, and the Lite's 8GB RAM and 128GB ROM within.
The Neo device, available in Moonlight Black and Starry Blue, comes in at 171g and 7.7mm wide, allowing for easy single hand use and making it one of the world's thinnest 5G smartphones.
Whilst the Lite comes in at 181g and 7.96mm thin and is available in two colours, Obsidian Black and Pearl White. Add these to the Find X2 Pro's Vegan Leather Orange and Ceramic Black, and that's a ridiculously, good looking smartphone series.
Pricing and availability below.
Visit www.oppo.com/au for more.
Pricing and availability:
OPPO Find X2 Pro
RRP: $1,599.00
Colours: Ceramic Black & Vegan Leather Orange
Stockists: Telstra, Optus, JB Hi-Fi, Woolworths Mobile, Mobileciti, Catch of The Day, Kogan, OfficeWorks (online), Bing Lee, Wireless1
OPPO Find X2 Neo
RRP: $999.00
Colours: Moonlight Black & Starry Blue
Stockists: Telstra, JB Hi-Fi, Woolworths Mobile, Mobileciti, Catch of The Day, Kogan, OfficeWorks (online), Bing Lee, Wireless1
OPPO Find X2 Lite
RRP: $749.00
Colours: Obsidian Black & Pearl White
Stockists: Optus, Vodafone, JB Hi-Fi, Woolworths Mobile, Mobileciti, Catch of The Day, Kogan, OfficeWorks (online), Bing Lee, Wireless1
Find X2 Series Gift With Purchase & Special Deals by Retailer:
JB Hi Fi:
OPPO Find X2 Pro: Customer pays $799 (Half Price) on $55 12-month plan, 80GB data
OPPO Find X2 Neo: Customer pays $0 (FREE) on $65 24-month plan, 80GB data
OPPO Find X2 Lite: Customer pays $199 on $55 12-month plan, 80GB data
Please see JB Hi-Fi website for full T&Cs
Optus:
OPPO Find X2 Pro: Bonus $200 eGift Card
OPPO Find X2 Lite: Bonus $100 eGift Card
Please see Optus website for full T&Cs
Woolworths:
OPPO Find X2 Pro: Gift with purchase – Bose Soundlink Around Ear Headphones II
Please see Woolworths website for full T&Cs
Mobileciti:
OPPO Find X2 Pro: Gift with purchase – Bose Soundlink Around Ear Headphones II
Please see Mobileciti website for full T&Cs