Films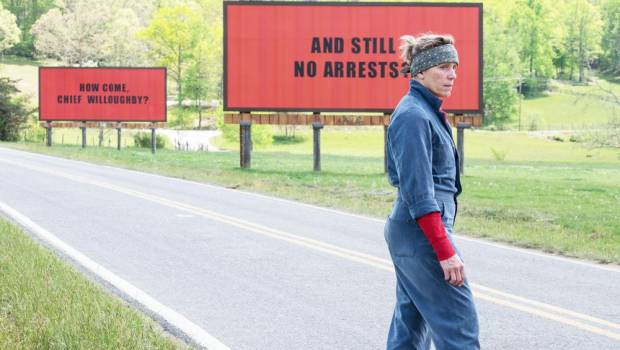 Published on January 2nd, 2018 | by Damien Straker
Three Billboards Outside Ebbing, Missouri – Film Review
Reviewed by Damien Straker on the 2nd of January 2018
Fox presents a film by Martin McDonagh
Produced by Graham Broadbent, Pete Czernin and Martin McDonagh
Written by Martin McDonagh
Starring Frances McDormand, Woody Harrelson, Sam Rockwell, John Hawkes, Abbie Cornish and Peter Dinklage
Music by Carter Burwell
Cinematography Ben Davis
Edited by Jon Gregory
Running Time: 115 minutes
Rating: MA15+
Release Date: the 1st of January 2018
The extremes to which a hero can test the boundaries of the law is a question rarely answered in modern cinema. British filmmaker Martin McDonagh resolves the limitations of the hero archetype with his latest film Three Billboards Outside Ebbing, Missouri. It is his third crime feature following In Bruges (2008) and Seven Psychopaths (2012). His films have all explored criminality in conflicted and deeply flawed lead characters. McDonagh examines these deranged, violent anti-heroes through a combination of black comedy and drama, which is the first test of his audience's expectations. Comedy and violence are used to challenge our empathy for the protagonists, which provides McDonagh's films with a signatory edge that's both hilarious and disturbing. Another challenge he lays down is to question complicity, which becomes a core theme of this enjoyable but bizarre crime satire.
Actress Frances McDormand (Fargo, 1996) stars as Mildred, a woman who returns home after seven months. One of her first actions is to buy advertising space on the town's three billboards. Each billboard has a connecting message that together reads: "Raped while dying…And still no arrests? How come, Chief Willoughby?" The victim she is referring to is her own daughter who was raped and murdered. She believes that the town's police, including Willoughby (Woody Harrelson in good form again), were too complacent to resolve the case. Willoughby and a stupid, racist cop named Dixon (Sam Rockwell) are outraged by the boards, leading to a battle of wills. Mildred tests the patience of the law through her own disturbing actions, and pressures the police to fight harder to resolve her daughter's murder. Strange side stories unfold too, such as a non-romance with a dwarf (Peter Dinklage in a humorous minor role), and the arrival of Mildred's ex-husband (John Hawkes) and his much younger partner.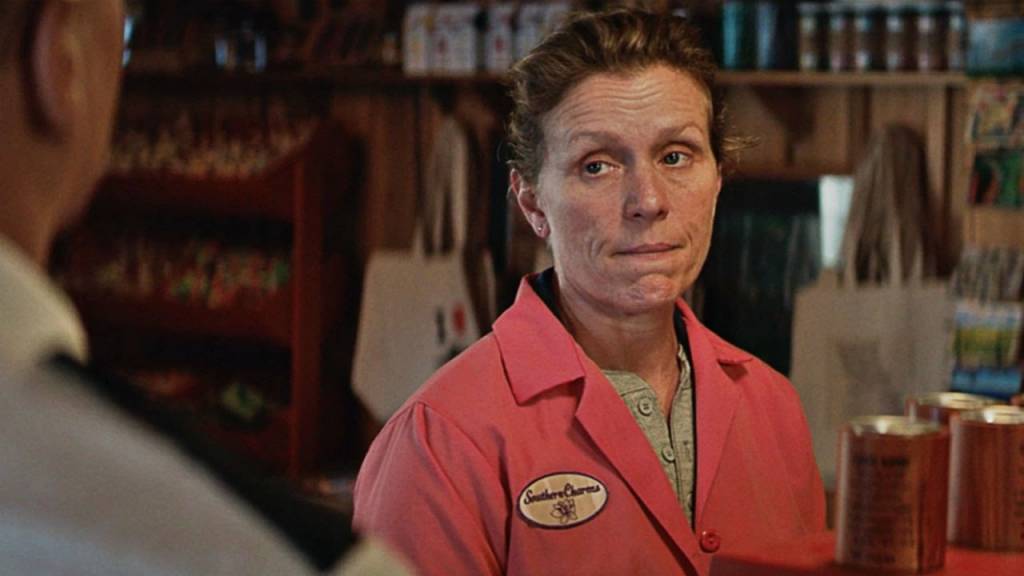 Billboards is hilariously dark and surprising because McDonagh is unwilling to restrain his female protagonist. Mildred is comparable to the sheriff archetype from a Western movie given she returns to the town to enforce her version of justice. Billboards is arguably a revisionist Western that asks if a sheriff rightfully has full ownership of the law. In one of the film's most memorable, funny and shocking scenes, Mildred visits the local dentist and then ambushes him by drilling into his own finger. When questioned by the police, she denies her actions to show how people fail to be accountable for their crimes. At the screening of the film, the audience openly reeled and laughed during this moment, which highlights the successful prongs of McDonagh's attack. He is testing our empathy for Mildred by reshaping the ethical boundaries of how she reaches her goal. There's also another very brutal moment where Mildred's car is pelted by some school kids, leading her to kick each one in the crotch, which is funny but also another example of our sympathy being challenged.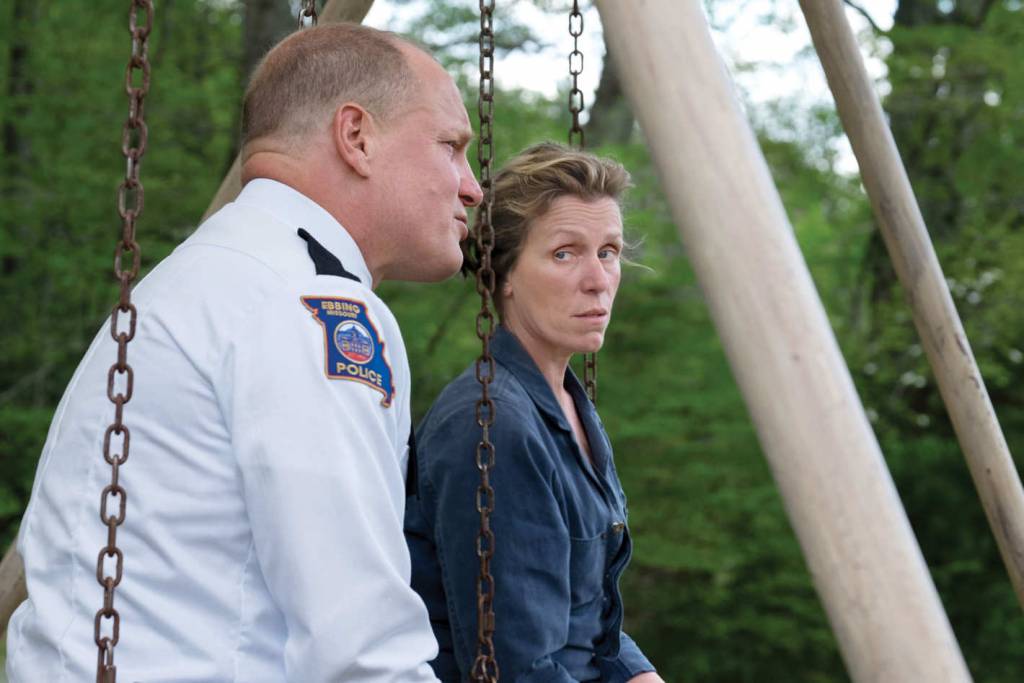 Billboards evolves into a comment on the nature of complicity where people are guilty not by incrimination but by complacency and association. One of the major scenes highlighting this thematic point scored laughs at the screening. Mildred tears into a priest visiting her house after he criticises her for the billboards. Her monologue verbalises how people like priests are in her eyes guilty by association. She then tells him colourfully to finish his tea and get out of her house, which was funny too. Her feelings on complicity here are an extension of her anger towards the police. She believes that by failing to do their jobs the police are inadvertently allowing the killer to remain unpunished. The one flaw with this unique plot isn't that the crime remains unsolved but that the second act feels unfocussed after a fatal occurrence to one of the main characters.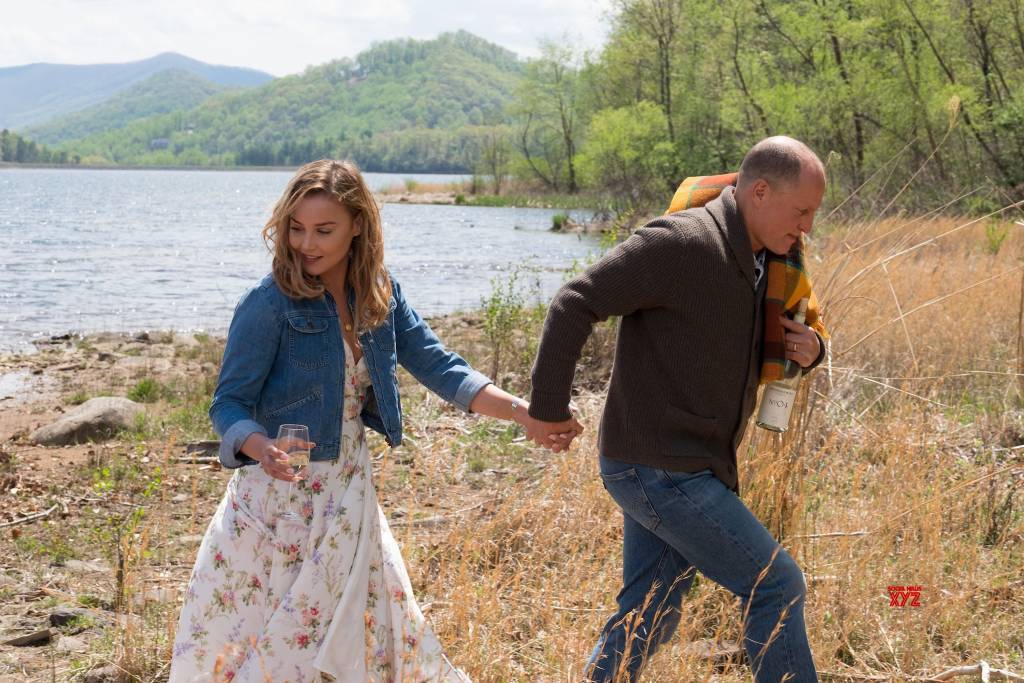 The central performances from Frances McDormand and Sam Rockwell are understandably generating award buzz. For years, McDormand has been a steady, no-nonsense actress and this part seems tailor-made for her cold, dogmatic and unflinching demeanour. Mildred is a bleakly funny and often psychotic personality but one with a perpetually empathetic cause for us to follow, which summarises the difficult bind of complicity. The more unhinged her actions, such as setting fire to a building, the more our sympathy is tested. Sam Rockwell generates many laughs, even as Dixon seesaws between a buffoon and a violent nutter. A scene where he throws a man from a window is frightening and difficult to watch; it typifies the challenge of laughing with Dixon and then being shocked by his choices. McDonagh further cements the dilemma by never forgetting Dixon's inner life. He is a no-hoper who still lives with his mother and has little to cling onto except his job. A significant change in his life structure prompts Dixon to try to be a more heroic person.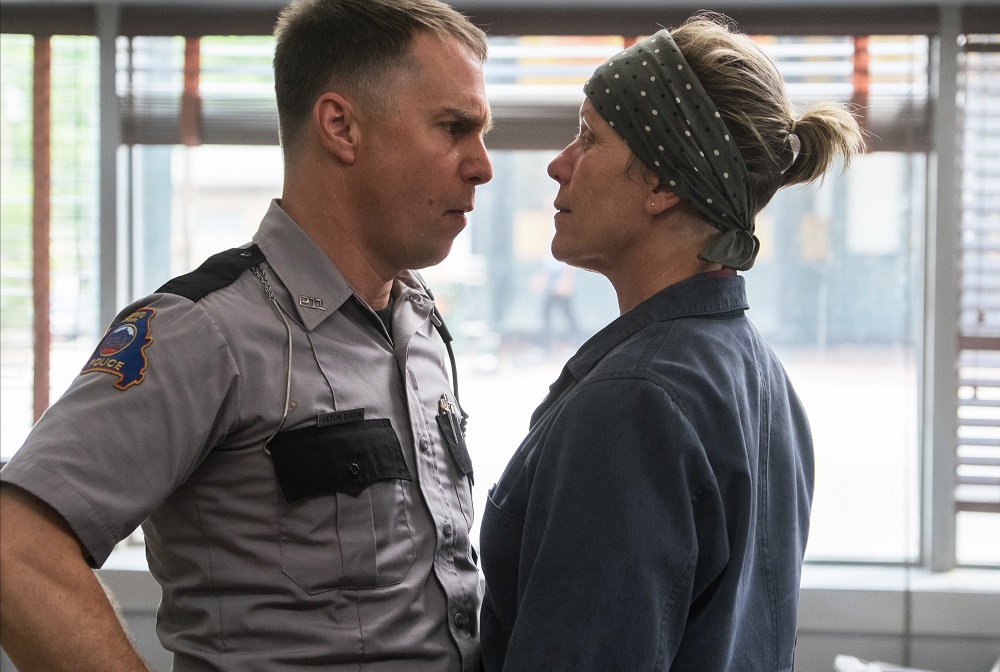 McDonagh's film style, combining ultra-violence and comedy, isn't a gimmick but pertinent in achieving his thematic goal of addressing complicity. The film asks us to laugh at stupidity, but then purposely strains our enjoyment of the characters by stressing their ugly, violent nature. Our complicity with Mildred and her recklessness becomes an ethical and emotional fulcrum that's as integral to the story as her judgement of the police. It is difficult to entirely unpack this film and absorb its complex thematic structures. However, it is ambitious and clever in challenging the limits of heroism through comedy and violence, and transcending the simplistic binary of good and evil. The film postures as a funny American sitcom on steroids but effectively transforms into a bleak depiction of strange bedfellows on the edge of a brutal crime landscape. McDonagh is constantly pushing us from our comfort zones and his characters away from their rigid archetypes through violent, unpredictable action. This isn't a bad thing. You'd never dream of growing complacent around a character like Mildred.
Summary: Martin McDonagh's film style, combining ultra-violence and comedy, isn't a gimmick but pertinent in achieving his thematic goal of addressing complicity.