Games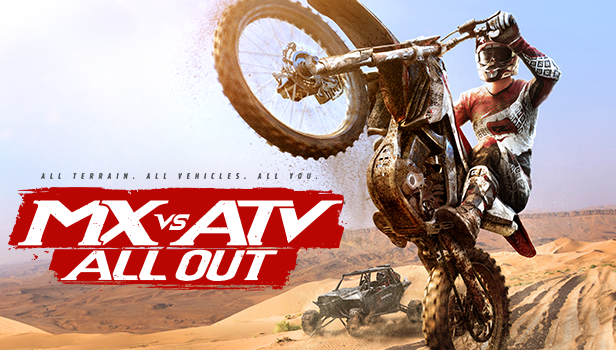 Published on March 28th, 2018 | by Admin
THQ Nordic and Rainbow Studios Launch MX vs ATV All Out!
The Ultimate Off-Road Racing Experience is Available Now Featuring 16-Player Online Multiplayer!
Karlstad, Sweden, Vienna, Austria and Phoenix, AZ – March 27, 2018 – THQ Nordic and Rainbow Studios today launched the highly anticipated, MX vs ATV All Out. Available now for PlayStation®4 computer entertainment system and Xbox® One for £44.99, and PC for £34.99, MX vs ATV All Out delivers the ultimate off-road experience complete with bikes, ATVs, UTVs; massive, open-world environments to explore; competition modes for every type of rider; the tracks, the pros, the gear, 16-player online and so much more!
"The team at Rainbow set out to create the ultimate off-road racing experience with MX vs ATV All Out and delivered exactly that!" said Klemens Kreuzer, Managing Director, THQ Nordic. "The off-road racing experience is all about freedom – choose what to ride and how to upgrade it, what gear to wear, how to compete, where to compete, who to compete against – all of this, plus major enhancements to Rainbow's patented physics and terrain deformation technologies: Rider-Reflex 2.0 and Real-Time Deformation 2.0! MX vs ATV All Out is truly Rainbow's crowning achievement!"
MX vs ATV All Out invites players of all skill levels to do it all – explore massive environments, compete in the best series events, ride freestyle and pull off insane stunts! All the bikes, tracks, gear, music, riders, personalities and even UTV's are packed in!
Feature List:
All new UI plus major enhancements to Rainbow's patented physics and terrain deformation technologies: Rider-Reflex 2.0 and Real-Time Deformation 2.0!
Insane stunt system that tests your limits in freestyle mode!
Competition! Modes including Supercross, Nationals, Opencross, Waypoint, Tag and more, including all the biggest tracks!
Vast open-world environments to explore
16 player online mode and 2-player split-screen!
A private compound including space for all of your upgraded and customized vehicles plus gear from the biggest brands in off-road!
The biggest names in off-road racing from around the world
A massive soundtrack, including exclusive tracks by major artists