Films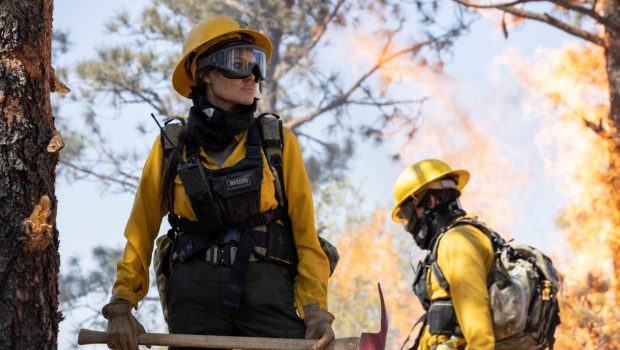 Published on May 14th, 2021 | by Damien Straker
Those Who Wish Me Dead – Film Review
Reviewed by Damien Straker on the 14th of May 2021
Universal/Warner Bros. Australia presents a film by Taylor Sheridan
Produced by Steven Zaillian, Garrett Basch, Aaron L. Gilbert, Kevin Turen, and Taylor Sheridan
Screenplay by Michael Koryta, Charles Leavitt, and Taylor Sheridan based on 'Those Who Wish Me Dead' by Michael Koryta
Starring Angelina Jolie, Finn Little, Nicholas Hoult, Aidan Gillen, Jon Bernthal, Medina Senghore, and Jake Weber
Music by Brian Tyler
Cinematography Ben Richardson
Edited by Chad Galster
Rating: MA15+
Running Time: 100 minutes
Release Date: the 13th of May 2021
Those Who Wish Me Dead is a violent, generic action movie that lacks inspiration. Angelina Jolie stars as Hannah, a mentally tortured smokejumper (an airborne firefighter) who suffers from nightmares about a failed rescue operation that led to the deaths of multiple people. Hannah now lives her life hard and fast, much to the chagrin of her ex-boyfriend, Ethan (Jon Bernthal), a local sheriff based in Montana. After failing to heed a stern warning, he arrests her for executing a dangerous parachute stunt from the back of a moving truck.
He soon returns home one evening to the love of his pregnant partner, Allison (Medina Senghore). Meanwhile, two hitmen named Jack and Patrick (Aidan Gillen and Nicholas Hoult) are in deep pursuit of a forensic accountant. The man is Owen (Jake Weber) who is driving his son, Connor (Stormboy's Finn Little), to school. Upon realising they are being followed, he tells Connor they are 'playing hooky'. He races to woodlands only for their car to be ambushed by the hitmen. While left on his own to escape through the wilderness, Connor is soon discovered by Hannah. A collision course is set where the hitmen and firefighters will clash amid smoke and gunfire.
The most disappointing aspect of Dead is how much talent is wasted. The film's director and co-writer, Taylor Sheridan, is the first casualty. He developed the script with Charles Leavitt and Michael Koryta. Koryta originally wrote the book upon which the film is based. Sheridan himself is most famous for scribing the action-dramas Sicario (2015), Hell or High Water (2016), and Wind River (2017). Hell was one of the best films of the last decade. The scintillating character study was witty, violent, and personal.
By successfully dissolving the lines between law and crime, Sheridan ensured we cared about both sides of the film's financial conflict. The first Sicario was also vividly realised and underlined the dangers of untrustworthy, corrupt bureaucrats with agendas. Wind River, a rock-solid police procedural, benefited from excellent performances. The strong character building and moral ambiguity visible in Sheridan's best work is absent here. Dead is as forgettable as the Sicario sequel, Day of the Soldado (2018). It is overly governed by good and bad characters devoid of complexity. Why an intelligent, talented screenwriter has resorted to action clichés and diluted any meaningful subtext is baffling. Sheridan should consider improving as a screenwriter before directing films himself.
The film's script lacks the creativity needed to transcend its B-movie trappings. One of Sheridan's first mistakes is his illustration of Hannah. The film opens with her nightmare, inferring she is the story's focal point. Yet Sheridan soon cuts away to three other sets of characters. This structure may have suited the chapters of the novel, but it dilutes Hannah's importance. This is a short film, a little over ninety minutes long, and it thinly spreads itself across various archetypal figures. While Hannah is the only rounded person, her trajectory is too predictable to intrigue us. Her nightmare is visualised twice and then reinforced again through dialogue. Hammering her guilt overly signposts her redemptive efforts to help Connor escape the hitmen.
Not that this is an insurmountable task. The hitmen are violent fellows but terribly inefficient. Despite branding assault weapons, they struggle to eliminate both the father and son when trapped in their car and demand the support of a second team! Perhaps to stop their eyes from glazing over, the audience at the film's early screening cheered as these two knuckleheads predictably began meeting their demise. Interestingly, Sheridan also discards the broader backstory regarding Owen's investigation. It leaves Tyler Perry's role as a mob boss to a cameo. The creative decision erases any hope that the narrative may achieve some complexity.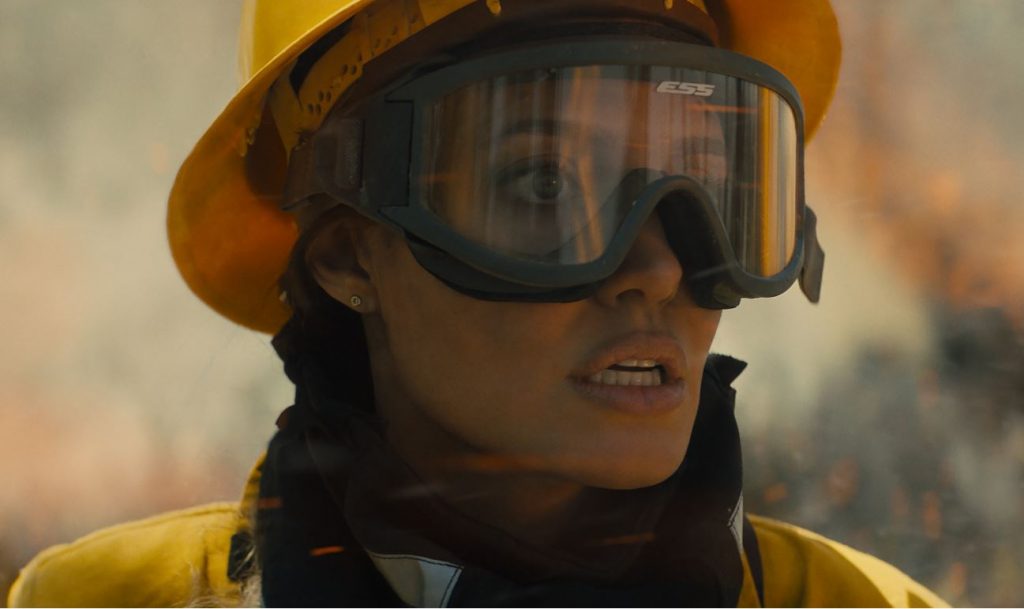 Outside of the setting, the film's technical elements lack strong attention to detail. As expected, this is a handsomely photographed production albeit not an authentic one. New Mexico passes for the Montana wilderness. The best use of the visuals is not the obvious CGI shots but rather the compressed articulation of Hannah's trauma. She is filmed alone and facing a huge opening. A wide-angle shot, paired with a deep focus lens, frames the enormity of the forest ahead of her. The frame underlines her loneliness and unresolved guilt. Strangely, Sheridan fails to allow the environmental elements to affect the action. At one point, Jack starts a bushfire as a distraction. The result of his most diabolical plan is that we are treated to vicious CGI flames that become window dressing.
Hilariously, Hannah, a trained smokejumper, is shocked to see flames appear before herself and Connor. Anyone else would have smelt the smoke miles away. The climax is even funnier. During the predictable showdown, no one coughs or is blinded by smoke. It is a pathetic waste of a crucial element that would have distinguished the lame finish. The rest of Dead is lazy and incredulous. Hannah hits the ground hard after falling from a lookout tower, she is almost struck by CGI lightning, and then the poor woman must avoid a raging bushfire by hiding in a shallow creek. The only moments that felt real included a huge explosion at the start (its insanely loud) and the needlessly overwrought physical violence directed at the film's two women.
The performances remain as uneven as the shallow narrative. It is fortunate Jolie offers such a strong, memorable presence. She is highly emotional in tight close-ups and her bond with Finn Little, while limited, is solidly realised. She characterises Hannah as a woman perpetually tormented by her failings who longs to undo past wrongs. Yet Hannah's personality is inconsistent. Her recklessness in the early scenes dissipates too quickly. Someone who should be wild and careless throughout is briskly transformed into a responsible guardian. Finn Little, a young emotive Australian actor, quietly impresses. He ensures Connor is visibly affected by the violence. In a rare instance of levity, he humorously stresses how his trauma outweighs Hannah's problems. Jon Bernthal and Medina Senghore struggle to bring interesting traits to their one-note parts. Senghore has more agency than expected but is subjected to a scene of unpleasant brutality. It is not much fun accompanying the hitmen either.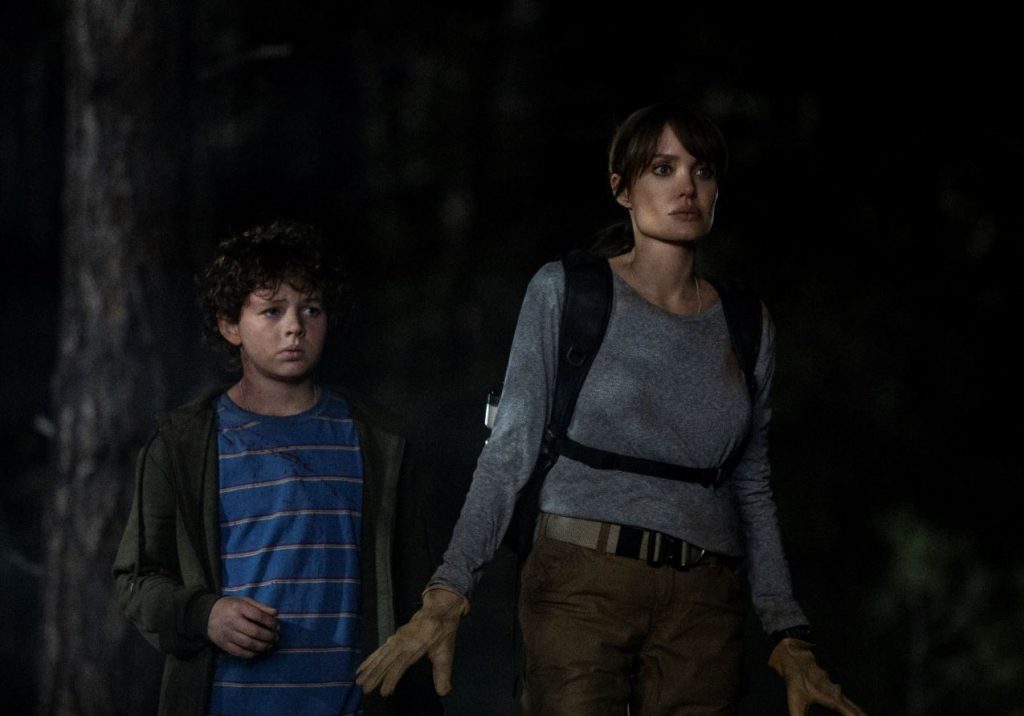 Aidan Gillen is predictably typecast as a villain, but Jack is one of the least interesting baddies the actor has conceived. Outside of his wickedness, he lacks distinction. Similarly, after seeing how brilliant, dangerous, and funny Nicholas Hoult is in the television series The Great (2020), it is painful watching him relegated to a blandly written villain with no personality or anything unique to offer. It says online that these two goons are playing father and son. In the novel, they are brothers. No one would know what their relationship is while watching the film because it has no bearing on the story. Nothing screams a quality father and son road trip quite like arson and mass murder.
Taylor Sheridan has wasted an excellent setting on surprisingly tired, underdeveloped material. He is an undeniably talented writer and notable for producing exciting neo-Westerns and staging impressive action scenes. However, this story is third-rate at best and completely forgettable. After a promising start and an incredibly long introduction to its various characters, the only unique facet is the intensity of the violence.
There is admittedly some intrigue throughout the first quarter as we try foreseeing the story's outcome. However, it is apparent that we have walked this path countless times before. Equally criminal is how the environment fails to create exciting new obstacles for the characters. The only commendable aspects are Jolie and Little's performances. Yet one must ask why Sheridan has relegated them to such an underwhelming, late night B-movie.
Summary: The only commendable aspects are Jolie and Little's performances. Yet one must ask why Sheridan has relegated them to such an underwhelming, late night B-movie.