News
Published on October 10th, 2013 | by admin
Thor Movie Poster Gets LEGO Treatment for LEGO Marvel Super Heroes Videogame
We would like to share with you the LEGO version of the Thor: The Dark World movie poster, only in theaters October 31, to celebrate the upcoming Australian release of LEGO® Marvel™ Super Heroes videogame on November 13 for Xbox 360®, PlayStation®3, Wii U™, Nintendo 3DS™, PlayStation® Vita, and PC.  The game will also be available for Xbox One® and PlayStation® 4 in November!  A special downloadable character (DLC) pack will be available for LEGO Marvel Super Heroes at launch.  The Asgard DLC pack will include eight playable characters, all of whom are also featured in the film.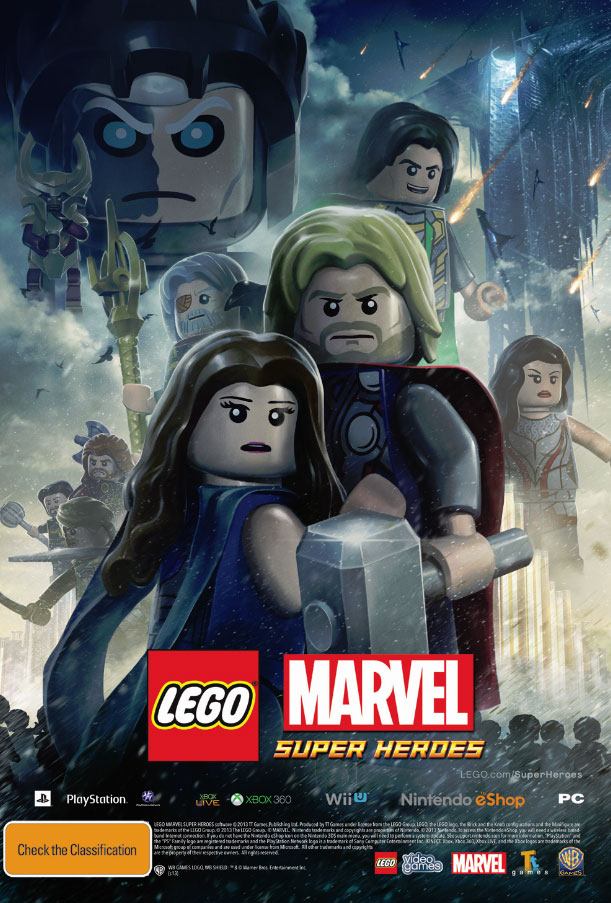 Created in the same style as the poster for the upcoming theatrical release, you'll find that all of the characters in the upcoming film, from Thor and Jane Foster, to Malekith have been transformed into LEGO perfection.
LEGO Marvel Super Heroes also will be prominently featured during the Marvel Videogames Panel at this weekend's New York Comic Con! TT Games game director Arthur Parsons will be showcasing new sections of the game, unveiling  several playable characters, and there'll be exclusive announcements, special LEGO Marvel giveaways and more! Here are the details:
Date/Time: October 12, 12:15pm (US Time)
Location: Javits Convention Center, Empire Stage 1-E
LEGO® Marvel™ Super Heroes features an original story crossing the entire Marvel Universe. Players take control of Iron Man, Spider-Man, the Hulk, Captain America, Wolverine and many more Marvel characters as they unite to stop Loki and a host of other Marvel villains from assembling a super-weapon capable of destroying the world. Players will chase down Cosmic Bricks as they travel across LEGO Manhattan and visit key locations from the Marvel Universe, such as Stark Tower, Asteroid M, a Hydra base and the X-Mansion.