Comics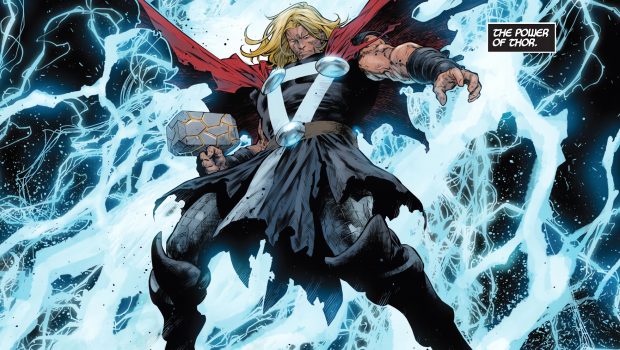 Published on July 9th, 2023 | by Howard Smith
THOR ANNUAL #1 REVIEW
The King is Dead, Long Live the King
A new age enters for the Asgardians, and it begins with the new All-Father, Thor Odinson. Thor Annual #1 comes to fruition as it results from the unfortunate death of Odin and the subsequential destruction of the Bifrost connecting all the Ten Realms under the World Tree. After Odin's departure, Thor takes up the mantle as king of Asgard as his birthright and its' successor. When all seemed peaceful, another foe comes knocking at the thunder god's door, but this time this enemy was an all too familiar villain. Wielding the shattered remains of the Bifrost, M.Y.T.H.O.S., formally known as M.O.D.O.K., hatches a diabolical plan of revenge to create his perfect world and strip all remnants of freedom. Unable to abide by this cruelty and injustice, Thor leaps into action without hesitation and stands up to the impossible. In a world with no Avengers, Doctor Strange, or Spider-Man, Thor is the only hope left.
Starting off in an epic new direction, Collin Kelly (Grayson, Guardians of the Galaxy, Joyride) and Jackson Lanzing (Green Arrow, Nightwing, Wonder Woman) have brought forth a new appreciation for Thor as a Marvel character. While Thor is still stricken with grief and reflecting on his father's words readers see a side of Thor that is still true no matter what he's been through. Within these pages, those core concepts and ideals of Thor remain pure, especially with the battle with M.Y.T.H.O.S. and the high-ranking position he holds. Lanzing and Kelly have written a story that not only sets up a new path for Thor but also adds possible new challenges he may face down the road. While the dialogue stood firm, it's clear the writers wanted to make sure Thor received both the best ending to the last series and a great start to the next series. Safe to say, they achieved what they set out to do in this comic book. Thor Annual #1 reassures that Thor, despite his setbacks, trials, tribulations, and victories he's a hero willing to put everything on the line even when the unimaginable threatens the fabric of reality.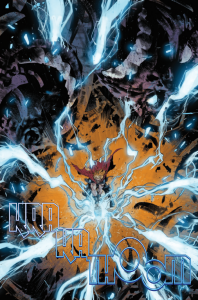 Likewise in stature, Ibraim Roberson (Catwoman, Iron Man, Star Wars: Darth Vader) and Dan Brown (A+X, The Amazing Spider-Man, Detective Comics) combine their insane talents to deliver awesome visuals in Thor Annual #1. Manifested from scores of words designed to convey a story, Roberson delves into the world of excitement and wonder by formulating those words into striking images. Crafting a diverse scenery while showcasing the abundance of action and character development expresses the overall stakes present to Thor in this tale. Through pencil and ink artwork displayed within the comic book, Roberson's style of composition serves a major role in progressing the story forward with captivating panels. Uniquely, Brown matches the same level of excitement with his execution of coloring that allows the comic book to glow with awe. The contrast between light and dark scenes packs an effective flow of flawless readability. Nothing is out of place thanks to the vast skill of both contributors.
As Roberson and Brown may have had the pleasure of giving life to this story, Joe Sabino (Age of X: Universe, Carnage, Fallen Angels) remarkably bestows Thor's new path in life with stunning lettering that just makes the comic book even more epic. Specifically, Sabino's lettering style doesn't just add words to a page, instead, it flourishes alongside the other creatives collectively and gracefully.
Speaking of flourishing, Adam Kubert (Batman, The Incredible Hulk, Alien) and Matt Milla (A-Force, Aquaman and the Others, Archer & Armstrong) illustrate a mesmerizing cover for Thor Annual #1. The cover itself is stunning to observe. Despite the necessary information and title of the book, the cover commands a strong impression of a brand-new saga beginning. Milla and Kubert have outdone themselves on this cover for the annual.
Thor has more ahead of him. Although he is now the All-Father, it remains to be seen that there are more enemies lurking somewhere out there in the cosmos. As Thor begins anew, readers are left with a special prologue that will set off the next chapter in The Immortal Thor #1. Be sure to pick up this issue before the next series begins. Thor Annual #1 assists those who are just getting into Thor for the first time or have been reading his story for ages. Copies are available at your local comic book store or online wherever they are sold. Don't want to miss this for sure.
Comic Details
Writers: Collin Kelly, Jackson Lanzing
Artist: Ibraim Roberson
Colorist: Dan Brown
Letterer: VC's Joe Sabino
Cover Artists: Adam Kubert, Matt Milla
Editor: Will Moss
Publisher: Marvel Entertainment