Comics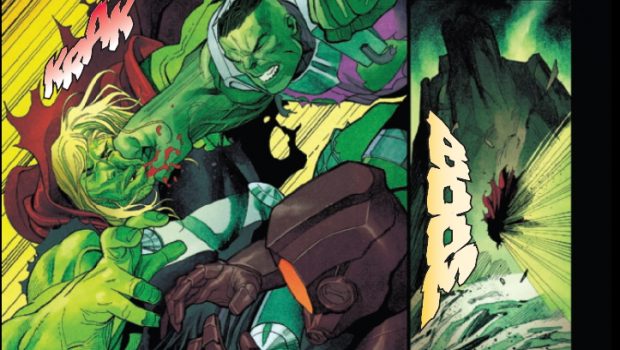 Published on June 14th, 2022 | by Tim Chuma
Thor #26 Review
Summary: Worth reading if you have been following the story up to now just to see how they are possibily going to top what has happened so far.
After the giant gamma explosion that left Thor as Hulk Thor honestly I would not think there is anything else they could do in this fight. It seems now Tony Stark can talk to the Ravens and he gets pulled out of the situation on the Bifrost with things going south when they try to do the same with Thor and he smashes it to bits. The soul of Thor is still speaking to Bruce Banner and now Hulk fights Hulk Thor leading to another explosive event.
Normally I would complain about a series that expected you to jump from one character's storyline to the next but this one makes more sense as it is the same fight and each of the character has the same investment of the story. Hopefully this one will be released as a collected edition so you can read all the story at once as it would suit it.
Mjolnir with the soul of Odin also turns up in the Foster & the Mighty Thor storyline but I am not sure what other connection these two stories have if at all.
This story still has one more issue to run but it is still worth following as I would like to see just how they can actually top it at this point.
Comic details:
Writer: Donny Cates
Penciler: Martin Coccolo
Cover Artist: Gary Frank
Publisher: Marvel
Published: June 08, 2022