Comics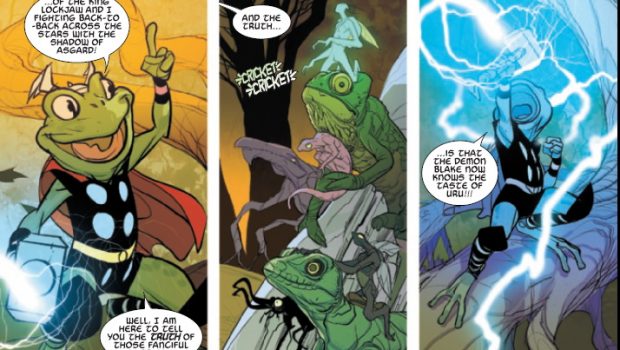 Published on October 25th, 2021 | by Tim Chuma
Thor #18 (2020) Review
Summary: The Pet Avengers become actual Avengers in this fun story with everyone's favourite king of the frogs, Throg.
Thor has returned to Asgard to carry out his kingly duties only to find his hammer has been stolen from Avengers Mountain. He asks Loki who turns him down cold and says he needs a spy. Travelling to see Throg he asks for his help only to find Throg already has a team ready to go as he knew what the problem was already.
I was looking forward to this as I have wanted to see a story with Throg in it ever since hearing about the Tails of the Pet Avengers were they defeat Thanos on their own without the aid of the other Avengers and an actual dog without super powers.
There is a bigger plot going on here but they explain enough of what happened for you not to get lost coming into it now. This is meant to be the start of a new storyline with Throg and the gang on the case and an ideal point to come into this series.
I would recommend this one if you want to see more about Throg and Lockjaw and also the other pet Avengers that they will meet along the way.
Comic details:
Writer: Donny Cates
Penciler: Pasqual Ferry
Cover Artist: Olivier Coipel
Publisher: Marvel
Published: October 20, 2021