Games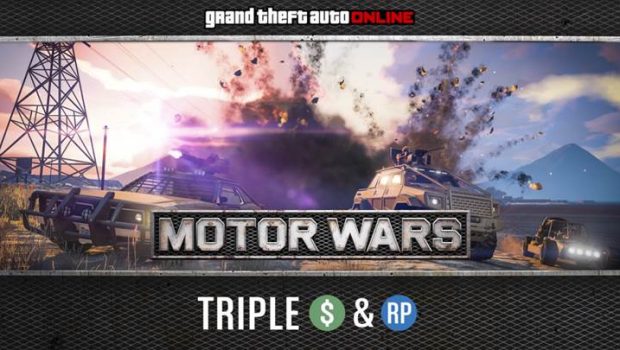 Published on April 6th, 2019 | by Admin
This Week in GTA Online: Triple Rewards in Motor Wars, Double GTA$ & RP in Vehicle Vendetta and Hunting Pack (Remix), Double Rewards in Gunrunning Sales, Boosts in Gunrunning Research, Free Unlockable Cap and More
Triple Rewards in GTA Online: Motor Wars
Plus 2X GTA$ in Gunrunning Sales, Vehicle Vendetta and More
Jump from the Cargobob and into Triple Rewards this week in GTA Online with 3X GTA$ & RP in Motor Wars, the ferocious fight for survival in an intermittently shrinking kill box festooned with all kinds of lethal toys for 2-4 teams and up to 28 players.
And continue to scratch that vehicular warfare itch and earn Double GTA$ & RP in the process with two more vehicle-based modes this week: the power-up infused frantic clash of cars known as Vehicle Vendetta, and the souped-up, heavyweight stunt-fueled Hunting Pack (Remix) featuring bruisers like the Vigilante or nimble Scramjets chasing down a Runner rigged to explode.
And maximize your Bunker operation's proclivity for productivity with a 25% boost in Gunrunning Research and 2X GTA$ on all Gunrunning Sales.
Affirm your allegiance to the makers of high ordnance war weapons from Coil's Arms Division with the Black Coil Cap, added to your available headwear options just by playing GTA Online this week.
Warstock Cache & Carry has the goods to help you pummel your adversaries into positions of submission – including an arsenal of vehicles for all situations available at 40% off this week:
HVY Insurgent Pick-Up Custom – 40% off
Ocelot Stromberg – 40% off
HVY APC – 40% off
Nagasaki Street Blazer – 40% off
Rhino Tank – 40% off
Mobile Operations Center – 40% off
Mobile Operations Center Bays and Renovations – 40% off
Bunkers – 30% off
Bunker Add-Ons and Renovations – 30% off
Hangars – 30% off
Hangar Workshop – 30% off
The Premium Race circuit this week shifts from the Los Santos Storm Drain to the dizzying heights of Mount Chiliad and the runway of Fort Zancudo. If you've got GTA$20,000 and the stones to take on seven other racers for the shot at a podium finish payday, join up either through the Quick Job App on your in-game phone or via the yellow corona at Legion Square. First place takes a grand prize of GTA$100K, while 2nd and 3rd place finishers will receive GTA$30K and GTA$20K respectively.
April 4: Down the Drain (locked to Muscle)
April 5 – 8: Across the Wilderness (locked to Off-Road)
April 9 – 10: Arms Race (locked to Super)
For more information on all the latest GTA Online bonuses, head to the Social Club Events page.