Games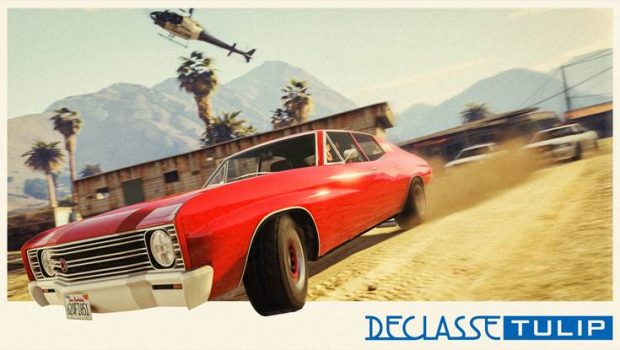 Published on January 16th, 2019 | by Admin
This Week in GTA Online: The Declasse Tulip Muscle Car, Bonuses on Classic Modes, Smuggler's Cargo Sales, Declasse T-Shirt Unlock and More
The Seventies weren't just about disco and dangerously tight trousers – they also delivered some of the most iconic designs in American automotive history. And thanks to an unwavering commitment to wide hoods, classic curves and a mind-bending amount of torque, Declasse is proud to unveil the Tulip Muscle Car – available exclusively at Southern San Andreas Super Autos.
In addition to Double GTA$ on all Smuggler's Run Cargo Sales, earn 2x GTA$ & RP when you play any of these classic Adversary Modes through January 21st:
TINY RACERS
Tiny Racers channels the spirit of classic GTA titles with a shifting, bird's-eye perspective and retro-styled vehicle combat — so you can reminisce about the good old days while you hysterically race to avoid bursting into flames.
DAWN RAID
Parachute from a chopper in the dead of night directly into a crossfire, using thermal and night vision to identify and gun down the opposition, and work with your team to track down the crate containing your tax-exempt profit margin.
OVERTIME RUMBLE
Imagine the calm, rigorous fun of launching yourself through the sky at the center of a distant target in a Ruiner 2000 with only the onboard parachute separating a top score from a deadly fireball. Well, Overtime Rumble is just like that, only you and every other adrenaline junkie in Los Santos are all hitting the accelerator at the same time. This can only end well.
POWER MAD
In Power Mad, teams fight for possession of the vital Juggernaut power-up, which turns its wielder into a heavily armored menace with one main objective: stay alive long enough to fill the meter and score a point. If the Juggernaut dies before filling the meter, the power-up is dropped and ready for a new would-be king to try their luck.
Play GTA Online anytime now through January 21st to unlock the Declasse Girl T-Shirt.
For more information on all the latest GTA Online bonuses and coming Arena War events, head to the Social Club Events page.
https://www.rockstargames.com/newswire/article/60813/The-Declasse-Tulip-Muscle-Car