Games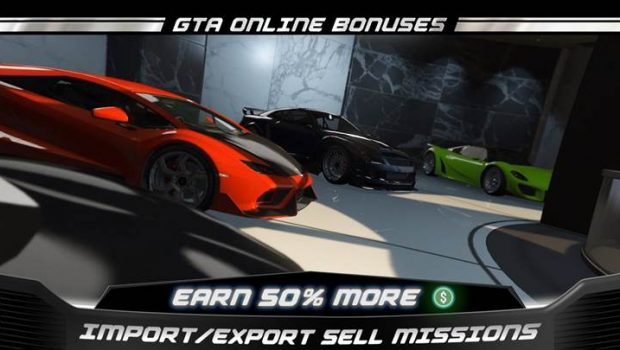 Published on March 22nd, 2019 | by Admin
This Week in GTA Online: Speed Week Bonuses in Stunt and Transform Races, 50% More GTA$ on Import/Export Sell Missions, Free Tee, Discounts and More
Speed Week Bonuses in GTA Online

50% More GTA$ on Import/Export Sell Missions, Double Rewards in Rockstar Stunt Races and Transform Races, and More
The high-flying and death-defying Southern San Andreas stunt racing scene is offering a double rewards boost this week, with 2X GTA$ and RP on all Rockstar Stunt Races and Transform Races.
For those who prefer their vehicle adventures to be of the stealing and dealing variety, this week you'll earn 50% more GTA$ on Import/Export Sell missions.
And Double GTA$ and RP is also on the menu for this week's Time Trial, "Up Chiliad".
Modern on the outside, prehistoric on the inside. Don't judge a foot by its cover, and get the Toe Shoes T-Shirt for your wardrobe just by playing GTA Online this week.
If cutting edge design and insane speed are the features you want in your next ride, these six exotic titans of the Supercar class are all on sale this week at Legendary Motorsport:
Pegassi Tezeract – 40% off
Överflöd Tyrant – 40% off
Pegassi Zentorno – 40% off
Grotti X80 Proto – 40% off
Dewbauchee Vagner – 40% off
Principe Deveste Eight – 40% off
Corporate expansion comes cheap this week, with Dynasty 8 Executive halving prices on Executive Offices and their Garages and Auto Shops:
Executive Offices – 50% off
Executive Office Garages – 50% off
Executive Office Auto Shops – 50% off
For more information on all the latest GTA Online bonuses, head to the Social Club Events page.