Games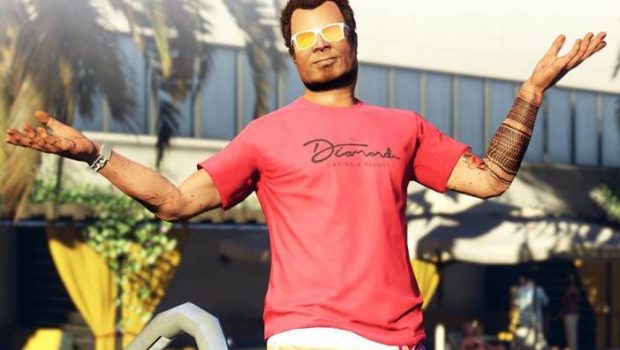 Published on August 9th, 2019 | by Admin
This Week in GTA Online: New Vehicle, Casino Work Bonuses, GTA$250k Gift, Free Tee Unlock, Plus New Lucky Wheel Prize, Clothing, Artwork at The Diamond and More
Meet the Bravado Gauntlet Classic. A car belonging to another age. But don't be fooled, because there's nothing rickety about this veteran: ask any boy racer foolish enough to get in the ring, and they'll tell you the old man still packs one hell of a punch.
This is muscle. Anything else is just flab.
If you're looking to pick up some work on behalf of The Diamond, Casino Work missions are dishing out 2X GTA$ & RP  through August 14. To trigger these Freemode-based assignments as a VIP or CEO, place a quick call to Ms. Baker on your iFruit to take them on solo or with your Organization in tow.
And speaking of Organizations, all Bodyguards & Associates can take advantage of Doubled Salaries all week long.
Whether you're still working on your beach-bod or you're just a little too self-conscious to go shirtless by the pool, we've got you covered – literally. Players who log into GTA Online this week will receive the Red Diamond Casino & Resort Tee, on the house.
Stop by the lobby each day this week and give the Lucky Wheel a spin for the opportunity to win prizes, including GTA$, RP, clothing and chance of landing this week's top reward, the iconic Pegassi Infernus Classic.
The Casino Store is a perfect place to invest all those chips you've sweated over, whether it's on clothing and accessories like new High Roller Jacket styles, Waistcoats and Masks or vaunted pieces of art to adorn your Penthouse by celebrated contemporary artists like Gaspar Losa, Trenton Goode and Cande Viteri.
There are plenty of discounts to take advantage of in Los Santos this week, including steep sales on vehicles and amenities that are sure to give your burgeoning empire the upper hand:
Mobile Operations Center – 40% off
Mammoth Avenger – 40% off
Benefactor Terrorbyte – 40% off
BF Dune FAV – 40% off
Declasse Weaponized Tampa – 40% off
HVY APC – 40% off
Weaponized Vehicle Workshops – 40% off
Weapon Workshop – 40%
All Garages – 30% off
Arena War Mechanics – 35% off
All GTA Online players who connect their Social Club account with Twitch Prime can still purchase The Diamond Casino's sprawling Master Penthouse and receive a rebate for the cost of the base Penthouse within 72 hours. But that's not all: players that completed sign-up by August 5 can take 70% off the submersible Ocelot Stromberg's retail price, and a staggering 85% off all Yachts. They will also be granted an additional 10% off this week's vehicle and amenity discounts listed above.
Those who qualified for the first round of Diamond Program membership rewards will receive the following by August 13th:
Silver Status – Black Diamond Tee & "She's Loaded" Wall Art
Gold Status – Truffade Tee & Ink Inc. Livery for the Truffade Thrax
Platinum Status – Lucky 7s Tattoo & Kronos Ara Watch
Diamond Status – Yeti Livery for the Armored Enus Paragon R and eCola Livery for the Annis S80RR
These items will be marked "free" in the appropriate store menus. Look for details on how to qualify for the second round of Diamond Program rewards soon, and stay tuned to the Rockstar Newswire as we detail and unveil new gameplay, vehicles, and more from The Diamond Casino & Resort.
And head over to the Social Club Events page for a complete rundown of all current special events, bonuses and discounts available in GTA Online.
Check Rockstar Support for details and limitations.
As a show of appreciation for such a momentous event for GTA Online, we're rewarding everyone who participated in the Grand Opening of The Diamond Casino & Resort between July 23 and August 3 with a pair of stylish memorabilia items and a GTA$250K gift.
Starting today, play GTA Online to claim your GTA$250K bonus along with the Ash Diamond Hoodie and The Diamond Casino & Resort Wall Art – both available on the house from the Casino Store. All GTA$ gifts will be delivered by August 11.