Games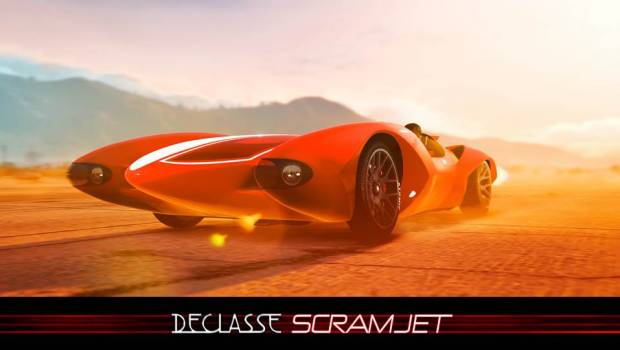 Published on August 22nd, 2018 | by Admin
This Week in GTA Online: Declasse Scramjet, Hunting Pack (Remix), Free Hunting Camo Livery, Double GTA$ & RP Opportunities and More
You'd never guess from those outrageous low-slung curves that with a press of a button this thing will do the kind of vertical take-off that'll make a Hydra jealous, and turbo boost itself into buildings with the kind of panache that a Rocket Voltic can only dream of. Now that you know its dirty little secret, how can you resist?
The Declasse Scramjet is now available at Warstock Cache & Carry.
You're one long mile from the finish line, these Scramjets are crashing off the sides of your Dune MTL like its rush hour, your teammates in Vigilantes are pinned down and the speedometer is rigged to some high explosives. It can only mean one thing: Hunting Pack has returned to GTA Online – with an upgrade.
Hunting Pack (Remix) challenges a Runner to pick up speed and maintain it all the way to the deactivation zone to prevent an onboard bomb from detonating. If the Runner drops below the minimum speed for too long, the round comes to a swift and explosive conclusion. Attackers do all they can to bring the Runner to a halt, while a team of Defenders must protect the Runner at all costs.
Keep an eye out for a trio of additional classic GTA Online Adversary Modes in the weeks ahead – all remixed, reimagined and updated to include fun new twists.
Jump in to Hunting Pack (Remix) this week to earn Double GTA$ & RP.
Celebrate the new remix of Hunting Pack by sporting the Hunting Camo Livery for the Mammoth Avenger and Buckingham Akula. Log in to GTA Online any time before August 28th to unlock the livery marked free in custom shops permanently.
While road rage pays dividends with Double GTA$ & RP awarded in the new Hunting Pack (Remix) Adversary Mode, Nightclub owners can reap the rewards of a 2x Boost on Nightclub Popularity for promoting your club with club management missions..
From the traffic clearing BF Ramp Buggy to the lightning fast Dewbauchee Vagner, take 30% off the following fan favorite vehicles:
Rain fire from on high in the Mammoth Avenger or cast an ominous shadow in the gargantuan Volatol bomber with up to 40% off the following:
For details on all GTA Online bonuses and discounts, check out the Social Club Events page, and stay tuned for new additions to the club scene to come.