Games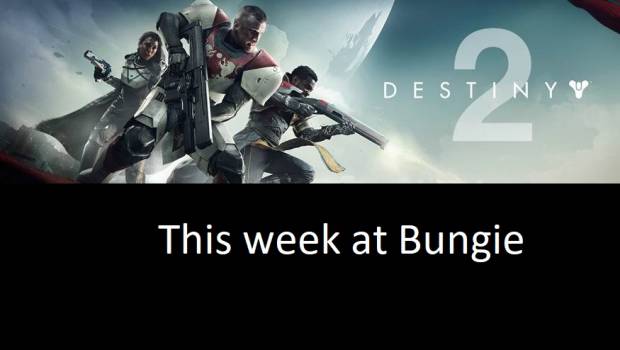 Published on August 31st, 2018 | by Admin
This week at Bungie, we're on final approach
This week at Bungie, we're on final approach.
This is the last blog update before-saken, and the team have served up a menagerie of content to get you prepared. If you've been looking to avoid spoilers, don't click "play" on any of the following videos. If you're chomping at the bit for info, this was cooked up just for you.
The hunt is about to begin, but we also have a long road ahead of this year. To share our goals for Forsaken and what waits beyond launch, we invited developers from the team to go on the record. Check out the new ViDoc to see what we have planned for the second year of Destiny 2 here.
If you're looking for a quick reference on what's covered in the ViDoc, we've also made a roadmap with details on Forsaken, Annual Pass content, and the free Seasons updates.
A single weekend is between you and Forsaken. The team have a few treats ready to help you pass the time.
Gambit Showdown & Trial
On September 2 in ANZ, every player of Destiny 2 will be invited to try Gambit before the launch of Forsaken. For 24 hours, fireteams will bank motes in a race to beat their opponents and burn down a Primeval.
Before the games begin for everyone, we're inviting some special guests into our studio to show how it's done!
Gambit Showdown
Saturday 01/09, 6 AM AEST
The following day, all are invited to join the fun. This is the final stop before launch, and the team will be out there in the wild with you. If you happen to catch a Bungie employee on the opposite team, show 'em your favourite emote. You can find Gambit Showdown assets here.
Gambit Trial
All platforms
Sunday 02/09, 3 AM AEST – Monday 03/09, 3 AM AEST
The team are also planning to place a few bounties during the Gambit Trial event. If you want a chance to earn the "Sign of Mutual Combat" emblem, stay tuned to @Bungie for future announcements.
DEATH HEALS PRIMEVAL.
Bringing the Hammer
The team has been hard at work the last few months improving their toolsets to watch over Destiny 2.  They have some important information to share on how we're improving your search for Glory in the Competitive playlist. Read more here.
Pardon Our Dust
Since the Year 2 deployment on Tuesday, the team have seen reports that matchmaking time in the Crucible may be taking longer than usual. While no deliberate changes to matchmaking were deployed in Update 2.0, they've have been investigating this issue.
They are planning to deploy a fix that they hope will increase the speed of matchmaking queues. As their investigation continues, please stay tuned to @BungieHelp for updates on progress.
Upon the launch of Forsaken, skill matching will work in the same manner it has in recent weeks (i.e., no skill-based matchmaking). In the near future, the team will preview any planned improvements to matchmaking in Crucible Labs first, so they can tune that experience collaboratively. As always, the team's commitment remains to communicate all changes to the competitive ecosystem in advance right here on bungie.net.
Thanks for playing!
Movie of the Week
Things have been a bit wild this week. Anticipation is reaching a breaking point, and players are getting creative in their excitement. Here's a sampling of what's been bubbling to the top of the Creations page.
Next week, the team will deliver the start of a new year in Destiny 2. This week has been refreshing. They've deployed major system updates for Forsaken and a new season of content. Next week finishes off the implementation of changes not only to address feedback, but also to continue the growth and evolution of Destiny 2 and its universe. We're excited to see you continue your journey, uncover new secrets, and take some of the new weapons in the arsenal for a spin.
When Destiny 2 was first released, new legends rose to the occasion. Who among you will be on the first fireteam to clear the "Last Wish" raid? To reach maximum Glory in Competitive Crucible in Season 4? To earn the "Chronicler" seal for completing all Lore Triumphs? Only time will tell, and we'll be celebrating each moment alongside the community.
This next step is a big one. We can't wait to see where the road leads, and we can't thank you enough for being here with us. See you starside.
For more information, head on over to Bungie.net.