Games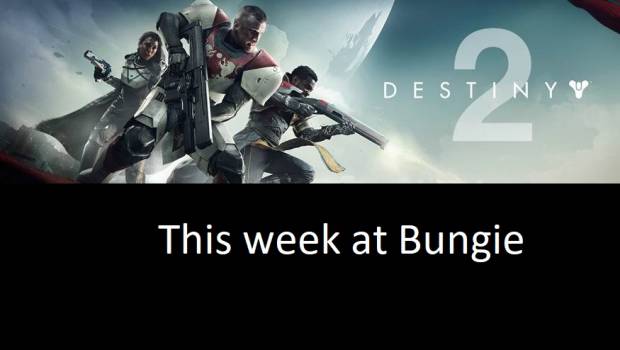 Published on November 9th, 2018 | by Admin
This week at Bungie, we're looking toward the future.
Festival of the Lost has come and gone. Guardians spent three weeks eliminating Nightmares in the Haunted forest. All that remains is the investigation into the murder of Master Ives. Many of you are still working toward some of your Forsaken goals, earning titles and various Triumphs. Even with much to do in game, the team ae still looking to spice things up a little.
First up, they are dusting off the Twitch studio. They've been hearing some feedback that you want to get to know the team a little better, and hear some stories from the development floor.
Bungie Bounty: Gambit
Platform: Xbox One
Tuesday, November 13, 2018 in ANZ
Twitch.tv/Bungie: 5 AM AEDT
Bungie Last Wish Raid-Along
Tuesday, November 20, 2018 in ANZ
Twitch.tv/Bungie: 5 AM AEDT
Each stream will showcase gameplay with commentary from the creators of Destiny 2. Following the streams, the team have some changes coming up to address feedback they've collected since Forsaken was released. Read on for more!
Incoming Improvements
As you continue to fight the Scorn and defend the Dreaming City, the team are collecting player feedback and looking at ways to improve your quality of life. They have a few deployments in development and wanted to give you a preview of what's on the way. Everything below is subject to changes on the development floor. If issues are found or bugs arise, items may be delayed. In any case, we'll keep you updated on the status until this work is translated into patch notes. For more, head over here.
Gambit Free Trial and Double Infamy Weekend
Recently, Destiny 2 became free to all players on PC through November 18. To celebrate our new players and introduce them to the Drifter, we'll be hosting another Gambit Free Trial weekend.
Gambit Free Trial
Starts: 4 AM AEDT 11/10/2018
Ends: 4 AM AEDT 11/12/2018
If you own Forsaken, Double Infamy will also be available in the Gambit playlist. As it's a full curse week, expect to see some Ascendant Primeval Servitors during your time on the field.
Seasonal To-Do: 4th Edition
We are rapidly approaching the end of Season 4, which is currently set for November 28, 2018 in ANZ. You have a limited number of weeks remaining to complete the following objectives:
Iron Banner
Lord Saladin returns next week for the final Iron Banner of Season 4. While Iron Banner weapons introduced with the release of Forsaken will continue to be available, this will be your final chance to earn Season 4 Iron Banner armour.
Iron Banner
Start: 4 AM AEDT 11/14/2018
End: 4 AM AEDT 11/21/2018
Additionally, this will be the final chance to earn any Iron Banner Triumphs associated with Season 4.
Triumphs
Some Triumphs have seasonal requirements. While these Triumphs do not have a score associated with them, players may wish to complete them prior to November 28.
Vanguard
Seasonal Vanguard Rank
Crucible
Seasonal Valour Rank
Seasonal Glory Rank
 Pinnacle Crucible Weapons
While questlines for Luna's Howl and Not Forgotten are available year-round, Crucible ranks will reset at the end of Season 4. Each quest contains a quest step to reach a rank milestone, and progress may be lost for these specific steps if you do not reach the requirements prior to the season ending. Progress for alternate quest steps will not be reset. If you're in the middle of getting precision kills or completing Rumble matches, you will not lose any progress in those steps.
If you're within arm's reach of Fabled or Legend, this is your time to make the final push. If you do not reach the rank you're aiming for by November 28, you will be reset to Guardian and have to climb the ladder once more. If you reach the rank and complete the associated quest step before season's end, you're all set.
Quick shout out to one of our community artists, Aviixe, for their amazing creation. This piece perfectly captures the feeling of earning Luna's Howl!
Movie of the Week
Is it meme or meme? Gif or gif? However you say it, this week's winner has gifted us with yet another awesome movie. Their editing skills are on point, and we hope you enjoy their creation as much as we did.
Want to see your video here? Submit your video to the Creations page. If you win, we will send you a special emblem to show off to your friends.
The team are excited for the future of Destiny 2. Season of the Forge is coming up quick, and they have more than enough to keep ourselves busy until then. We'll be reminding you throughout the month, Season 4 ends on November 28, 2018 in ANZ. Claim your Triumphs and earn your gear before time's up!
If you missed it, make sure to check out the Community Focus from earlier this week, featuring DrAssenov! If you have suggestions for a future Community Focus, let us know on the #Community forum.
For more information, head on over to Bungie.net.