Games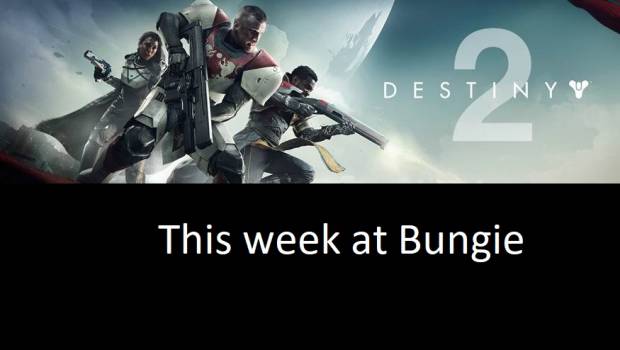 Published on November 26th, 2018 | by Admin
This week at Bungie, we give thanks
As we all give thanks for the good things in our lives, the team will reflect on how fortunate they are to create entertainment for this amazing community. Destiny is an adventure that evolves year after year, and the team have been honoured and humbled that you've come along on that journey.
Pinnacle Weaponry
Season of the Forge is kicking off this week. With it comes a new pinnacle weapon to earn in the Crucible. The team received a lot of feedback that you also wanted a pinnacle weapon to work toward when pitted against the environment. Good news: They have two for you! Vanguard strike missions and Gambit are being added to the list of worthy pursuits with coveted trophies to be claimed. They won't take as much of a time commitment as the Crucible reward does, but they will still require some dedication to their activities.
We asked Sandbox Designer Victor Anderson to give you the full rundown on all three pinnacle weapons for Season 5. To read more, head over here.
Bungie Foundation
The Bungie Foundation aims to reduce distress and suffering in children through entertainment. On a daily basis, this sees the team working with hospitals to put games into the hands of young people whose hearts need a lift. There are moments, however, when the team expand their mission to include others who also need a helping hand.
Our hearts are with all of those who have lost their homes or loved ones by the ongoing California wildfires. By purchasing the Destiny 2 Bungie Foundation Pin between now and the end of December, 100% of the profits will be donated to Direct Relief's efforts to support.
The team have been proud to partner with Direct Relief on a variety of disaster relief efforts due to their unwavering dedication to the people they serve, prompt support using customised methods that specifically meet the needs of each situation, and full transparency on the use of all donor funds.
Please help the Bungie team in supporting the amazing work they're doing for the residents and first responders in California.
By the Hammer of Sol… What a Savings
By now, chances are you would have heard something about Black Friday sales. No need to fight the crowds; the Bungie store has you covered for any holiday shopping you have left to do for fellow Guardians. Or just treat yourself. You deserve it! Check out some of our new wares.
The sale is live on the Bungie Store now until the 5th of December, 2018 in ANZ.
Comical
The team are proud to announce their next web comic, "Cayde's Six."
Heroes may die, but their stories are forever told. And some heroes have more stories to tell than others.
Cayde-6 had a job to do, so he gathered a crew of unlikely troublemakers and headed to the Reef. The plan was to hunt Fallen Barons in the Tangled Shore. The plan was to bring outlaws to justice. Maybe the plan didn't go so well. Or maybe it did. Depends on who you ask. After all, when someone goes looking for trouble, sometimes they find it.
"Cayde's Six—Part 1" sets the stage for a showdown between Cayde-6 and the vile Scorned Barons who, eventually, helped claim his life. But this is no eulogy. It is adventure. It is action. And it is a reminder that while a hero may be gone, he will always be remembered through the many stories that carve his legend.
"Cayde's Six—Part 1" will be released on 30/11/18 in ANZ in all of our supported languages. Feel free to check out the  other web comics while you wait at comics.bungie.net.
Movie of the Week
Here are this week's winners:
The team gave you a little info on Season of the Forge today, but they know you all have many more questions on what the next season of content contains. On 28/11/18 in ANZ, the team will release a ViDoc to show you what you'll be playing and tell you more details on their plans going forward. The team will also have a full gameplay calendar to draw a clear picture of what to expect for the rest of the year and beyond.
Thanks for continuing to be an incredible community. The team look forward to showing you a glimpse of your next adventures.
For more information, head on over to Bungie.net.