Games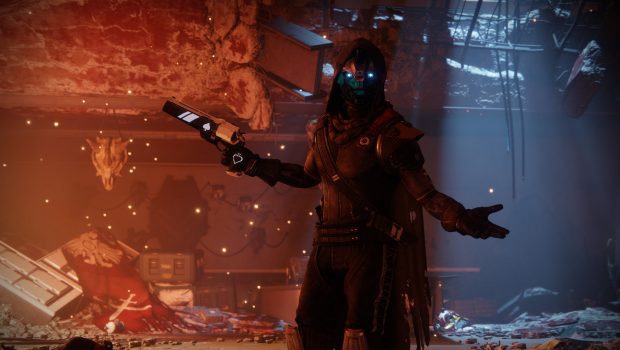 Published on April 3rd, 2018 | by Admin
This Week at Bungie, we deployed Update 1.1.4
This week at Bungie, we deployed Update 1.1.4.
If you haven't heard, Destiny 2 just got a pretty substantial update. There are changes to your abilities, your weapons, gameplay in the Crucible, rewards in the Nightfall, and more. To give us a taste of the human element behind game development, Design Lead Josh Hamrick sat down in front of a camera to represent the team that worked on this new update.
To watch the full video, head over here.
Want to see these changes in action? The team also put out a video showing off the hero moments you can expect in the new state of Destiny 2 – watch it here.
If those videos have you asking questions, all the juicy details can be found in our full 1.1.4 Patch Notes. We've already got a lot of feedback about this update and will continue to monitor the conversation. We know this hasn't addressed all of the concerns brought up by the community. There are other hot topics we haven't discussed, like Random Rolls, Weapon Slots, and Progression Systems. Our team has been exploring each of these concerns behind the scenes. You'll see them front and centre discussing their solutions in due time. This game update was another step in the direction of our mission to improve Destiny 2.
Drang-o Unchained
With 1.1.4 out the door, we now turn our attention to 1.2.0.
If you have been paying attention to our Development Roadmap, you may have noticed that Exotic Weapon changes will be part of the next evolution of Destiny 2. Here Senior Designer Jon Weisnewski shares the changes we have for two of the less celebrated Exotic Weapons in the arsenal – the Sturm & Drang.
"For those who don't know the core loop of Sturm and Drang, kills with one weapon reload the other while it's stowed. Consecutive kills with Drang will overload rounds into Sturm, capping out at a 20 round mag for a Hand Cannon. Currently, the gameplay is focused on fast swapping, and while fun, this lacks that exotic flare we're hoping to add. Sturm is also a bit unwieldy to use, so we're addressing that, too.
As standalone weapons, both Sturm and Drang have had their base stats improved for ease of gameplay. Drang now has Rampage and a maxed out magazine to help rack up sidearm kills quickly. The true payoff comes in the overloaded Sturm magazine: overflow rounds in Sturm now have a damage boost of 1.8x. This allows for a significant damage increase in PVE and crispy precision 2-taps in PVP (just don't miss)."
Now that we've told you how these guns are changing, you can see how they're behaving with the current changes applied over here.
We'll talk more about the changes to Exotic weapons in the weeks to come. All of these upgrades to weapon performance will land in the inventory of players when Season 3 begins. We'll have a lot more to talk about before then.
Companion Update
As the game changes, so does its Companion. The Bungie.net team is working on some upgrades to both the website and mobile apps. These changes will deploy next week. To read more, head over here.
Long Live the King
New Monarchy cannot be stopped. They claimed their fourth Faction Rallies victory in a row this week. We're starting to wonder if anyone can challenge the dominance of their growing dynasty. Here are the results of the final Faction Rallies of Season 2:
The other two factions will have some time to regroup and plot their comebacks. Faction Rallies is taking some time off while we work on some improvements to the event. Keep an eye on our Development Roadmap for more info on when you can pledge to your favourite faction again.
Alpha Dogs
With the introduction of scoring in Nightfall strikes in Update 1.1.3 we decided to start showing off the highest scores each week. Right now it's more a contest of who can most efficiently clear Lost Sectors during a Strike, but we are working on some changes to that. As it stands, here are the top scores for last week.
Even with the current methods available to run up the scores, most of the community is putting up scores within our expected thresholds, well below the outliers at the top. Only the top 1% are breaking 100K each week. The team will continue to track these scores and evaluate if we should change up the thresholds for earning the emblems.
Movie of the Week
You got some movies for us? Send them to the Creations page. Every week we pick a few to share here, and we send those creators an Emblem to show off to the community. This week is no exception. Here is the cream of the crop.
Movie of the Week: 2 Man Calus 1 Phase
Runner up: Street Fighting Man
This isn't even our final form. There are more changes coming to Destiny 2. This was another step. The next one is coming in May. Keep an eye on our Roadmap and we will keep you up to date with what to expect.
You have a lot of changes to experiment with. The team are already hearing some cool stories from the battlefield about weapons and abilities performing well. Just be careful out there with your new powers. Go fast responsibly.
For more information, head on over to Bungie.net