Games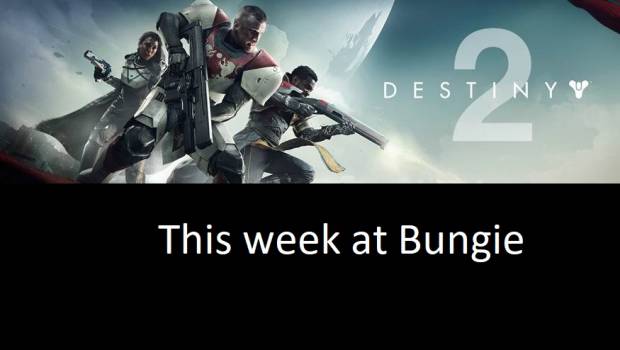 Published on July 13th, 2018 | by Admin
This week at Bungie, Lord Saladin is ornamenting the Guardians again
This week at Bungie, Lord Saladin is ornamenting the Guardians again.
Iron Banner is back, and not even for the last time in Season 3. There are matches to be won, ranks to earn, and rewards to collect. This is also your one and only chance to enjoy some 6v6 combat in the Destiny 2 Crucible – for one more week, at least.
Update 1.2.3 lands on Wednesday. With it, Quickplay will evolve to become a 6v6 engagement. Between now and then, our old friend the Iron Lord is the only one with the hook-up.
That's great, Bungie, but what about us solo players?
Rumble is also coming back in Update 1.2.3!
What about those of us who aren't Crucible warriors, Bungie?
The team have other news to report for those of you who prefer to focus your fire on the enemies of humanity.
Let's dig in and take a look at everything in our immediate future.
Bountiful Harvest
When you light out into the wild in search of action and adventure, the fighting is all the sweeter when you have more ways to reap the rewards. In Update 1.2.3, the team are expanding on that experience with new bounties for Destiny 2. Senior Design Lead Tyson Green, who some suspect is actually the Cryptarch in his spare time, has some thoughts on what we want to accomplish with this addition to the player experience. To read more, head over here.
For the Kids
At the time of this posting, one storm is dissipating online while another one gathers in real life. The GuardianCon fundraising stream is over, with millions of dollars raised for charity. Once again, the team were left stunned by the passion and goodwill exhibited by the community. Congratulations to everyone who pitched in and ran their leg of the marathon.
Tomorrow, the after party begins inside the Tampa Convention Centre, and the celebration is shaping up to be thunderous. The team will be on hand to commit all challengers to teams of four to battle each other in Gambit. This is your final blog reminder that they are also hosting an epic clash of content creators you may know on their mainstage.
Gambit Exhibition Tournament
July 13, 6 p.m. EDT | July 14, 8 a.m. AEST
At this very moment, the Bungie away team is building their booth. They're hanging the art, building the network, and arranging all the velvet ropes. If you're in attendance, they can't wait to meet you.
Breaking News
Are you current with all the Forsaken field intel that Game Informer has been serving up?
Keep an eye on 'em. They're not done showing off what awaits you this September.
Coming Attractions
Update 1.2.3 will deploy on Wednesday, July 18 in ANZ. Destiny Player Support will have more information concerning deployment times and download sizes here, but we have a quick preview of what to expect next week. To read more, head over here
Matrix Reloaded
Over the past few months, the team have been testing a new feature called the Prismatic Matrix. When they first announced this new reward system, the team stated their goals for the experiment:
Give players more control over how they earn Eververse items
Offer a more predictable path each week that guarantees access to specific items
Drop fewer duplicate items
This week, the user interface calls specific attention to the limited time of the feature. To explain our previous objectives and future plans, here are some thoughts from the design team:
The original intent of the Prismatic Matrix was for it to be a special event—something to help players round out their collections, as the odds of earning the items that were eluding them improved as they continued to earn Bright Engrams. We had a limited number of weeks scheduled, designed to keep repetition to a minimum. That schedule of curated offerings is coming to an end, so the feature will be going on temporary hiatus starting next week. Thanks to some good feedback about this new feature, we've learned how we can make it better, so we'll continue to support it in Forsaken. We look forward to your continued feedback and are excited to relaunch the Prismatic Matrix in the next season of Destiny 2.
There will be more on this topic soon. Before the launch in September, we'll update this conversation with a full preview for how the Eververse Trading Company will be evolving to better serve you.
Movie of the Week
People ask the team a lot of questions about how they choose these weekly honours. The hunt begins when we look at our Creations page for entries. The #MOTW tag helps us know you're submitting for competition. From there, we pick something that catches our eye.
Get ready to thank the academy. Here are your Movies of the Week.
For more information, head on over to Bungie.net.