Uncategorized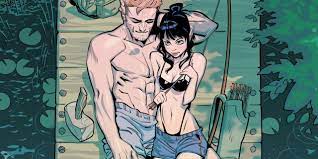 Published on August 20th, 2021 | by Adrian Gunning
This Fall, WHITE ASH Returns!
Yinz grab a shovel and head down to this town! White Ash, the fan-favorite series that raised nearly a quarter of a million dollars on Kickstarter, returns to comic shops this fall! Written by Scout Comics Co-publisher, Charlie Stickney, with art and Letters by Conor Hughes (The Game) and colors by Fin Cramb (Savant, Planet of the Apes), the 44-page comic picks up just two months after the series' dramatic conclusion of the first arc!
Welcome back to White Ash, a small smudge of a town in western Pennsylvania, where mining is a generational calling and the secrets are buried deeper than the coal in the mountain. And the biggest of those secrets is that elves and dwarves live hidden among the town's population.
Alex, fresh off finding out he comes from a family of dwarves, plans a secret romantic rendezvous in the woods with Lillian the elf… or not so secret, as their meeting is witnessed by a young couple with dire results.
"White Ash has been an ambitious undertaking from the start," said Charlie Stickney. "The scope of the world I was looking to build, the timeline I was looking to cover and the breadth of characters and themes I wished to explore, was a daunting proposition. With Conor, I not only found an incredibly skilled storytelling partner, but one who rather shirking from the challenge, said, 'but what if we also add…'  And from that moment I knew, I'd found a kindred sprit, with whom I look forward to together, creating many years of White Ash adventures."
"Working with Charlie has been a rare pleasure and I would be hard pressed to find a person more whip smart, kinder, or more talented in my mind," said Conor Hughes. "That being said he and I can still vibe on one key thing in particular in my mind. We both want to tell stories that whilst heavily shaded in slate greys or even at times oily blacks are also happy to have levity and even sweetness. He's making sure the story is worth reading, and I hope I make it worth telling."