News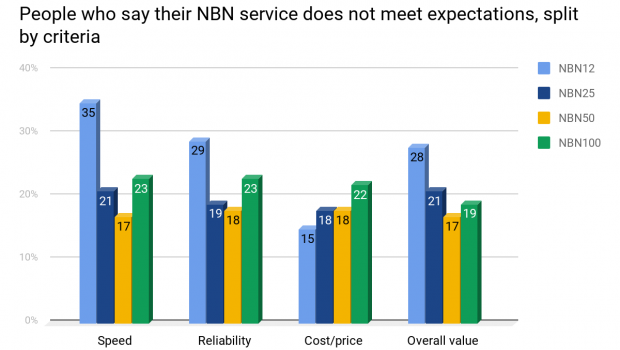 Published on December 18th, 2017 | by Admin
A third of NBN users would change back if they could
Research presents a compelling case to scrap the NBN12 speed tier
Sydney, Australia, 18th December 2017 – New research from WhistleOut, Australia's phone and internet comparison site, reveals widely varying user experiences for Australia's NBN customers, with a third of NBN users wishing they could return to their non-NBN service.
WhistleOut's research: 'NBN 2017: The Customer View' aims to discover what it's actually like to use NBN services, and the results paint an inconsistent picture for Australia. The findings show only two-thirds (68%) of NBN users are satisfied with their NBN service, and 32% of NBN users would change back to their non-NBN service if they were able to.
When asked about their current NBN service, 86% of dissatisfied NBN users said their NBN service did not meet their speed expectations. Furthermore, 75% said their NBN service was not reliable, and only 18% said their NBN service is something they would recommend.
In contrast, 73% of satisfied NBN users said their NBN service meets their speed expectations, 85% said their NBN service is reliable, and 81% said their NBN service is something they would recommend.
Joseph Hanlon, Editor and Publisher at WhistleOut, commented on the findings: "While the research has revealed a broad spectrum of NBN experiences across the country, there's one thing that's black and white: if you're not satisfied with your NBN service then you'll have wished you never got it.
"There are many factors that influence someone's NBN internet experience, but nothing more so than the available internet speed people get. It's the major cause of headaches for those upset with their NBN service, and the survey findings point towards the lowest NBN speed tier 'NBN12' (also known as 'Basic Evening Speed') as being particularly problematic.
"When we compare the performance versus expectations of people using NBN12 plans to those other speed tiers, it becomes clear that NBN12 users are the most likely to be unhappy NBN customers. NBN12 performed the worst in our survey for speed, reliability and overall value."
"The chart above shows when you compare user satisfaction levels between NBN12 and the other speed tiers, there is a marked contrast between them. In fact, when asked if they were satisfied with their NBN service only 51% of NBN12 customers said they were, compared to 74% of NBN25 users, 68% of NBN50 users and 69% of NBN100 users," added Hanlon.
"What's likely to be compounding this problem is that, somewhat perversely, NBN12 customers have the highest percentage of unlimited data plans, at 56%," added Hanlon. "It's like they've got this endless reservoir of data to drink from, but can only access it using a tiny tap.
"NBN12 plans may be the cheapest, but they only deliver speeds equivalent to ADSL. If you're about to choose an NBN service and expect it to be better than what you've currently got, you'd be well served getting a plan that's NBN25 or faster.
"And while NBN Co recently announced planned pricing changes that should allow carriers to make the faster NBN50 and NBN100 plans cheaper for consumers once introduced in Q2 2018, it won't affect the NBN12 tier.
"Our research suggests most current NBN users simply want an internet service that's similar to their last one, which is why 80% of current NBN users chose either NBN12 or NBN25 plans, and highlights the importance of the issue with NBN12 service speeds.
"From the WhistleOut perspective, we would advocate for NBN12 plans to be scrapped altogether. There are lots of good NBN25 deals available from around $60pm, which should deliver a noticeable performance improvement compared to ADSL. We'd like to see NBN25 become the default minimum and applaud providers like Telstra who have already taken the step to only offer speeds of 25Mbps or more, which should ensure their customers have a baseline NBN service that's a clear improvement on ADSL."