Comics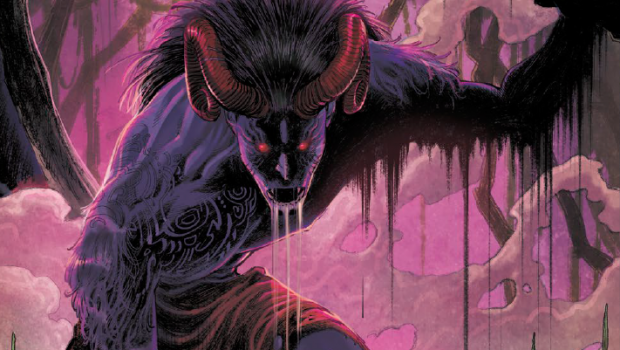 Published on January 18th, 2019 | by Dan Lix
These Savage Shores #3 review
Summary: Beautiful art and compelling characters stand out in this third issue of These Savage Shores.
The wait is over, and These Savage Shores #3 is here! Written by Ram V and illustrated by Sumit Kumar, this next issue in the series both continues Bishan's story, and builds on the tension brewing in India. Conflict is inevitable. Alain Pierrefont's death was taken as an act of war. Prince Vikram (along with his masked protector whom we know is Bishan) meets with Hyder Ali to discuss his levy. The young prince refuses to commit any soldiers to the sultan's cause, mainly because he blames the sultan for his father's death.
The sultan quickly changes tactics and tells Bishan that he knows what he is and how he could turn the tides of war. At first Bishan also refuses, because "blood begets blood". But when the sultan hints that if he loses the war, his enemies will come for the young prince next, Bishan reluctantly agrees to join the fight. He commits himself and a company of soldiers, on the condition that the sultan doubles their number.
Meanwhile, back in London, the vampire brood continues to hunt for more information on what happened to Pierrefont—one of their own.
Story
Ram V has a compelling narrative voice that draws you into the story. The characters feel so connected and real. It's the characters that keep me fully engaged in this tale. Bishan is Prince Vikram's protector not because he has to be, but because he chooses to be. At the same time, it's obvious that the Prince looks up to and admires Bishan, but also views him as both a friend and perhaps father figure.
Bishan's relationship with Kori is both heartwarming and tragic. We see glimpses of their past together when their affection for each other was still blossoming. We see a warm, playful side of Bishan when he's with her, that's so much at odds with his cold and distant persona when he puts on the mask. She refuses to see him off to war, as she refuses to say farewell to that mask.
The whole scene with the vampire lord interrogating the port master about Pierrefont's fate is suitably sinister. These creatures want to know what happened to their brethren. While we've seen that a single vampire caught by surprise is no match for Bishan, an entire brood descending upon Calicut might be more than he can handle.
Art
Sumit Kumar's art in These Savage Shores is as beautiful as ever, and is so incredibly nuanced to support the story in various ways.
Since his true form was revealed in the last issue, the cover shows Bishan in all his Raakshas glory. That moment from the last issue was incredibly well presented and was seriously impactful. It seems fitting that this issue revisits that moment. Even a month or two later after having read it, looking at the cover art I felt myself internally going "oh wow".
The mood shifts between scenes, and this is aided in no small part by the excellent use of colors and shading thanks to Vittorio Astone. You can practically feel the heat radiating off the pages in some of the scenes, while other scenes carry a distinct chill—particularly the ones involving vampires.
The tree which Kori sits beneath seems to weep with her—shedding leaves as she sheds tears of sadness, all while looking far more bleak than it has in the past.
Overall
I enjoyed the first issue of These Savage Shores, but last issue's big reveal is what really engaged me. It left a huge impact, and I couldn't wait to read These Savage Shores #3. This issue is great, and it comes with its own set of impressive moments that are doubtlessly going to stick with me for awhile. I'm giving this issue a full five stars. It's just an amazing work of art!
Story: 5/5
Art: 5/5