Comics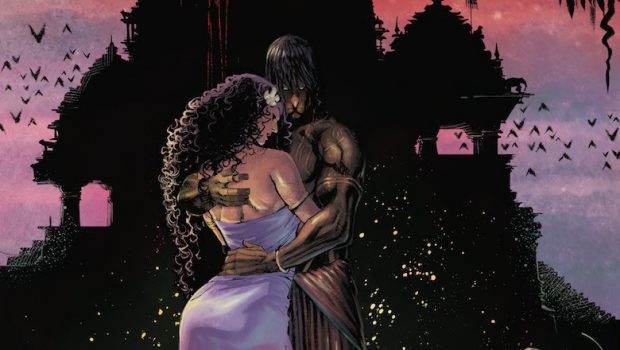 Published on October 3rd, 2018 | by Dan Lix
These Savage Shores #1 Review
Summary: When supernatural forces collide.
"Along these savage shores, where the days are scorched and long, and the nights are full of teeth." This tagline first drew me into this tale of supernatural horror. It is the story of Alain Pierrefont, a nobleman and a vampire, who is forced to flee London after his late night feeding habits are discovered by vampire hunters. But he will soon discover that he is not the only immortal creature whom inhabits these lands. Bishan is a powerful supernatural being, though his true nature remains to be fully revealed.
Art
The book's cover shows us dark silhouettes of structures in the background with bats swirling about. Bishan holds Kori in a protective embrace, while his sharp angular features and his piercing gaze leaves little doubt as to his supernatural heritage. We see the approach of the East India Company ships in the distance, and the narrative box informs us that an old evil approaches, intent on making this place its home.
The artist's use of color is particularly effective. Through the color and shading, I can practically feel Calicut's sweltering heat and oppressive humidity, but also sense the dread lurking in the shadows once the sun sets. The East India Company ships have worn, weathered textures that are especially impressive. Even the parchment upon which Lord Pierrefont pens his letter feels real enough that you can almost hear his pen scratching against the paper as he writes his narrative.
The art brings the action sequences to life. Alain flees from the vampire hunters across multiple panels, the chase filled with fire and urgency. Kori's dance sequences contain a vibrant energy that contrasts with the sinister vampire lord stalking her from the shadows.
Story
Ram V tells a story of the supernatural set against the real world backdrop of 1766 Calicut. "Where the days are scorched and long, and the nights are full of teeth" is probably my single favorite line in this entire issue. It paints a picture of a dangerous, untamed place. You can tell right away that Lord Pierrefont isn't about to take this warning seriously. He believes himself to be the most dangerous thing out there. But as the cover of this issue suggests, that likely isn't to be the case.
Bishan is a supernatural creature of another type. We gain insight into his origins from his conversations with Kori in which she asks him to tell him again how he was made, though we never truly learn his exact nature.
Overall
These Savage Shores sets out to tell a tale of the supernatural and it does not disappoint. Through the vivid artwork and the excellent narration, I wanted to learn more about the characters that inhabited this very dangerous place.
Art: 5/5
Story: 4/5