Comics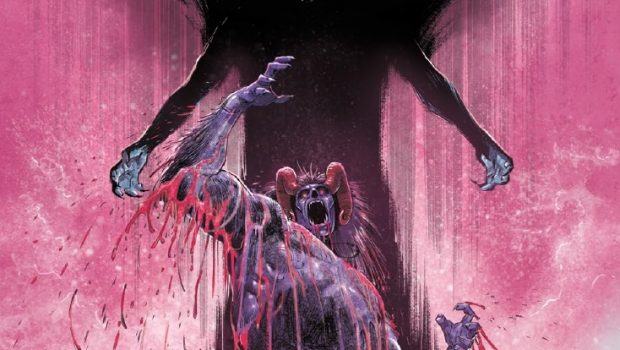 Published on October 4th, 2019 | by Dan Lix
These Savage Shores #5 Review
Summary: A satisfying finale to a grim and amazing tale of vampires and other supernatural beings.
These Savage Shores #5 is a satisfying conclusion to a dark tale of vampires and powerful supernatural beings set against the backdrop of colonial era Calicut. I have never been that interested in vampire stories myself, but from the moment I picked up the first issue of These Savage Shores, it drew me in and captured my imagination. This latest issue is no exception.
Story
Ram V is a brilliant storyteller with a compelling narrative voice. His words paint the picture of the story as much as the art. Prince Vikram ascends the throne, and is left with a letter of farewell from Bishan, who tells him that of all the things in life the things a person remembers most are the choices.
He tells him to be happy and free. The text is presented across scenes which show Bishan preparing himself for a journey, and he meets up with Kori on a ship. During the last issue, she was made a vampire. Bishan and Kori now set off to London to find the vampire who made her and put an end to him.
Kori is struggling with accepting her new existence. It's interesting to see a character who was once so innocent and naive now driven by a hunger for vengeance.
Bishan brings no masks with him to London. He's done hiding behind masks, and is ready to show his true form to this vampire lord. Though he's obviously there to end things as well, he comes off as much wiser and tempered than when this journey began. Like Kori, his challenges have changed him. The characters have grown organically, and their struggles feel believable.
Art
Sumit Kumar and Vittorio Astone illustrated and colored this issue, respectively. Aditya Bidikar did the lettering. The artwork is amazing and does an incredible job of supporting the story. The landscapes project an air of temperature and climate—you can get a sense for just how warm or cool an area is from the coloring and shading.
The characters are expressive. Kori's new vampiric eyes are haunting, especially when coupled with a view of her fangs. Battle is gruesome, and the gore is well drawn but not excessive. One thing in particular I noticed was how certain scenes just come alive. The harbor filled with people has an organic feel that makes it all the more realistic. And that's just one example.
Overall
These Savage Shores #5 is about the choices we make and the impact they have. It is a fitting final act for an amazing story. I'm excited that I had the opportunity to read it. If you like vampires and tales of the supernatural, I'd definitely advise picking this one up. Just make sure you grab the first issues if you can find them, too. It'll be worth it.
Story 5/5
Art 5/5