Comics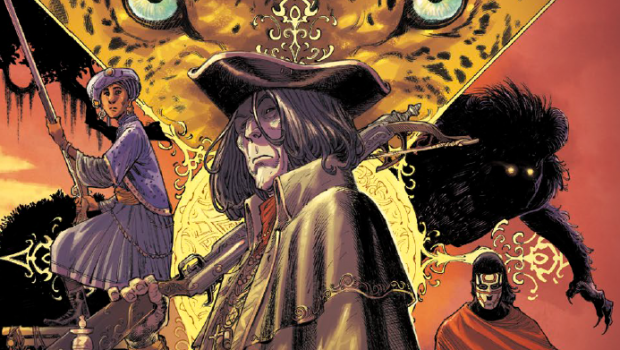 Published on December 6th, 2018 | by Dan Lix
These Savage Shores #2 Review
Summary: A captivating supernatural tale in 1766 Calicut
Written by Ram V, These Savage Shores #2 brings us back to 1766 Calicut and picks up where the last issue left off. Alain Pierrefont is dead, and while this is unfortunate, the East India Company sees how this could turn to their advantage in the negotiations as they attempt to secure a trade route. Meanwhile, a vampire hunter has tracked Pierrefont here, only to discover news of his demise. Rather than deciding that his mission is over, he is determined to discover who or what killed Pierrefont, and decides a new hunt is at hand.
Story
When the story begins, we meet Zachariah Sturn. He's a vampire hunter on the trail of Alain Pierrefont from the previous issue. Upon arrival, he learns that his quarry has already been slain. Much of his exposition is delivered via narrative text in a letter penned in his own words.
He quickly learns of Pierrefont's fate, though he also chooses to disregard warnings offered by the locals.  They talk about monsters and devils in the night, which he seems to chalk up to local superstition. This seems like a curious stance for a vampire hunter to take, given what it is he hunts, but maybe his dismissive attitude just shows confidence in his own abilities.
There are some nice character buildings for Bishan in this story. Through another tender scene with Kori we gain another glimpse into his supernatural nature. While speaking with the prince, he opens up and offers more of an insight into the burdens he shoulders.
Art
The artwork in this issue is fantastic. The color and lighting gives off a dramatic, sweltering heat that you can practically feel radiating off the page. The character detail is excellent. One image in particular that I thought was particularly effective was Zachariah's sword gleaming just barely out of its sheath, contrasting the grim visage of the vampire hunter who wields it. Perspective and high angles create incredible dramatic effects. I'm trying hard not to spoil anything, but the issue's big reveal near the end is just breath taking.
Overall
These Savage Shores #2 is another grim tale with supernatural beasts and monsters set against a historical backdrop. The beautiful artwork combines with intriguing storytelling to weave a satisfying tale that leaves one wondering what will come next.
Story: 4.5/5
Art: 4.5/5