Uncategorized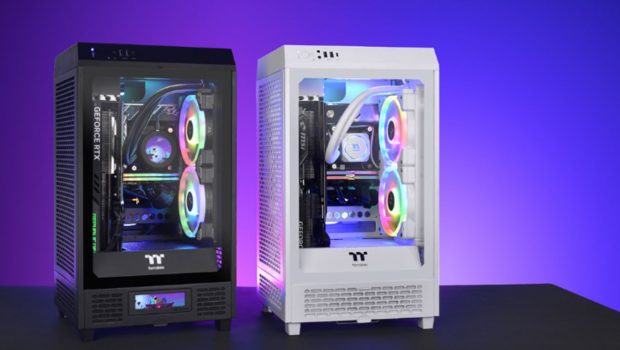 Published on May 18th, 2023 | by Adrian Gunning
Thermaltake Announces The Tower 200 Mini Chassis Capable with 4090 GPUs
Thermaltake, the leading PC DIY premium brand for Case, Power, Cooling, Gaming peripherals, and enthusiast Memory solutions, is proud to release The Tower 200 Mini Chassis, an exclusive mini-ITX case that can accommodate a 4090 graphics card and a 280mm AIO radiator. As a compact chassis, The Tower 200 not only has the advantage of saving space but also without sacrificing high-end hardware support. To maintain its panoramic view and thermal performance, The Tower 200 keeps its front TG panel, and changed both left and right sides to perforated panels, whilst featuring two 140mm CT140 fans for better cooling performance. The Tower 200 is a mighty mini-ITX case that meets your needs in appearance and performance.
The Tower 200 retains the iconic vertical body design of its predecessors, providing flexibility and decreasing obstructions to your gaming and workspace with a smaller footprint. The well-designed airflow of The Tower 200 eliminates common concerns about cooling performance of a mini-ITX chassis. The cold air intakes from the left, right and bottom side as well as the hot air exhausts at the top side and rear sides keep the internal temperature low at all times. In addition to one pre-installed CT140 140mm PC Cooling Fan on the top and other one on the back, The Tower 200 allows users to build an exceptional cooling system by installing different components. On the right side, The Tower 200 can support up to either two 120/140mm fans or a 280mm AIO radiator. Besides, the removable fan bracket makes the installation process easier, and the removable fan filters ensure excellent dust protection.
Although The Tower 200 is a mini-ITX chassis, it is still optimized for good hardware support. The Tower 200 can accommodate a CPU cooler with a height of up to 200mm, a GPU with a length of up to 380mm, and a power supply with a length of up to 220mm. The capacity of The Tower 200 is available for a 4090 GPU and a standard-size PSU, allowing users to build up a dream PC with the latest generation of high-end components. Additionally, The Tower 200 features a GPU stabilizer to prevent the GPU from wobbling during use or transport. The I/O Ports come with two USB 3.0, one USB 3.2 Gen 2 Type C, and one HD Audio, providing direct access when needed. On top of that, if you want to upgrade the visual effect of The Tower 200, there is a 3.9" TFT-LCD panel kit is sold separately. The LCD can display components' real-time information, time mode, and weather mode, and even can upload any images or GIFs by using the TT RGB Plus 2.0 software.
As a new addition to The Tower series, The Tower 200 is a mini-ITX case with a vertical body design, has well-designed thermal performance, and features that can support up to a 4090 graphics card and a 280mm radiator. The Tower 200 is a tiny but mighty chassis, suitable for those who would like to achieve both compact size and effective performance.
For more information on The Tower 200 Mini Tower Case:
The Tower 200 –https://www.thermaltake.com/the-tower-200-mini-chassis.html
The Tower 200 Snow– https://www.thermaltake.com/the-tower-200-snow-mini-chassis.html